As a child, Christmas was one of my favorite seasons. Yes, I enjoyed receiving gifts and trying to stay awake during the Midnight Mass at St. Patrick's Church, but what I really enjoyed about Christmas was watching Christmas specials. Whether it was a Charlie Brown Christmas, The Grinch Who Stole Christmas, A Christmas Carol, or the Claymation Rudolph the Red-Nosed Reindeer, I often found myself laying on our living room couch, wrapped in a warm blanket and, if I was lucky, enjoying one of my mother's homemade popcorn balls!
As much as I enjoyed the Christmas specials, my attention would often drift to gazing at our Christmas tree. With every Christmas special, we would turn off all the lights in the house except for the Christmas tree lights. I loved the luminous glow that the lights formed of white, red, yellow, blue, and pink. The lights would reflect against the glass ornaments and tinsel, giving small pulses of light that made the tree look as though it was shimmering. I would be mesmerized by the shadows of the pine needles accented by the colors given off by the lights against the corner walls where we always placed our Christmas tree. As a child, those moments always provided me a sacred moment, feeling that I was transported to a mystical land that was hidden and beautiful.
On the table by the Christmas tree always rested our Nativity Set or Crèche. The pastoral serenity of Mary, Joseph, Jesus, and the animals in a simple manger always helped me feel a sense of God's presence amid my childhood "Christmas Land." At times, I miss those simple days, feeling like the mystery and beauty of Christmas gets lost amid crowded shopping malls and end of the year business that feels less like Christmas and more of what built the chain Ebenezer Scrooge forged in life. And, no, I haven't been visited by any ghosts as of late!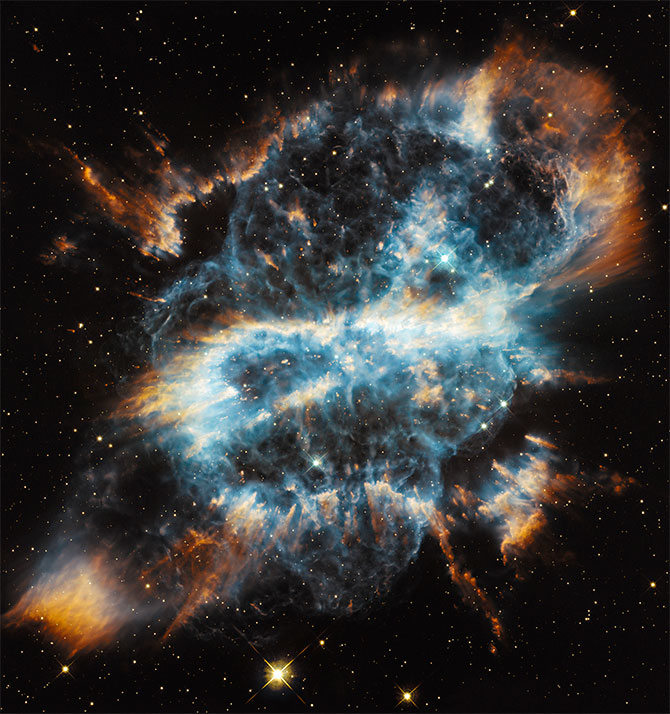 There were times in my childhood that I thought I was the only one that sought a Christmas of mystery, beauty, and mysticism. Many events in my life have proven this presumption wrong, but one yearly tradition I have come to appreciate that helps restore Christ's beauty and mysticism is NASA's presentation of Hubble Space Telescope images as a cosmic holiday card. The beauty of blues, reds, pinks, and many other colors set against the darkness of space always remind me of gazing at the shadows of pine needs illuminated by the lights on our family Christmas tree. It also gives me a moment of peace, not feeling a need to write to all of you about debates over faith and science or present a new apologetic to defend faith in our culture. Instead, it allows me a moment to simply give thanks for the gifts of mystery, beauty, and mysticism that Christmas and the depths of space provide for us.
In that spirit, I wish to extent to all of you a very Merry Christmas and a most blessed New Year!