Today is July 8, 2023. Nine months from today, on April 8, 2024 there will be a total eclipse of the sun visible from North America. The VO will be there.
Fr. Timothy Sauppé of St. Mary's Catholic Church in Westville, Illinois is organizing an "eclipse retreat" April 5-8 at the Mother of the Redeemer Retreat Center, located in the green hills west of Bloomington, Indiana — and also located pretty much on the center line of the path of totality! See the mark in the image above? That's where Mother of the Redeemer is located. It has plenty of open space for eclipse viewing!

I have discussed Fr. Sauppé's innovative approach to faith and science previously (click here for that). Fr. Sauppé says that this will be a "retreat" in that,
It will offer us a chance to step back from our busy lives and reflect on our place in the cosmos — an opportunity to appreciate God's creation of the earth, sun and moon. The weekend will also allow us to learn about the cutting-edge science that is being done under the auspices of the Church, via the Vatican Observatory and by other people of faith.
A variety of folks here at Sacred Space Astronomy will be there, including Br. Guy Consolmagno, S.J., Director of the VO.
If you missed the 2017 total eclipse — and by that, I mean if you missed being in the path of totality where the moon completely covers the sun — then be sure to see the 2024 eclipse. If you saw the 2017 eclipse, and liked it, come see the 2024 eclipse. The duration of totality will be considerably longer in 2024 than it was in 2017.
Don't settle for being "close" to the path of totality. Being "close" in a total eclipse is like being "close" in having the winning lottery numbers — sure, it's nice to get the consolation prize, but that does not compare to hitting the Big Jackpot. Likewise, being some place where the moon covers 90% of the sun, or 95%, or even 99%, is nothing like being where the moon covers 100% of the sun (this is because even 1% of the sun puts out a lot of light).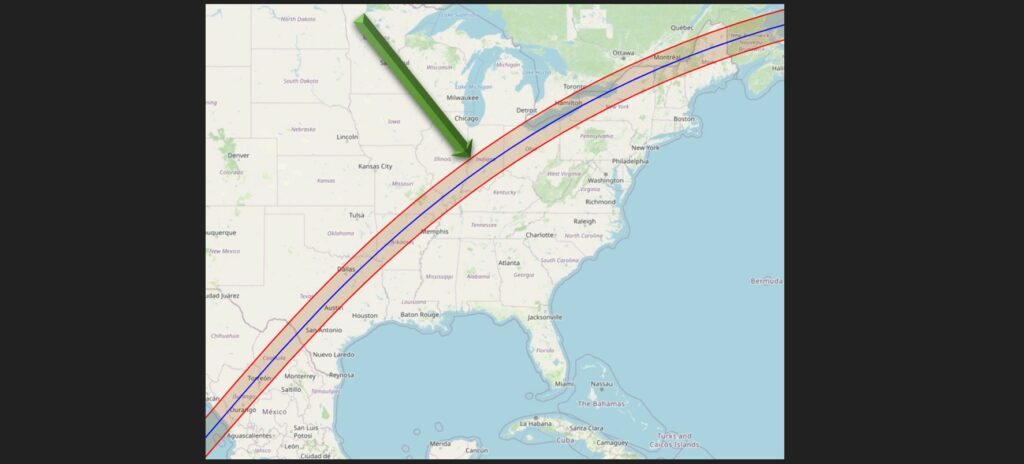 To find out more about the eclipse and the retreat, contact Fr. Timothy at frsauppe@gmail.com or at St. Mary's in Westville (231 N. State St., Westville, IL, 61883).  It is never too soon to plan a trip like this (and it will be a great program, even if there are clouds for the eclipse). Keep your eye on Sacred Space Astronomy for more information.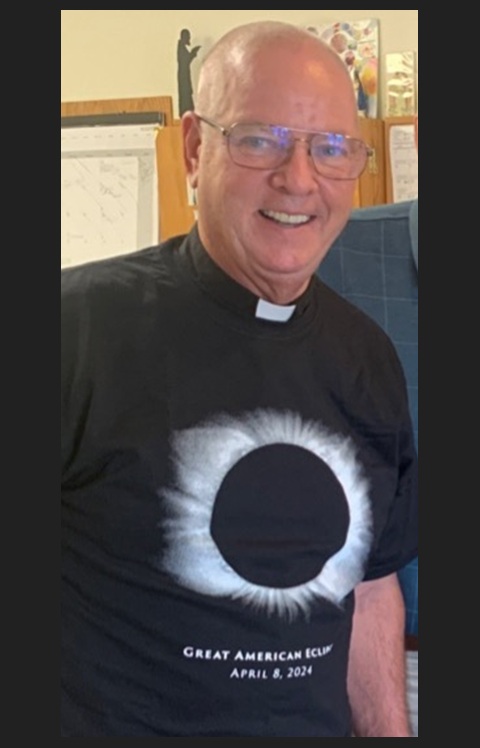 Fr. Timothy, ready for the April 8, 2024 "Great American Eclipse".