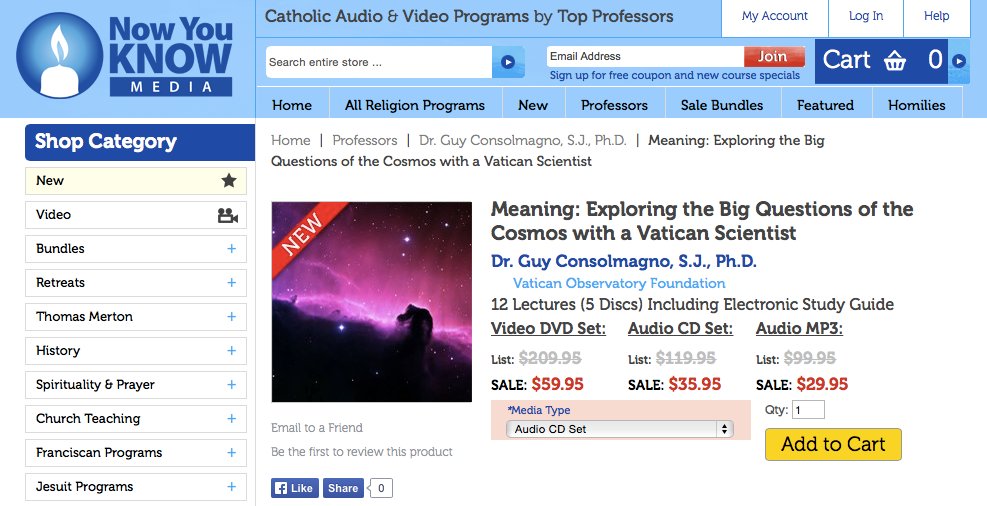 Last spring, Now You Know Media released a set of lectures by me about Galileo. Well, the've done it again!
The newest set of lectures are titled "Exploring the Big Questions of the Cosmos with a Vatican Scientist"… and my friends at Now You Know tell me that it's already become the best new seller of their catalog for the last 12 months. (Which means, I guess, that it's now outselling my Galileo series; how dare I outsell myself!)
I recorded these lectures in June, at a time that was particularly hectic for me: I was speaking in Canada, attending my province's Congregation in Baltimore, and doing who knows what else. As a result, I have no memory of what I actually said in any of these talks. Who knows what odd comments and bad puns I came up with?
In any event, here's a table of contents:
Does Science Need God?
Scripture or Science?
Is the Big Bang Compatible with a Creator God?
Does Modern Physics Prove God?
Does the Anthropic Principle Prove God Exists?
Are Miracles Contrary to Science?
What Is Life?
Would Extraterrestrials Need to Be Baptized?
Why is there Natural Evil?
How Do We Understand the End of the Universe?
Is the Resurrection Contrary to Science?
Can Science Explain Consciousness, Free Will, and the Soul?
So, if you are curious to know what I have to say on these topics (I'm curious, myself!) then you can purchase the set by clicking here…