The sample head overflowing with bits of asteroid Bennu has been safely stowed in the return capsule of NASA's OSIRIS-REx spacecraft – I can stop waving my hands frantically and breathe a bit easier! Now, I have to hurry-up-and-wait for launch windows and the time-consuming interplanetary Hohmann orbital mechanics before that sample is returned to Earth in 2023.Like Douglas Adams said: "Space is Big!"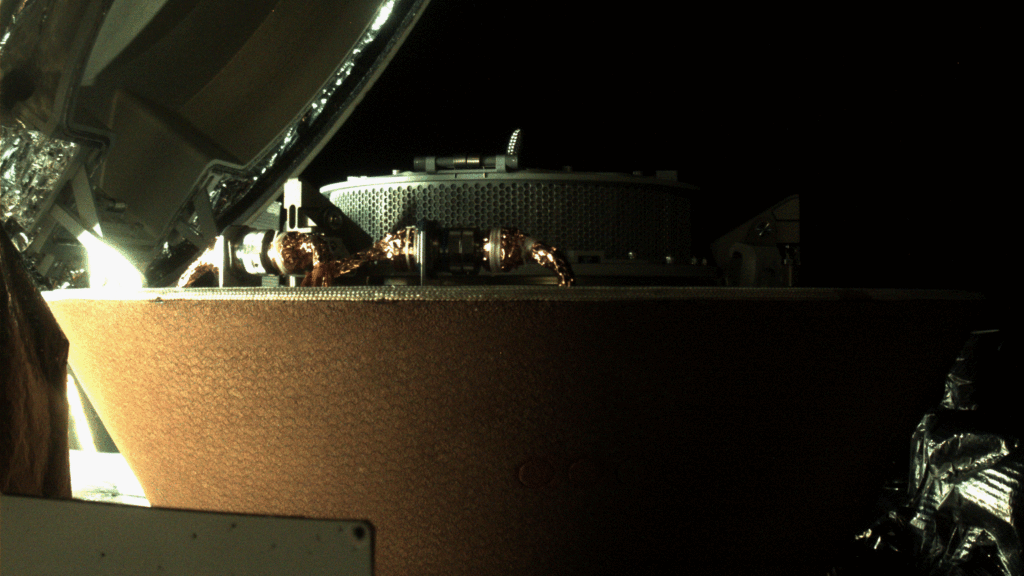 I REALLY want a piece of Bennu; I asked Dolores Hill several questions about a possible privately-funded sample return mission with a larger sample head.
Dolores said "A huge sampling head may or may not be helpful. If ours had been too big, it would have made it harder to locate a large enough, safe site. A larger head would be heavier – require more gas to flow through it, etc. But, who knows, the engineers know how to scale up. Almost anything is possible given enough resources.
Regarding paying for itself…"In my opinion, it would depend on what the investors wanted from such a mission" – in my case samples for sale to collectors or researchers.
Dolores said that the OSIRIS-REx mission cost ~$800 million over 14 years, not including the launch vehicle! YIKES! Guess I'd need to find some wealthy investors or collectors!
I asked if there were any quarantine requirements for extraterrestrial samples? "Not for Bennu samples because of its history and the surface has been bathed by solar UV for a long time. That said, we will try to keep the pristine returned sample as clean as possible from us (terrestrial contaminants)."
Dolores told me that The TAGSAM  (sample collection head) will undergo studies and be archived at NASA-JSC as space hardware; she thinks the next sample return mission will be a NASA-ESA Mars mission.

Mars appears high in the Eastern sky after sunset; at midnight, Mars appears high in the southern sky. Mars sets in the west around 4:00 AM.
Mercury appears with Venus in the eastern predawn sky from now until Nov. 25th – Mercury will appear its highest on Nov. 8th.
Jupiter and Saturn appear in the south-southwestern sky at dusk, and set in the southwest around 9:00 PM.
The Moon appears high in the west-southwestern predawn sky near the constellation Orion for several mornings.

The Moon is a waning gibbous – rising after sunset, visible high in the sky after midnight, and visible to the southwest after sunrise.
The third quarter Moon occurs on Nov. 8th – it rises around midnight, and is visible to the south after sunrise.
After Nov. 8th the Moon will be a waning crescent – visible low to the east before sunrise.
If you click on the Moon image above, or click this link, you will go to NASA's Moon Phase and Libration, 2020 page – it will show you what the Moon looks like right now. If you click the image on that page, you will download a high-rez TIF image annotated with the names of prominent features – helpful for logging your observations!
Moon News

The Sun has 2 spots! AR2781, which is rotating into view on the Sun's limb looks to be pretty large!
Sunspot AR2781 has a lot of coronal activity associated with it – you can see it in the lower left of the video below.
The northern coronal hole has diminished after weeks of being large to monstrous – the southern coronal hole remains small, but has an enormous tendril snaking around the southern hemisphere.
The Sun seen in 193 angstroms (extreme ultraviolet) November 2, 2020:
Lots of Prominence activity! That new sunspot is just crackling!
The Sun seen in 304 angstroms (extreme ultraviolet) November 2, 2020:
Videos courtesy of
NASA/SDO
and the AIA, EVE, and HMI science teams.
You can view the Sun in near real-time, in multiple frequencies here: 
SDO-The Sun Now.
You can create your own time-lapse movies of the Sun here:
AIA/HMI Browse Data.
You can browse
all
the SDO images of the Sun from 2010 to the present here:
Browse SDO archive
.
Solar Activity on Facebook – Run by Volunteer NASA/JPL Solar System Ambassador Pamela Shivak
Solar Corona
Solar wind speed is 345.4 km/sec (↓), with a density of 0.9 protons/cm3 (↓↓) at 1244 UT.
Near real-time animation of the corona and solar wind from the Solar & Heliospheric Observatory (SOHO):
Sun News

Upcoming Earth-asteroid encounters:
Notes: LD means "Lunar Distance." 1 LD = 384,401 km, the distance between Earth and the Moon. Red highlighted entries are asteroids that either pass very close, or very large with high relative velocities to the Earth. Table from SpaceWeather.com

On November 2, 2020, the NASA All Sky Fireball Network reported 11 fireballs. 
(8 sporadics, 2 Northern Taurids, 1 Orionid)
Fireball News
If you see a bright meteor or a fireball, please REPORT IT to the American Meteor Society!

Position of the planets in the inner solar system:
Position of the planets in the middle solar system:
Position of the planets, some dwarf planets and some transneptunian objects in the outer solar system.
Solar System News

NASA's OSIRIS-REx Asteroid Sample Return Mission:
HiRISE – on the Mars Reconnaissance Orbiter:
Climate:
See a list of current NASA missions here: https://www.jpl.nasa.gov/missions/?type=current


ex·o·plan·et /ˈeksōˌplanət/, noun: a planet orbiting a star other than the Sun.
Data from the NASA Exoplanet Archive
* Confirmed Planets Discovered by TESS refers to the number planets that have been published in the refereed astronomical literature.
* TESS Project Candidates refers to the total number of transit-like events that appear to be astrophysical in origin, including false positives as identified by the TESS Project.
* TESS Project Candidates Yet To Be Confirmed refers to the number of TESS Project Candidates that have not yet been dispositioned as a Confirmed Planet or False Positive.


Hubble: Beautiful Universe
Tour of the Local Stellar Neighborhood
Continuing with my visual tour of nearby stars and their systems, we travel to the Gliese 412 (Lalande 21258) system, about 15 light years distant.
Gliese 412
Gliese 412 is a pair of stars that share a common proper motion through space and are thought to form a binary star system. The pair have an angular separation of 31.4″ at a position angle of 126.1°. They are located 15.8 light years distant from the Sun in the constellation Ursa Major. Both components are relatively dim red dwarf stars.

The two stellar components of this system have a projected separation of about 152 AU, and an estimated orbital semimajor axis of 190 AU. The primary has about 48% of the Sun's mass, while the secondary is only 10%. The primary has a projected rotation velocity at the equator of less than 3 km/s; the secondary has a rotation velocity of 7.7±1.7 km/s.

The primary star was monitored for radial velocity (RV) variations caused by a Jupiter-mass companion in a short period orbit. It displayed no significant excess of RV variation that could be attributed to a planet. A search of the system using near-infrared speckle interferometry also failed to detect a companion orbiting at distances of 1–10 AU. Nor has a brown dwarf been detected orbiting within this system.

The space velocity components of this system are U = 141, V = –7 and W = 7. They are members of the halo population of the Milky Way galaxy.

The secondary is a flare star that is referred to as WX Ursae Majoris. It is characterized as a UV Ceti type variable star that displays infrequent increases in luminosity. This star was observed to flare as early as 1939 by the Dutch astronomer Adriaan van Maanen.

Component B (WX Ursae Majoris) has been identified as an X-ray source, while no significant X-ray emission was detected from component A. This system had not been studied in X-rays prior to ROSAT. The Gaia DR2 release gives a parallax of 204.059±0.169 mas for B, indicating a distance of around 16 ly. – Wikipedia
Gliese 412 System Diagram
Gliese 412 Orbital Diagram
Artist Rendering  Gliese 412 B
---
Cover Image: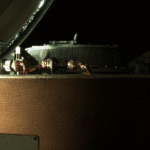 Captured on Oct. 28, this imaging sequence shows NASA's OSIRIS-REx spacecraft completing the final step of the sample stowage process: closing its SRC. To seal the SRC, the spacecraft closes the lid and then secures two internal latches. The sample of Bennu is now safely stored and ready for its journey to Earth.
The image sequence was captured by the StowCam camera. StowCam, a color imager, is one of three cameras comprising TAGCAMS (the Touch-and-Go Camera System), which is part of OSIRIS-REx's guidance, navigation, and control system. TAGCAMS was designed, built and tested by Malin Space Science Systems; Lockheed Martin integrated TAGCAMS to the OSIRIS-REx spacecraft and operates TAGCAMS. Credit: NASA/Goddard/University of Arizona/Lockheed Martin
What I was listening to when I was editing this:
Stay safe, be well, and look up!
---
Apps used for this post:
NASA Eyes on the Solar System: an immersive 3D solar system and space mission simulator – free for the PC /MAC. I maintain the unofficial NASA Eyes Facebook page.
Universe Sandbox: a space simulator that merges real-time gravity, climate, collision, and material interactions to reveal the beauty of our universe and the fragility of our planet. Includes VR support.
SpaceEngine: a free 3D Universe Simulator for Windows. Steam version with VR support available.
Stellarium: a free open source planetarium app for PC/MAC/Linux. It's a great tool for planning observing sessions. A web-based version of Stellarium is also available.
---
Section header image credits:
The Sky – Stellarium / Bob Trembley
Observing Target – Turn Left at Orion / M. Skirvin
The Moon – NASA/JPL-Caltech
The Sun – NASA/JPL-Caltech
Asteroids – NASA/JPL-Caltech
Fireballs – Credited to YouTube
Comets – Comet P/Halley, March 8, 1986, W. Liller
The Solar System – NASA Eyes on the Solar System / Bob Trembley
Spacecraft News – NASA Eyes on the Solar System / Bob Trembley
Exoplanets – Space Engine / Bob Trembley
Light Pollution – NASA's Black Marble
The Universe – Universe Today