If you live in the Midwest, especially in southeastern Michigan, this weekend is the annual Astronomy at the Beach event – both Friday and Saturday (13th and 14th of September). I'll be crewing the Warren Astronomical Society's table again this year – stop by, and I'll chat your ear off! For the first time I'll be presenting at AATB! I'm giving my Sun lecture, and maybe squeezing in some demos of space simulation software.
There will be astronomers from clubs and societies across southeastern Michigan who set up their telescopes, presentations and hands-on activities, a sky scavenger hunt, club tables with freebies and enthusiastic astronomers to chat with. The 2018 Astronomy at the Beach events had 5000 attendees! I expect to be pretty tired on Sunday.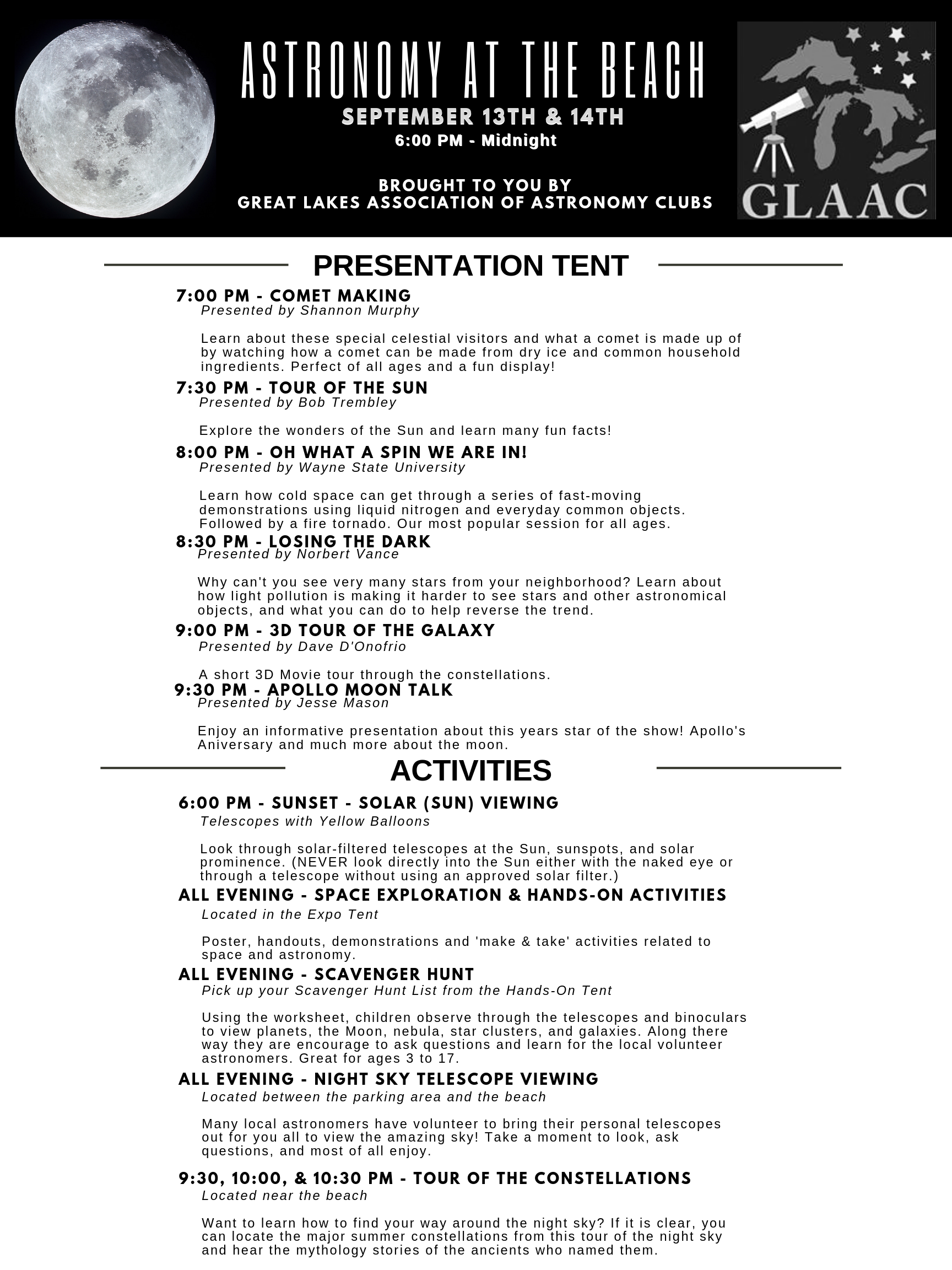 I feel like a broken clock repeating that Saturn, Jupiter and the star Antares are in the south-southwestern sky all week after sunset… but there they are… Jupiter is setting earlier each night tho.
Orion rises earlier each morning in the southeastern sky before sunrise.
Saturn and the Moon make great observing targets after sunset through the weekend.
By midnight on Sep. 11th, Saturn will be low(ish) on the horizon and the Moon will be high in the southern sky
The full Moon is all alone in the southern sky at midnight on Sep. 14th.

Uranus
Uranus (from the Latin name Ūranus for the Greek god Οὐρανός) is the seventh planet from the Sun. It has the third-largest planetary radius and fourth-largest planetary mass in the Solar System. Uranus is similar in composition to Neptune, and both have bulk chemical compositions which differ from that of the larger gas giants Jupiter and Saturn. For this reason, scientists often classify Uranus and Neptune as "ice giants" to distinguish them from the gas giants. Uranus's atmosphere is similar to Jupiter's and Saturn's in its primary composition of hydrogen and helium, but it contains more "ices" such as water, ammonia, and methane, along with traces of other hydrocarbons. It has the coldest planetary atmosphere in the Solar System, with a minimum temperature of 49 K (−224 °C; −371 °F), and has a complex, layered cloud structure with water thought to make up the lowest clouds and methane the uppermost layer of clouds. The interior of Uranus is mainly composed of ices and rock.

Like the other giant planets, Uranus has a ring system, a magnetosphere, and numerous moons. The Uranian system has a unique configuration because its axis of rotation is tilted sideways, nearly into the plane of its solar orbit. Its north and south poles, therefore, lie where most other planets have their equators. – Wikipedia

---

"Uranus and Neptune are the 'Ugly Stepchildren' of Solar System Exploration… One fly-by in the 80's, and that's it!" – Bob Trembley
Check out NASA's solarsystem.nasa.gov site – it's got wonderful information on numerous solar system bodies – including Uranus. I'm planning on seeing Uranus during Astronomy at the Beach – I hope I get the chance.
As I was writing this post, I found this NOVA video – I'll have to show this series to students in my after-school astronomy and space science club:
I show this video to my after-school club – It's informative and humorous:

The Moon is a waxing gibbous, it is visible to the southeast in early evening, up for most of the night.
The full Moon occurs on Saturday September 14th, it rises at sunset, is visible high in the sky around midnight, and is visible all night.
After September 14th, the Moon will be a waning gibbous, rising after sunset, visible high in the sky after midnight, and visible to the southwest after sunrise.
Moon News – India's Vikram Moon Lander May Have Survived Landing
India's Moon lander may not have crashed, but rather suffered a "hard landing," and ended up on its side. Engineers are trying to regain communications.
India's #Chandrayaan2 orbiter remains in lunar orbit and will continue its seven-year mission to study the Moon. Even though Vikram's landing didn't go as planned, this is a fantastic accomplishment for ISRO, and just goes to show that landing on another celestial body is HARD!

The Sun has been spot-free for 7 days – apparently AR2748, which I mentioned last week, vanished on the day I posted.
The north pole coronal hole is yawning; the hole at the south pole seems to have opened up a bit. One small coronal hole appears near the equator.
More excellent prominences for photographs over the last couple days.
https://www.facebook.com/photo.php?fbid=10219728903353982&set=gm.2645429152135079&type=3&theater&ifg=1
The solar wind speed is 504.13 km/sec (↓), with a density of  2.2 protons/cm3 (↑) at 1400 UT.
Sun News

Upcoming Earth-asteroid encounters:
Asteroid

Date(UT)

Miss Distance

Velocity (km/s)

Diameter (m)

2019 RO1

2019-Sep-04

7.3 LD

14

15

2019 QX3

2019-Sep-04

11.2 LD

17.8

32

2019 RB2

2019-Sep-04

1.1 LD

6.6

10

2019 RZ

2019-Sep-04

12.4 LD

16

28

2019 RF1

2019-Sep-04

3.5 LD

6

6

2019 QE1

2019-Sep-05

13.2 LD

6.6

33

2019 RP1

2019-Sep-05

0.1 LD

25.9

10

2019 RM1

2019-Sep-05

8.2 LD

7.6

10

2019 RD1

2019-Sep-06

6.1 LD

7.1

15

2019 GT3

2019-Sep-06

19.5 LD

13.6

213

2019 RA

2019-Sep-07

4.5 LD

5.7

29

2019 RC1

2019-Sep-07

0.5 LD

20.4

6

2019 QZ

2019-Sep-08

15.7 LD

4.3

22

2019 RX1

2019-Sep-09

9.7 LD

13.3

29

2019 QZ3

2019-Sep-09

9.7 LD

7.5

40

2019 RG2

2019-Sep-09

1.4 LD

22

12

2019 QY4

2019-Sep-10

2.5 LD

7.8

10

2019 RH

2019-Sep-10

7 LD

16.8

23

2019 RJ1

2019-Sep-12

10.8 LD

10.4

15

2010 RM82

2019-Sep-13

18.2 LD

14.6

23

2013 CV83

2019-Sep-13

16.1 LD

13.1

62

504800

2019-Sep-14

13.9 LD

14.4

155

2019 RT

2019-Sep-14

13.7 LD

16.6

48

2019 RQ2

2019-Sep-14

9.4 LD

17.2

30

467317

2019-Sep-14

13.9 LD

6.4

389

2019 JF1

2019-Sep-16

11.2 LD

4.3

62

2018 FU1

2019-Sep-16

18.4 LD

4.7

16

2019 RC

2019-Sep-16

17.5 LD

15.2

154

2019 RP2

2019-Sep-20

8.5 LD

1.6

6

2017 SL16

2019-Sep-21

7.9 LD

6.5

25

2017 SM21

2019-Sep-21

11.5 LD

9.6

20

2019 RE2

2019-Sep-21

19.7 LD

8.7

38

2019 QZ1

2019-Sep-22

12.5 LD

8.2

77

523934

2019-Sep-24

10.9 LD

Newsletter

Upcoming astronomical events, scientific breakthroughs, philosophical reflections… just a few reasons to subscribe to our newsletter!