It is time for another post about cheap astronomy—the kind anyone can afford to do. This is part of a series of posts that all revolve around the astronomical use of the world's crummiest camera—an old "pay-as-you-go" smart phone that I got at a grocery store almost ten years ago, for ten dollars. I call it the "Ten Buck Wonder", or TBW for short. Click here for the series.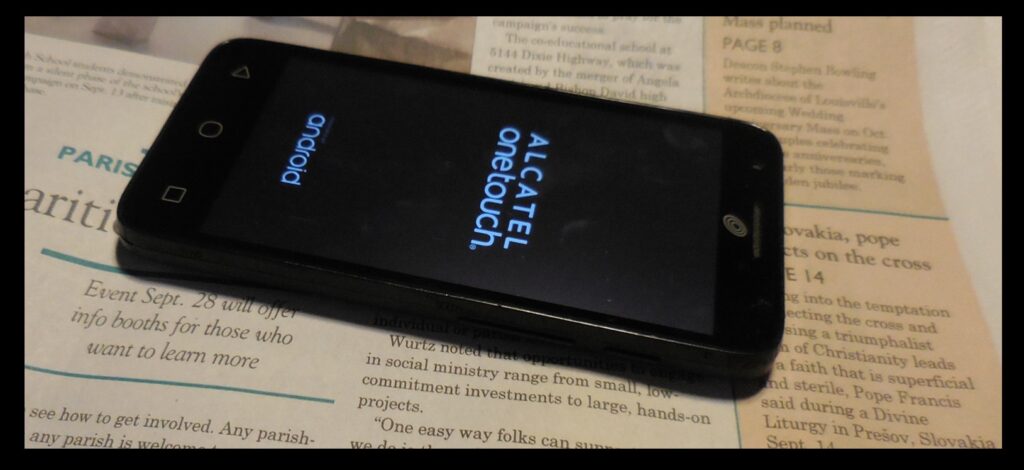 I have been using the TBW to shoot pictures through telescopes by just holding the camera up to the eyepiece. That is not a good method. It is really unsteady. It works OK for photos of the moon, but barely works, or just does not work, for fainter objects.
I needed, therefore, to improve my cheap tech. I needed a way to attach the TBW to an eyepiece. Then, I could use the TBW's "timer" feature to shoot images without touching anything. I would be able to set the timer for a 10-second countdown, center my object, and trigger the camera—and then the timer would count down and take the photo with my hands touching (and shaking) nothing.
How to make a truly cheap camera mount to attach the TBW to an eyepiece? Cardboard from a cereal box! And a rubber band. And some staples. Construction of my cheap camera mount is shown in the three photos below.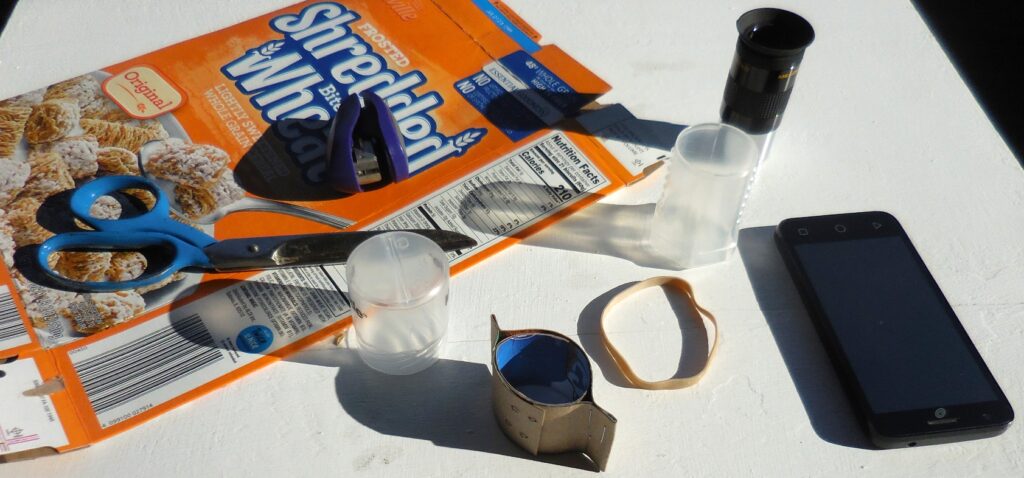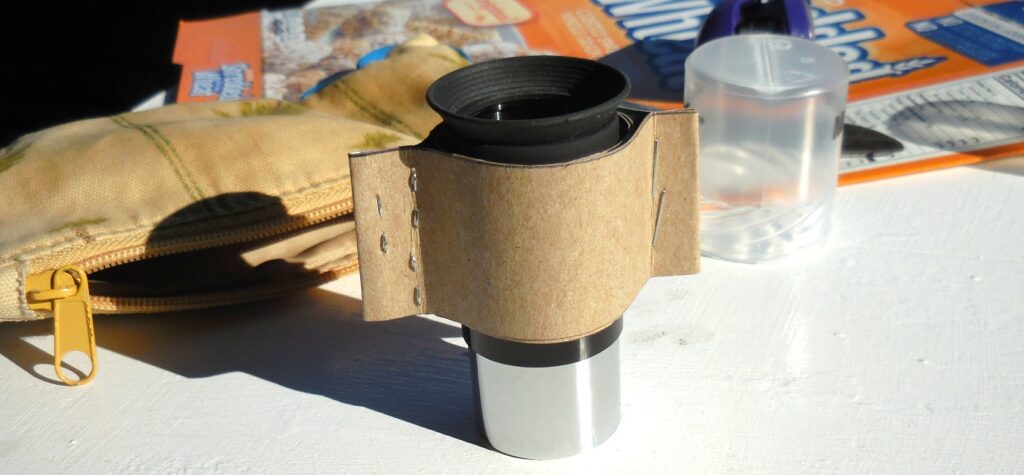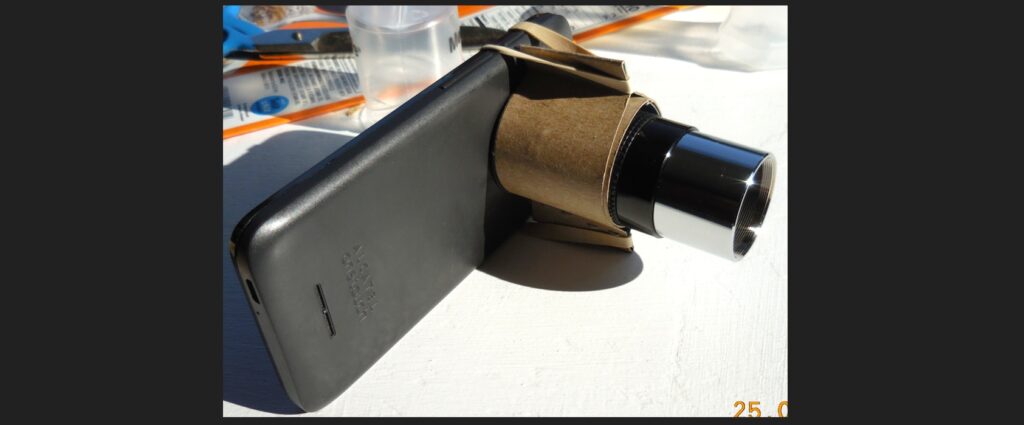 This was not hard, but it was harder than it looks. I had to do some trial and error to get it to work. Happily, I had plenty of cereal box cardboard and staples on hand.
The next step was to put the eyepiece on my telescope (itself scrounged together from bits from other telescopes), as seen here.

To actually take photos required scooching the TBW back and forth under the rubber band until it was properly aligned over the eyepiece (and so the rubber band straddled the "screen on" button). Also, I had to mess with how much space was between the eyepiece and the TBW, or I would not get a clear view.
Again, none of this was hard, but it was harder than it looks in these pictures. If you try this, expect to spend a few hours messing around in trial and error before you end up with something that works. Once again, cereal box cardboard and staples are cheap—you can afford to throw a few failed efforts into the trash bin.
So, did it work? Yes it did! On my first time out under the stars with my cardboard camera mount and the TBW's timer feature I was able to take photos of Arcturus, Mizar and Alcor, Saturn, and Antares with ease—despite very light-polluted skies.
Below is Arcturus in the constellation Bootes, at 9:20 PM on August 24. Looking at the Stellarium planetarium app, I think the faint star with the arrow is magnitude 5.95, which gives me an idea of the magnitude limit of my little setup.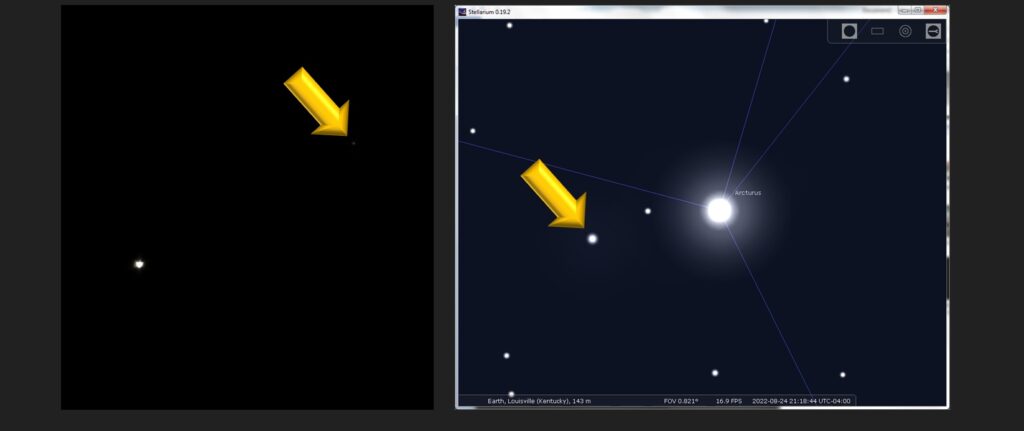 These next stars are (from left to right) Arcturus, Mizar (double star) and Alcor in the handle of the Big Dipper, and Antares in Scorpius. I had hoped the camera would record the color differences in these stars. However, Antares is a class M star (red) and all three stars of Mizar-Alcor are class A (white), and I can't say I see much difference in the photos.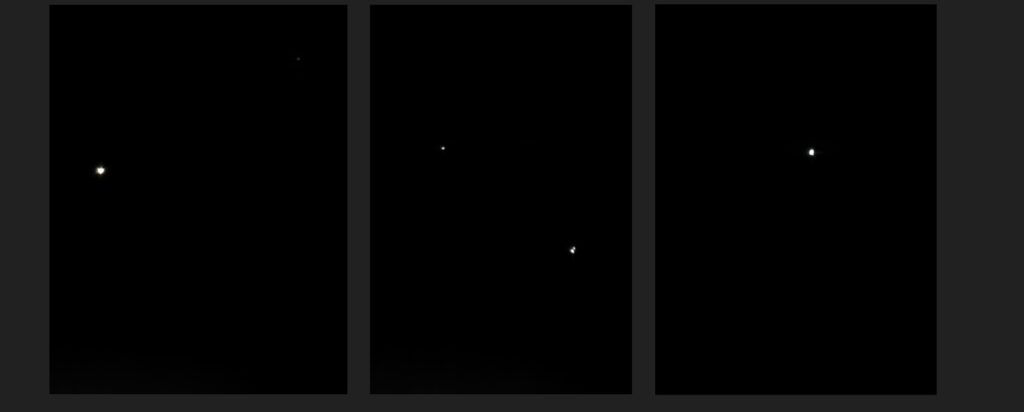 And last but not least… Saturn. It's definitely not a great picture. Much more detail was visible to the eye. But it is obviously Saturn.
Without the mount, I doubt I could have taken any photos of these objects, and whatever photos I might have gotten would probably have been smeared, owing to my inability to hold the camera steady. Now I am looking forward to trying this setup out on the moon—and on Jupiter (where I think I will be able to reliably record Jupiter's four "Galilean moons").