Christmas offers wonderful opportunities to reflect on faith and astronomy. Therefore, I'm going to delay my next reflect on the Artemus Moon missions until after the New Year. For now, I will venture into a classic minefield that tonight's conjunction of Jupiter and Saturn actually begs us to ask. The minefield I speak of is the question, When was Jesus born?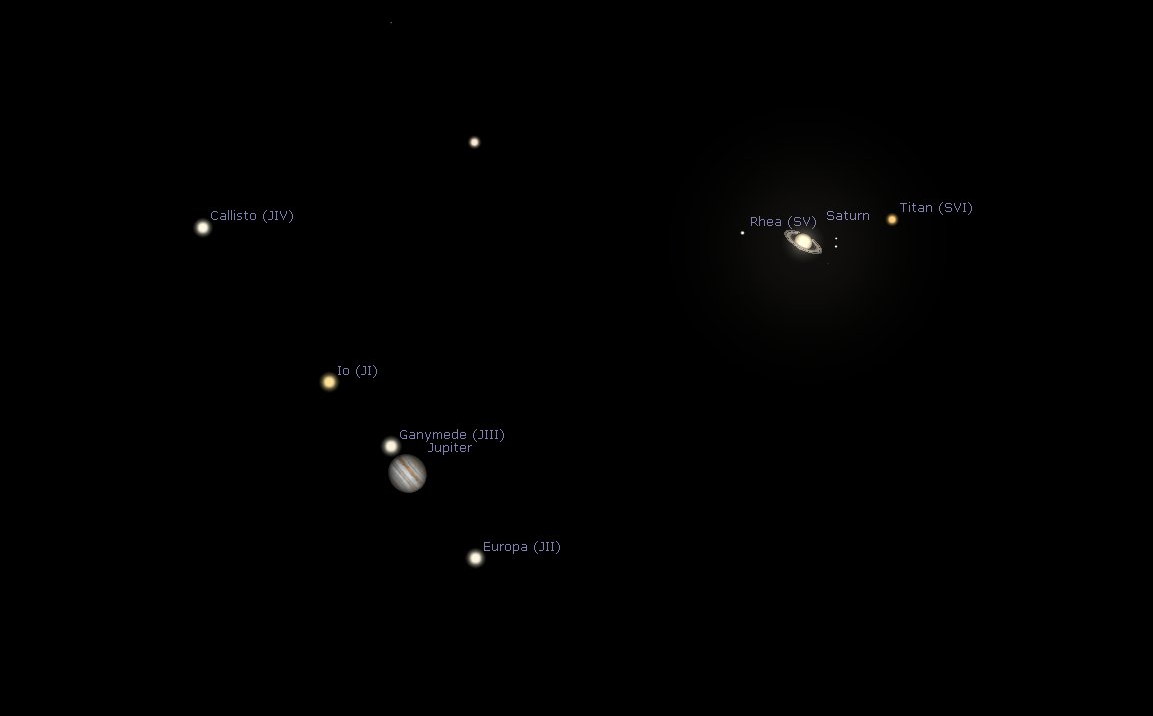 As I shared with you last week, tonight will be the highpoint of the conjunction of Saturn and Jupiter. Sadly, the weather forecast for Wisconsin looks "so-so" for good viewing of the conjunction. Still, the event has awoken some logical questions – Was this conjunction the Star of Bethlehem? Was Jesus born on December 25th? How do we know for sure any of this is true?
These are all good questions! However, these question also present a plethora of not-so-good rabbit holes we can fall into if we are not careful. In my youth, the certainty of answering questions about the date of Jesus' birth were fighting words. The intellectual "dukes went up" and I was ready to fight to the death that Jesus was born on December 25th. Then I entered seminary and heard in class that Jesus most likely wasn't born on December 25th. What? Have I been duped? Is my faith a lie?
Looking back, I can easily diagnose my theological disease – Radical Certitude. Since I came of age as a Catholic during a time when Christian apologetics (clear, simple answers to defend Christian faith) was replacing theology, I wanted my faith to be clear, consistent, and certain. I find it ironic that it was entering seminary that took the certitude I clung to and dismantled my presumptions. In an environment that I thought would simply affirm my radical certitude, I spent the first year of seminary studying the history of philosophy. The running joke that year among my classmates was, So when will we start to talk about God?
In those moments, my faith was ironically shaken. For some of my classmates, the shaking was too much and they decided to leave seminary. However, that shaking was necessary so I could be "rebuilt" with authentic faith. Welcome to why the word seminary means "seedbed" or a place where seeds are planted and grow. And in order to grow, you must first till the soil and remove its weeds for healthy growth the occur. The first year of seminary was the tilling and weeding!
I start with this because our culture has become obsessed with radical certitude. I hear it in young Catholics considering marriage when they say to me, "Father, if I don't know 100% that this is the person I will marry, I wont marry them." My response, "Well, then I guess you'll never get married." Even though I am a young pup at 47, I'm finding more and more that radical certitude is a fast path to neurosis. A healthy life isn't found in certitude, but, rather, trying to make the best decisions we can with what is presented to us and then make a "leap of faith." The leap isn't blind or uneducated. Far from it. However, true faith is discerning – With what is presented before me, what is the best path for me to take forward?
What in the world does this have to do with the date of Jesus' birth? Hang in there, we're getting to the answer. We just need to till a little more soil!
One of the moments of rebuilding my faith in seminary was to understand the role of inculturation in the Church. Inculturation is something that all of us participate in both knowingly and unknowingly. For example, when I was in college I went through a crisis of cultural identity. Even though my hereditary background is Polish, Irish, German, and English, there wasn't much of these cultural traditions that were maintained on either side of my family. I started to feel like I was a "cultural orphan." I became good friends with a young woman who was part of a local Native American tribe in Wisconsin. Many of our conversations centered on what it meant for her to be Native American.
My friend invited me to join her at Pow Wows and explained to me the significance of the event. At the center of the Pow Wow was a drum that was constantly played. My friend explained to me that this represented the "womb of creation" and how when the drummers would play and sing, the songs signified the creation of all things. I instantly started to reflect on my own faith and how I viewed creation from both my faith background and the astronomy classes I was taking at the time. When she invited me to join her in the dance around the drum, I hesitated, feeling like I shouldn't join the dance – This isn't my tradition. She explained to me that it is considered a great insult to reject an invitation to dance, so I danced… awkwardly! In that moment, feeling the reverberations of the drum in my own body, I finally felt I had found a part of my identity, even though I am not Native American. When I would go home after these Pow Wows, I would often ask, "Why can't what I experienced be part of my Christian faith?" Welcome to how inculturation occurs.
The date of Christmas has much to do with inculturation. When you start to study theology, you encounter a strange reality – We often don't have a definitive birth date for most the key Christian thinkers from the first two centuries. Why is that? The reason is that the ancient Judeo-Christian world did not view a person's birth as significant. Instead, to the early Christian, the date of their death was more significant – Their birth into eternal life. Therefore, Christmas, the celebration of the birth of Jesus Christ, was not observed by early Christians. Instead, the emphasis in the ancient Church was celebrating Holy Week and Easter – The time of Jesus' death and resurrection. Even Scripture fallows this trend of placing more focus on the death and resurrection of Jesus since the passion and resurrection narratives appear in all four Gospels, but the infancy narratives appear in only two Gospels.
So… When did Christians start to celebrate Christmas?
As a liturgical feast, we don't find Christmas mentioned in official liturgical texts until the ninth century and the first reference to December 25th as the date when Jesus was born doesn't appear until the third century through the writings of Sextus Julius Africanus (click here to read a piece from the online encyclopedia Britannica with more details). This raises some interesting questions. First, why did it take over 200 years for someone to figure out when Jesus was born and, second, if they did figure out the date in the third century, why did the Church wait until the ninth century to start celebrating Christmas? Welcome to the process of inculturation! 
Since early Christian culture didn't celebrate Jesus' birth, non-Jewish converts explored a logical question – Our culture celebrates birth and we want to celebrate the birth of Jesus – When was he born? Is the fact that we can't find a birth date for Jesus proof that Jesus didn't exist? No, it simple affirms that birth wasn't emphasized in the culture of the Children of Israel. From this starting point, it makes sense that the date of Jesus' birth would most likely be determined in large part through the eyes of inculturation. To reference my Pow Wow experience, welcome to the heart that would ask, "Now that Jesus is the center of my life, how can I make this a part of my cultural expression?"
This gave birth to the idea of Cosmic Liturgy. Cosmic liturgy, which I have discussed in the past, is the process of seeing in creation the natural rhythms of our world as signs and symbols of faith. Sextus Julius Africanus connected spring with the creation of the world, leading him to presume that March 25th must have been the date when Jesus was conceived since Jesus came to set creation aright after the fall of humanity. Therefore, March 25th (around the time of the vernal equinox) is the feast of the Annunciation, when Gabriel visited Mary to announce that she would bear a son and name him Jesus.
Nine months later, December 25th was then the presumed date of Jesus' birth. Given the rhythm of the length of days in the Northern Hemisphere, a theology was developed to make a connection between the length of days and the impact of sin on the world. The feast of the Birth of John the Baptist, June 24th, the one who cries out "prepare the way of the Lord," is around the summer equinox. From there, the elongation of night begins, signifying the impact of sin on the world. When Jesus is born (around the winter equinox) then nights are longest, signifying how the impact of sin can hinder "the light of truth" in our world. However, the birth of Jesus also occurs when days are becoming longer, signifying the impact that Jesus is the light of the world, dispelling the darkness of sin. This brings us to spring and the whole pattern starts again.
Beautiful when you think about it, unless you live in the Southern Hemisphere. I speculate that one of the reasons that Cosmic Liturgy didn't have a long shelf life was because it was a uniquely "Western European" view of the rhythm of creation. Or, to put it another way, the inculturation of the symbol system of the western gentile world was a regional inculturation and not a universally applicable theology. Therefore, most of Cosmic Liturgy fell by the wayside while remnants remain, like the presumption that Jesus was born on December 25th.
Fr. James, does this mean that Christmas is a lie?
No, not at all, Christmas is not a lie. We know that Jesus existed not only from Scripture but from sources outside of Christianity as well. We don't know the exact date when Jesus was born, but to assign a day to remember his birth doesn't make Christmas a lie. It simply means we need to be careful not to wrap our faith around a date that not even the first Christians felt a need to emphasize.
Therefore, the next time a friend of yours argues that Jesus wasn't born on December 25th, you don't need to feel the pressure of defending a calendar date under the presumption that this must have been the day Jesus was born (blind radical certitude). Instead, you can simply affirm that we don't know when Jesus was actually born and, given the inculturation of gentile world views into Christianity, we don't have to obsess about the actual date of when Christ was born (healthy inculturation).
Instead, we can focus on what is most true of the days ahead – The promised light of hope that shines in the darkness of our world has been born to us – God made flesh in Jesus Christ. What we celebrate isn't a date on a calendar, but the fact that God loves us so much that God became one of us, walked with us, lived our life, died our death, and rose on the third day.
In this spirit, Merry Christmas! And may the light of hope shine brightly in the darkness of our times. And may we see God's presence in the world around us and with the people we love. Put another way, to recall the sacred friendship I referenced from my college days, let us dance with the Lord this Christmas!