The third day of ACME focused primarily on Dark Matter, Dark Energy, and Meteorites. For many, some of these topics may seem quite abstract and sound like something out of a science fiction movie. And when you listen to the science of things like Dark Energy and Dark Matter, you still feel a little like you stumbled onto the starship Enterprise.
Still, the exploration of these unknowns is not only real, but one of the most fascinating developments in modern science. To help understand the importance of this exploration, Dr. Maria Elena Monzani in her presentation and Bishop Edward Weisenburger in his homily offered similar reflections as to why these subjects are important: There are still gaps on the connection between the grander of spiral galaxies and cell anatomy – We still lack in our understanding of the createed world the connection between the large structures of the universe and the smallest structures of our world.
Our first presentation for the day was given by Dr. Maria Elena Monzani from the SLAC National Accelerator Laboratory. Dr. Monzani gave us an excellent presentation on the current research on Dark Matter and Dark Energy. To summarize, we still don't know what Dark Matter and Dark Energy is but we can see its effects on matter we can observe. In fact, 96% of the universe is made up of Dark Matter and Dark Energy.
Dr. Monzani shared how the SLAC Lab is trying to isolate dark matter to study it. If you would like to hear Dr. Monzani's presentation, here is a video that is a similar presentation to what she gave at ACME.
After her presentation, Dr. Larry Lebofsky walked us through some wonderful, hands on projects with meteorites. His simple, practical, and insightful lab of "Can you tell which stones in front of you are meteorites or meteor-wrongs" is always a hit with our teachers. This year, Dr. Lebofsky added a simple project of giving each participant a candy bar to slice in half to help learn about how rock cutting and sampling works. As always, Dr. Lebofsky hit a homerun with his presentation.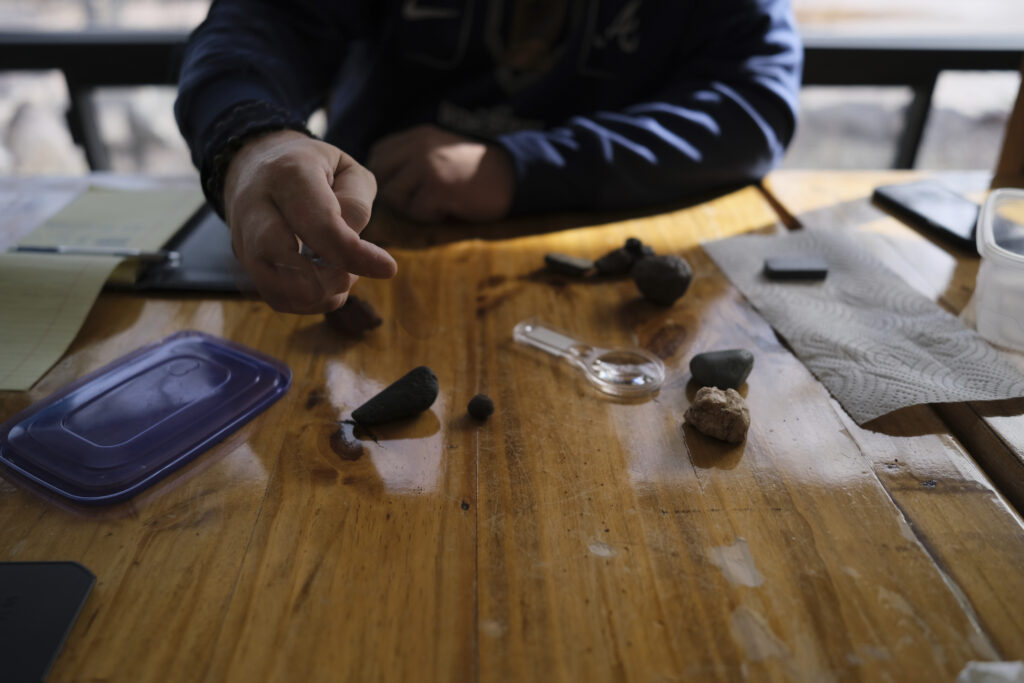 After Dr. Lebofsky, Br. Guy gave us a wonderful presentation to prepare us to visit the OSIRIS-Rex Mission Center. OSIRIS-Rex is an active NASA mission that is returning a pristine sample of asteroid Bennu. The scientific applications to the mission will be numerous from helping us understand how atmospheric contaminations effect space debris as it falls to Earth to gaining a deeper understanding of the origins of our Solar System. It was a wonderful morning of exploring what we don't know about the our universe and what we do know from that we can analyze closely.
A faith application for me is to take this day as a practical example of St. Bonaventure's ascent to truth in his work, Minds Road to God. In his work, Bonaventure lays out a threefold understanding of how we come to truth. Where do we start? We start by analyzing, comparing, categorizing, and deepening our understanding of the world around us. Its a constant reminder that the exploration of faith and science is not an end but a beginning. We engage the world we live in to understand it, ourselves, and, in the process, begin the slow ascent to the God who brought everything into existence.
This morning we leave (weather permitting) for Mount Lemmon Observatory. Pray that there isn't any flash snowstorms on the mountain – If for no other reason that I would prefer to wait to get back to Wisconsin before I see more of the white stuff!
Below are some images from the day and a podcast with Dr. Larry Lebofsky and Br. Guy discussing how likely it would be for someone to die by getting hit by a meteorite. It wasn't a topic for the day, but I thought our readers might enjoy it.
Happy Thursday everyone!