As I conceptualized this post, I recalled the joke I use to begin my philosophy course for aspiring Deacons.
"I have two goals for this class in philosophy: 1. Provide you with the philosophical underpinnings of theological concepts you will encounter in your formation; and, 2. Do it in a way that you realize you still exist by the end of the course."
This joke always gets a chuckle, leading one of my students to proclaim, "So, in other words Fr. James, this is 'Philosophy for Dummies.'" We would all chuckle at this reference to the popular "… for Dummies" series and begin our journey through ancient thought.
The connection between this joke and this post is that I think I have officially enter the "Astrophotography for Dummies" stage of my night imaging. Second, it's opening up philosophical questions about image and light that haven't made me question my existence, but have made me question how I see our world.
What do I mean?
I was lucky enough to fall into a good deal on a 200mm f/2 lens. Now, for those who may not "talk camera," 200mm is basically a small telescope. For example, a standard refractor telescope you can find in a big box store can get you a little closer to your object (depending on your eyepiece) than a 200mm camera lens. This difference is the "f number." The f number indicates the lens or telescope's ability to collect light. The lower the f number, the better the lens or telescope is at collecting light. In the camera world, an f number lower than 2.8 is called a "fast lens" while numbers higher are called "slow lenses." Most telescopes' f numbers are between f/4 and f/11 depending on what kind of telescope you have. Therefore, a 200mm f/2 lens is fast… very fast! So fast, in fact, that I was able to capture the image of Andromeda below with just one second of exposure time.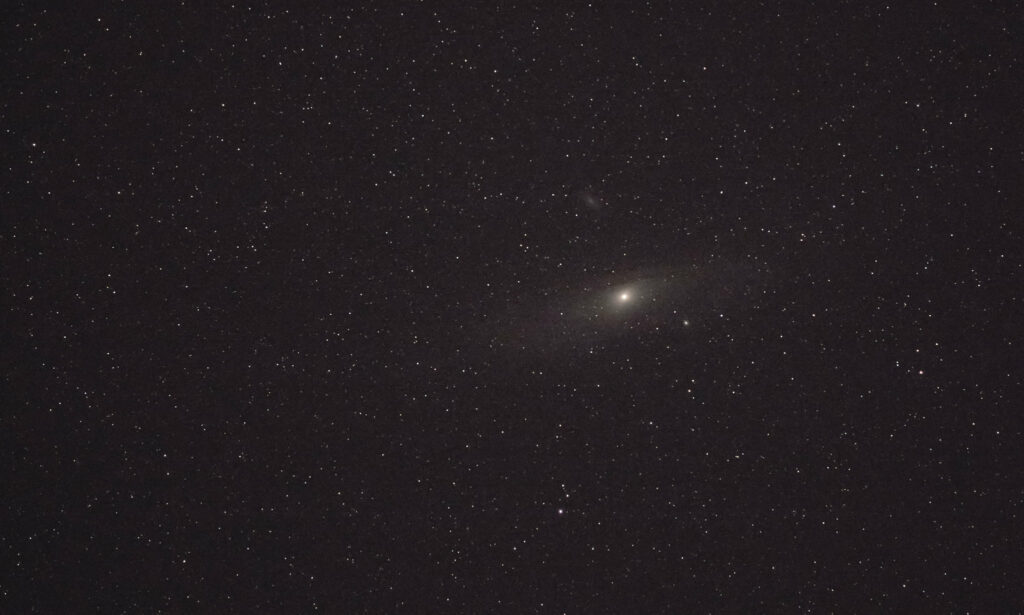 Now, here's where the philosophy lesson comes into play. When I was I editing this image, I started making observations.
There seems to be a little bit of a purple hint to the background… okay… adjust tint toward green.
Oops… Too far, pull back into purples.
Andromeda in books always looks a little more yellow… hmmm… okay, adjust the color temperature into the yellows instead of the blues.
Then it dawned on me… "Am I editing the colors based on what they should be or based on what I think they should be?"
Here-in lies the tension: How much of the science of astrophotography is really science? How much of this science is actually art? And does the art of astrophotography influence the science of astronomy more than we realize?
For example, the camera I used for this image is made by Fuji and has what's called an "X Trans" sensor to collect the data for the image. What "X Trans" means is that the green, blue, and yellow pixels are arranged in a different manor than a typical "Bayer" sensor to get better image quality (Fuji claims… there might be a little marketing in that statement). With either sensor, the color array is meant to recreate what we see.
There's just one problem: We don't all see the same. The phenomena of being "color blind" causes some people to see differently than others. And then what about the infrared and ultraviolet spectrum? Should a "true image" include the spectrum of light beyond what we see? Should we trust our eyes and our brains to basically filter out the "junk data" that our wiring tells us we don't need in order to see properly? Then again, is the filtered data really junk?
Okay, we better stop here before you start questioning your existence, violating one of my basic goals in my "Philosophy for Dummies" class. Nevertheless, I find it interesting how simply taking an image of Andromeda (that actually isn't all that simple) can provoke so many thoughts.
The connection I see with faith is that Jesus teaches us that the Christian faith is a way of seeing the world around us. Whether it be the themes of Catholic Social Teaching, our embracing of Scripture and Tradition, or the basic principal that the Christian life "looks like something," we are reminded that living faith is not merely a thought project of hypotheticals. Rather, the Christian life engages our senses, the world we live in, and our neighbor in a way that may look like "junk data" to some, but is vital for those who see the world different – Dare I say more clearly.
The challenge I find today is that many Christians are starting to treat what should be the clear path of the Christian life as if it were junk data. The adaptation of political ideology into Christian thought is creating diffraction (a term to communicate a loss of clarity) in the visible form of the Christian life. It is important in these challenging days for us to recalibrate the lens of our Christian faith to see Jesus Christ clearly again, reflecting his true image to the world around us.
Spiritual Exercise: Do you think we see the world clearly these days? Are we treating essential data as "junk data" that can create a distorted image of the Christian life? Leave your thoughts below and, together, let us see our world clearly. Let us see with the eyes of Christ. And let us share that image to a world that is increasingly blind to the light of truth.