Yesterday, I had the second worst thing happen that all priests dread – I got sick. The reason I consider this the second worst thing instead of the worst thing that could happen is twofold:
1. My Covid-19 test came back negative.

2. I feel good enough today to celebrate the Easter Triduum, free from the concern of being a potential walking superspreader.
The Easter Triduum is the liturgical high point of the year! To share an analogy from American Football, it's the "Super Bowl of Catholicism." The celebration spans three days: Holy Thursday, Good Friday, and Holy Saturday or the Easter Vigil. Though these are three separate events, liturgically they are to be seen as one continuous celebration. In a liturgical sense, time ceases and we enter into the timelessness of Jesus' life, death, and resurrection.
I recall in my childhood as a server we were instructed to ring the bells throughout the sung Gloria on Holy Thursday. After this sung prayer of praise was done, no bells were to be rung until the Gloria was sung again at the Easter Vigil. At my first assignment, the Pastor took this one step further by not having the Church bell toll the hours from Thursday to Saturday. As a newly ordained associate, I grew to look forward to this silence and it made me feel like my world had stopped in prayerful contemplation.
Last night, I couldn't sleep. Between blowing my nose and other nuisances of being sick, I got out of bed and decided to look at my photographs from sabbatical. I selected three images I forgot that I took and re-edited them. It's hard to believe that my sabbatical was two years ago and began a week before the Covid shutdowns.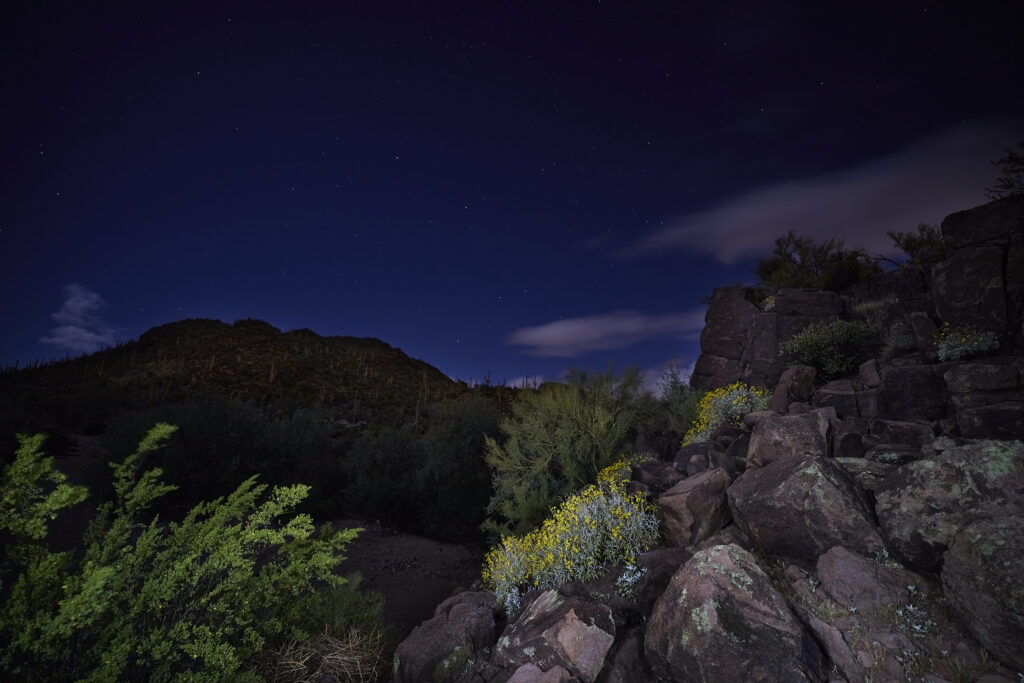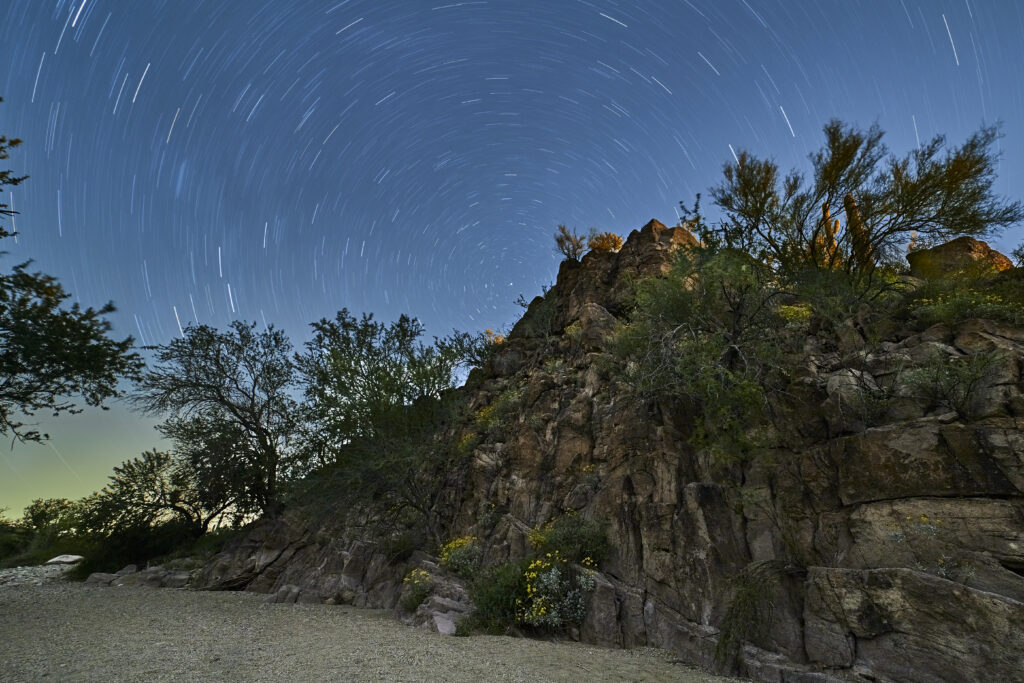 The two images above were wonderful nights of prayer. When you do a star trail image, you have some time to think and pray while the camera shutter is open. I recall when I took the image of "The Wash," my mind was distracted by the stress I brought with me to sabbatical. The image atop "Petroglyph Rock" was a couple days into my sabbatical and I was starting to feel a little peace of heart.
Then, as Easter approached, I stumbled across the image I captured below. The dead cactus through the brush with stars illuminating the background became my image of Good Friday – the co-mingling of death, ugliness, beauty, and salvation.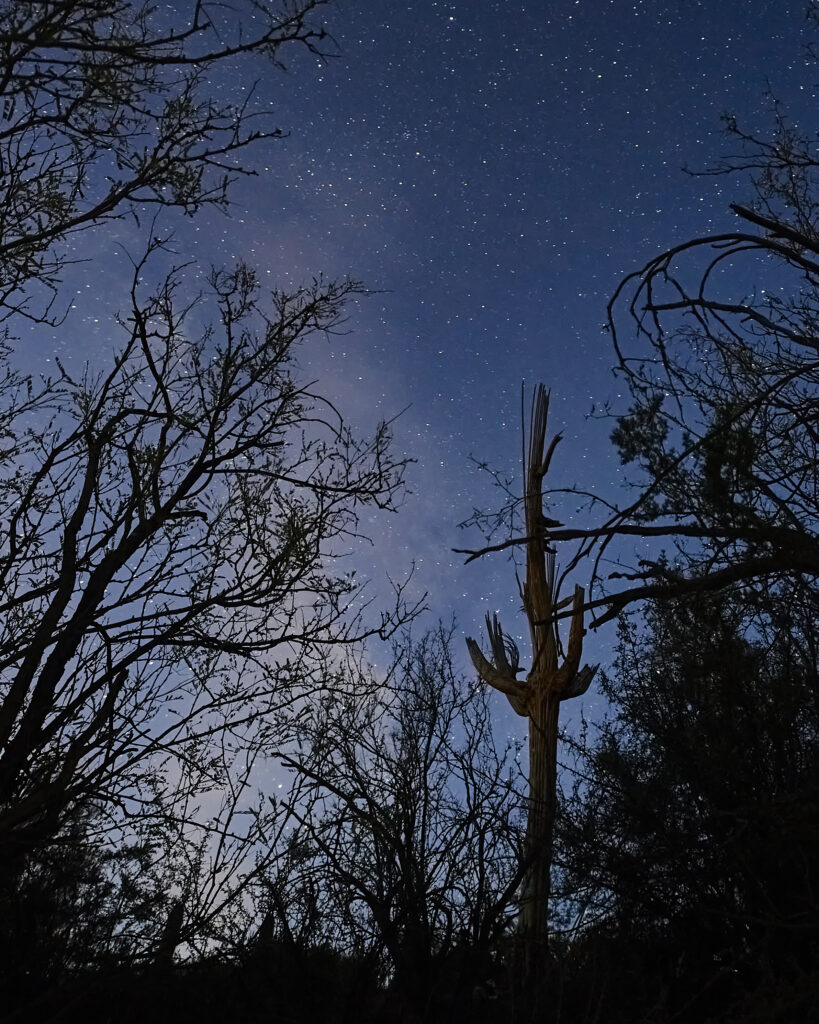 As I sat at my computer, blowing my nose and sucking down orange juice, I had a moment or reentering timelessness. I reflected on all the good God has done for me since my sabbatical. I reflected on the pain this pandemic has provided and the uncertainty the war in Ukraine has created. Death, ugliness, beauty, and salvation. In many ways, I had my Good Friday on Wednesday this year.
This past week, I offered the Sacrament of Anointing of the Sick for a dear friend of mine who is suffering from cancer. The prognosis is poor, but hope and the desire to fight is high. When stepping into their timelessness of the fear of death, the ugliness of disease, the beauty of their faith, and the trust in either healing or salvation, the husband of the woman I anointed simply said, "Fr. James, I don't get whey everyone is so worked up. When I look at my wife and try to server her each day, nothing else matters." At that moment, I thought to myself, "His world has stopped – Mike is in timelessness." In many ways, every day, every week is a Holy Week. In many ways, all of the co-mingling of our suffering and joy is a Triduum.
As I've shared with you in the past, I have been captivated by the science of the day that points to time as an illusion. The reason this captivates me is that, spiritually, we've always had that sense that time is relative and not the mere ticking away of seconds, minutes, hours, and days. St. Augstine in his work on Genesis puts forward that time is a construct of the mind and simply an observation and measurement of change. The "older" I get, the more this understanding of time resonates with me. Whether it be moments when I feel like time is "speeding up" or when it is "painfully slow," its safe to say that I and dare I say the Church are completely comfortable with the notion that time is relative – Especially when experiencing the timelessness of joy, love, and peace.
I would encourage you to try to enter into timelessness today. Perhaps it will mean you pulling out a shoebox of old pictures or scrolling through your social media images of times gone past. Reflect on the graces, struggles, joy, and crosses that have been endured over the years. Try to stay intentionally silent and reflective from today until Saturday, not merely through the lack of bell ringing, but an attentiveness to silence to help your heart find peace. And as always, let us keep the crisis in Ukraine in our minds, hearts, and prayers. Let us not let the atrocities occurring be a mere news item to be read and forgotten. As their worlds have stopped in horror and pain, let us pray that the Good Friday they are living through every day will give way to the wonder of Holy Saturday.
Pray for Peace. Pray for nothing but Peace.