I really wanted to post more often here, but life got in the way…
Some Stats: Here's our latest monthly summary of statistics. As of this writing we have 8,405 people signed up to get notifications of these posts either via Twitter, Facebook, or directly asking for email updates here. As of a bit later in the month, last month, we had 8,336. And back then we had 120 paying members; we've added two more, and it nows stands at 122. Thanks, and welcome!
If we could double the size of the readership, would we double the number of supporters? It's probably not that simple… but it would certainly help.
And what's new: My travels first brought me to Rome for a month, where I immediately got on a train to a little village of Sarno, in the shadow of Mt. Vesuvius, where I got an award and gave a talk supporting the Specola's work in Faith and Science. I was waiting to get a picture of the award, it's quite spectacular, but it hasn't arrived here yet. Meanwhile, here are some photos of the village, which was also spectacular:
And even more amazing was this item that I saw on the wall of the mayor's office…
In order to read the rest of this post, you have to be a paid-up member of Sacred Space, and logged in as such!
I got to meet the mayor; he mentioned that in his job he had to deal with some ornery folks in the nearby town of Acquara, where there was a problem with rocks on the highway that needed clearing, and… the interesting thing to me is that my grandfather was born in Acquara, and came to America in 1899 when he was 7 years old.
Anyway, in the chambers of the city council is framed this interested object:
I can guess the history… people here would have been ornery enough to have no truck with the German occupiers during the war, and anyone caught would have had to wear this around their neck. It's so peaceful here today… hard to remember that in the memory of people still living here, there had been a terrible war here.
In the area I also got to visit the final home of St. Alphonsus Liguori, including a small museum of the rooms where he lived…
Blog News: On Easter Sunday we will be revealing our new name for this blog, Sacred Space Astronomy!
Here's a sneak peek of what the new page will look like: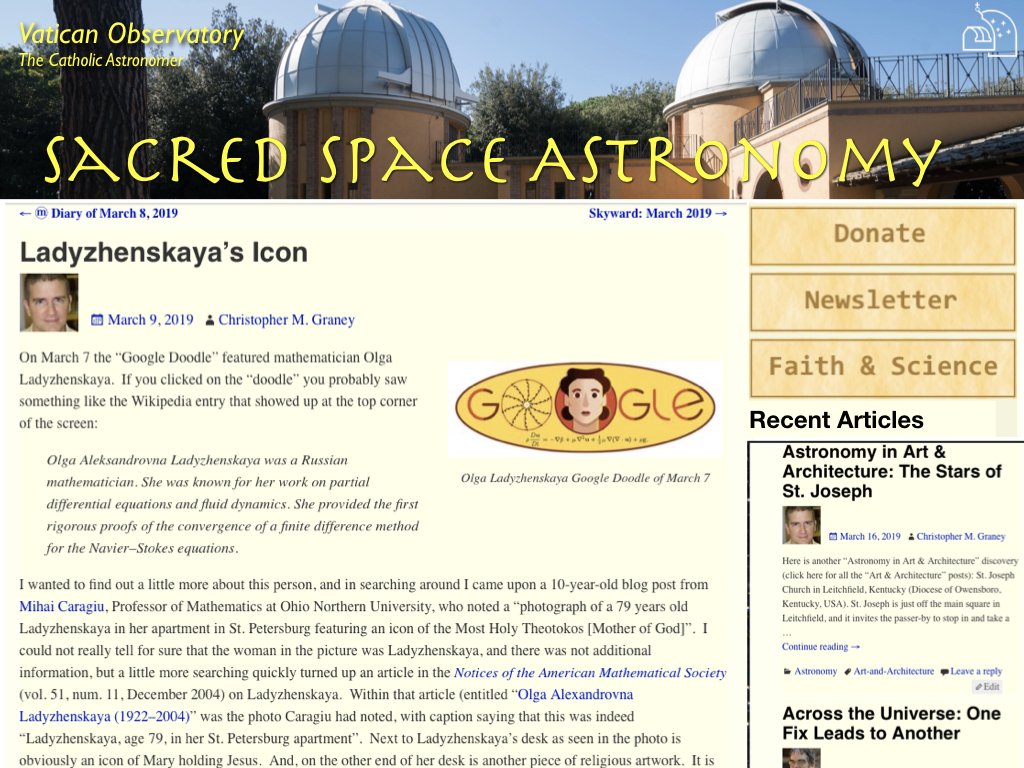 Along with the new page is a new challenge. The VOF has been given a challenge grant… anything new we raise via this new page will be matched, up to $50,000!
This raises one final question… up to now we have been asking you to let us charge your credit card once a month. But is this most convenient for you? How many of you would prefer instead to give once a year instead?