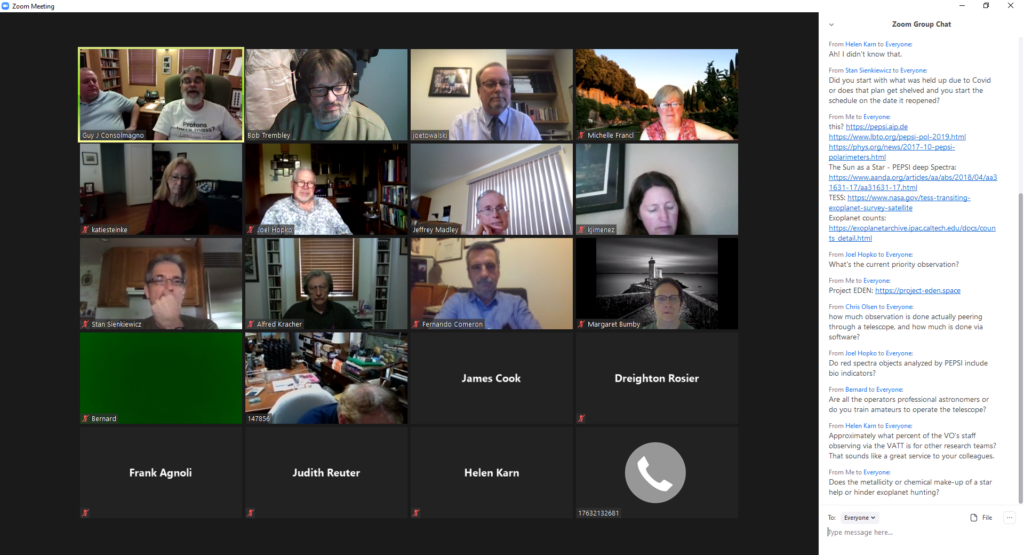 We had a wonderful turnout (around 30 people total) for our first ever Full Moon Meetup, open to our paid subscribers. We were joined by Fr. Paul Gabor, the vice-director for Tucson, who told us about the reopening of the VATT and the research going on there, including a lively discussion about exoplanets and Kuiper Belt Objects.
We plan on holding these MoonUps every Full Moon (as seen from Tucson). This allows us to remember our calendar's roots, where the "month" is just a shortened form of a "moon-th", while also letting the day of the meetup circulate through the week. That means our next Meet Up will be on Saturday, July 4, 10am Tucson Time/1pm EDT. Tune in for fireworks!
Meanwhile, our 2019 Annual Report is now in the mail. This publication is sent to all of our donors, describing what we were able to accomplish in 2019. Which, I confess, feels like about a decade ago. And it gives us a place to honor those who have contributed in a special way to keep us doing astronomy and showing the world God's wonderful creation. In a week or so we hope to have a copy of this online as well.
Which reminds me; our stats: As of today, we have 170 paid subscribers (only two new subscribers since the last diary, but one of them is at the top "Andromeda" level—thanks and welcome!) and 10,244 people (nearly a hundred since last month!) who get notified of new postings. Please tell more people about our site. And if you can, please subscribe at a rate of $10 a month (about the cost of a movie ticket — remember movie tickets?) or $100 per year. And tell your friends about the site!
Meanwhile, we've reached the $66,000 donor level for our George Coyne Memorial Fund. This is two thirds of the way to the first milestone, where we will have enough donated to allow us to publish a memorial book of his writings and the reflections of those who contributed. There are a number of moving memorials that have been posted there recently, including passages from his friends in China, Germany, and India. Be sure to take a look!
And now, for subscribers only, a little bit of in depth as to what we've been up to here at the Foundation, including a discussion of astronomy and race, and my own sometimes uncomfortable role choosing names for features on Mars…
[In order to read the rest of this post, you have to be a paid-up member of Sacred Space, and logged in as such!]
Things are opening up slowly in Rome, and too quickly in Tucson. The few times I have ventured into public I have seen many too many folks without masks; and meanwhile, number of virus cases has increased dramatically in Arizona since Memorial Day. Back when New York and northern Italy were facing crises levels, Tucson had been on an early lockdown and things seemed to be going well. But in part that may have been a fool's paradise since in fact Arizona had the worst level of testing. But the number of people in hospital is the real indicator; and the major hospitals are now saying that they are running out of ICU beds and ventilators. You'd think we would learn, but I guess it is hard to overcome human nature.
All of that has been going on in the background as the demonstrations against racism have taken place all over the world. Today (June 10) is a day when we astronomers have been pausing in our research to reflect on the problems we have in our own field.
Above is a photo of the graduate students of planetary sciences in 1976, when I was studying at the University of Arizona's Lunar and Planetary Lab. Notice that of the ten of us, there was only one woman; I know that there was also only one guy who was ethnically Jewish, and two of us were Catholic in background. That means the class was 60% WASP males. (Its easy to do percentages in a group of 10 people.) Obviously, no Muslims or Hindus, no people of color. We did have two women on the faculty, which was more than most departments could boast in those days.
Today the Lunar and Planetary Lab student body is majority female; though the faculty are still predominantly white males, there are women and Asians on the faculty. But African-descendant planetary scientists are still very rare in the field.
Of the 10 Jesuit astronomers on the staff of the Vatican Observatory, one is African, one is Asian, and one is Hispanic; that's still not a great record, even if it is better than most comparable departments. Our summer schools have worked hard to include students from Africa and other developing nations. It's something we are proud of; but perhaps too proud.
One of my more fun jobs is choosing names for features on Mars: I am the chair of the Mars Task Group for the International Astronomical Union's Working Group on Planetary Systems Nomenclature. As a member of the Working Group, I also get to vote on names for features of the other planets and satellites.
The names are restricted to categories defined long before I joined. We do try to include non-Western nomenclature when possible, but history is against me when it comes to choosing names for large Martian craters: by rule these are astronomers or writers with a connection to Mars who have been dead at least three years, and so the ethnic and racial unbalance of the past echoes in the names I have available to choose among today.
If anyone reading this can come up with historic non-Western writers who made up stories about Mars and deserve a spot on the planet, please let me know!