Monsignor Bouchet's telescope has a mount!
A few posts back I was talking about Msgr. Michael Bouchet's (1827-1903) refracting telescope that is housed in the History Center of the Archdiocese of Louisville (Kentucky, USA), and how the telescope is coming back to life, after well over a century in mothballs. Click here for that post.
But the point in bringing the Monsignor's telescope back to life is for it to be useable, meaning the public can look through it. To be useable, it must have a mount. No one has any idea of what happened to Bouchet's mount. There are not even any photos of it.
So, what would be a good mount for a big old brass refractor? You could just go buy a new mount that would hold the telescope. The scope is long, and pretty heavy (no lightweight carbon fiber tube here)! That means the mount will have to be sturdy, and thus pricey.
The Archdiocese was willing to pony up some funds for this project, especially if the V.O. was partnering with them.  But the fact is that even if money were no object (and that is never the case for most dioceses, and not for the V.O., either), a modern mount would not look right with a nineteenth-century telescope.  That would be doubly true since any pricey mount that could handle this scope would also be built to be able to handle all the technology needs of today's serious amateur astronomer.  "High-tech" surely would not go with Msgr. Bouchet's nineteenth-century telescope.
On the other hand, a sturdy mount that would look right is not easy to find. I hunted all over the internet. As mentioned in the previous Bouchet post, the idea to bring this telescope back to life had a long gestation, and one reason for that was that the mount problem had no easy solution. Over that long gestation I would periodically hunt for an old, or old-looking, mount. Sturdy old mounts, especially a tall one for a big refractor, are very scarce. On the other hand, new mounts that are made to look old give the impression that they are made for show, not for serious public use of a big heavy refractor.
Then a mount fell out of the sky.  This past winter I attended a meeting of the Louisville Astronomical Society, and sitting in our (I am an LAS member) collection of undesirable "Bird Jones" telescopes that people had given us was… a big lousy telescope on a decent-looking wooden tripod!   The tripod was not that old — perhaps thirty years — but it was something Msgr. Bouchet would recognize.  I bought it off the LAS right then and there, for cheap (below, left).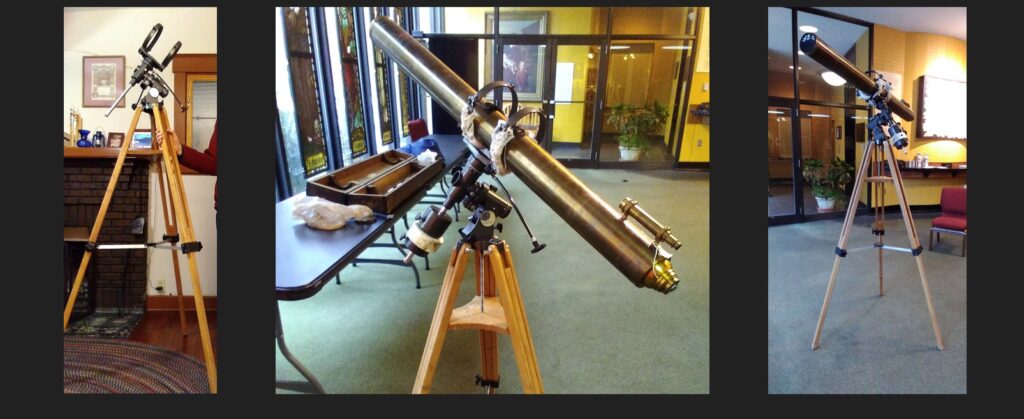 The first thing to do was to see if the mount would work at all. I scrapped together a temporary system to hold the scope to the mount — the tube rings were for the fat, Newtonian-Catadioptric reflector that had been sitting on the mount, so I had to use rags and rubber tie-downs to keep the scope in place (above, center). The Bouchet scope was also a little too heavy for the counter-weights that were available. I had to add another counterweight. But, the mount seemed to work. And with legs extended, things definitely had the right look (above, right). The mount was not rock-solid, but I doubted that something better was going to fall out of the sky. I would be thankful for this boon from heaven, and make it work.
The load the mount would carry had to be reduced. To this end, I replaced the counterweight shaft with one that was much longer. This would allow the mount to be balanced with much less counterweight. This required some engineering. It worked well, but we will need a tennis ball attached to the end of the counterweight shaft when using it with the public, because someone will be bound to run into it.
The wildly oversized tube rings had to go. I found sturdy ones at a reasonable price that were just slightly too large. With some thick wool-felt cushions made by my wife (whose skills have been essential to this project), the rings both hold the scope firmly and yet will never squeeze the tube too hard. The wool will mean that, even if the telescope should be on display for a long period of time, nothing should stick to the tube (as might happen if I used rubber or some synthetic material). You have to think about the long term with this project!
So Monsignor Bouchet's telescope now has a mount.  It has a mount that looks right for the telescope.  Everything moves well and works well.  It all has the right look (important for something used with the public).  The telescope forms nice images of nearby buildings (see video, below).  It is ready to be used at night. 
Until then, it will sit on display in the History Center, so visitors can see it in all its coolness.