This column first ran in The Tablet in October 2018
When was the Golden Age of science fiction? To quote sf fan Peter Graham, it's "twelve." But certainly science fiction came into its own during World War Two and its aftermath when John W. Campbell edited Astounding Stories. Alec Nevala-Lee's new book, Astounding, provides a fascinating look at Campbell and three of his most notable authors: Isaac Asimov, Robert A. Heinlein, and L. Ron Hubbard.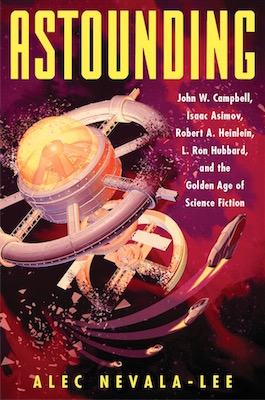 When I was twelve I was a passionate consumer of their stories, anthologized and conveniently shelved in our public library just outside the children's section. Even then I knew these stories were silly, if fun. What I never appreciated at the time was how this genre would come to dominate our culture.
One striking insight of Nevala-Lee's excellent book is how those early science fiction stories praised the engineer as "the competent man." The way they glorified competence perhaps reflected the fact that most of the authors were themselves incompetent at anything other than spinning fictions. Campbell was an MIT drop-out. Heinlein, discharged from the US Navy for poor health, was a failed politician. Hubbard was a disaster as a Navy officer. Only Asimov succeeded in science, earning a doctorate in biochemistry; at that point, he wrote mostly books of science fact, not fiction. But hundreds of thousands of readers every month, many of them engineers, saw in Astounding Stories their own lives and work depicted as a part of a great and enviable adventure. Wrapped around that, though, came the myth of the single bold inventor standing against an unappreciative and ignorant public.
A sad revelation is just what awful people those writers were. All had terrible relationships with women; not only bad marriages, but (especially Asimov) reprehensible public behavior. Campbell was an overt racist and, not withstanding his support of Asimov, an antisemite. Heinlein at least tried to rise above the racism of the times, but in his stories women are at best 1940's clichés and at worst… best not described here. And Hubbard was a habitual liar, a character flaw that at least provided him a living as a fiction writer.
Surprisingly, while they all loudly rejected theism (and mocked fellow SF writers like Anthony Boucher, who was Catholic), religious themes and imagery permeate their work. Even Asimov, the non-practicing Jew, wrote a best seller explaining the Bible. Heinlein had a recurring character named Lazarus Long; Hubbard wrote stories of "old Doc Methuselah." Eventually Hubbard even started his own religion, Scientology, with Campbell as an early advocate. They depended on religious tropes and language. 
It seems that the more they rejected traditional theisms, the more they felt the need to create their own. By the 1950s, Campbell fell into a gnostic search for secret knowledge, ranging from Dianetics to perpetual motion machines to a search for psychic powers. The quality of stories he published began a long decline… though in the early 1960s he serialized Frank Herbert's epic semi-religious space opera, Dune. (Meanwhile, Anthony Boucher went on to found the Magazine of Fantasy and Science Fiction, which soon supplanted Campbell's magazine as the premier outlet for the genre.)
But beyond atomic power and spaceships, the most enduring invention of golden age science fiction remains the myth of the competent man. Jobs, Zuckerberg, Musk… any of them could have stepped off the pages of Astounding Stories. Like all myths, it is inaccurate and incomplete. But it also creates its own truth, shaping the way we understand our brave new technological world.