Where is light pollution getting worse? Sure, it is probably getting worse everywhere, but are there certain places where light pollution is exploding, getting worse much more rapidly than everywhere else? And can you see those places on an internet light pollution map?
I got interested in these questions and started playing with the website www.lightpollutionmap.info to see what answers it might reveal.  I decided to look at the region of the world that I could reach with an easy day of driving from my hometown of Louisville, Kentucky.  That is not a large region, but it still measures hundreds of miles, hundreds of kilometers, on a side.  The website could generate maps for this region for 2012 through 2022 using VIIRS data. 
VIIRS stands for "Visible Infrared Imaging Radiometer Suite". This suite of instruments, carried on different satellites used by the National Oceanic and Atmospheric Administration (NOAA), "collects visible and infrared images and global observations of the land, atmosphere, cryosphere and oceans". VIIRS captured the well-known "Earth at Night Black Marble image".
What stands out when cycling from one VIIRS map of the greater Kentucky region to another?  Check out the video below and see for yourself.  One thing that stands out is that there is a lot of general year-to-year variation.  Some years show a lot more of what appears to be "background noise" than others.  Second, there is not a lot of obvious overall change between 2012 and 2022 in this region.  And third, one particular area in this region does stand out on the VIIRS maps, showing a huge increase in light pollution.
In the area just south of where Interstate 64 crosses the Wabash River, on the Indiana-Illinois border, a real bright spot blooms up on the VIIRS maps between 2012 and 2022. The video below shows the VIIRS maps for this local area. It looks like a small city was built there during that decade!
This was rather mysterious. Why? Because I know the area. There is nothing there. A look at satellite imagery (below) just reveals fields, and lots of "oxbow" ponds from where the Wabash has carved different meandering courses across its own floodplain.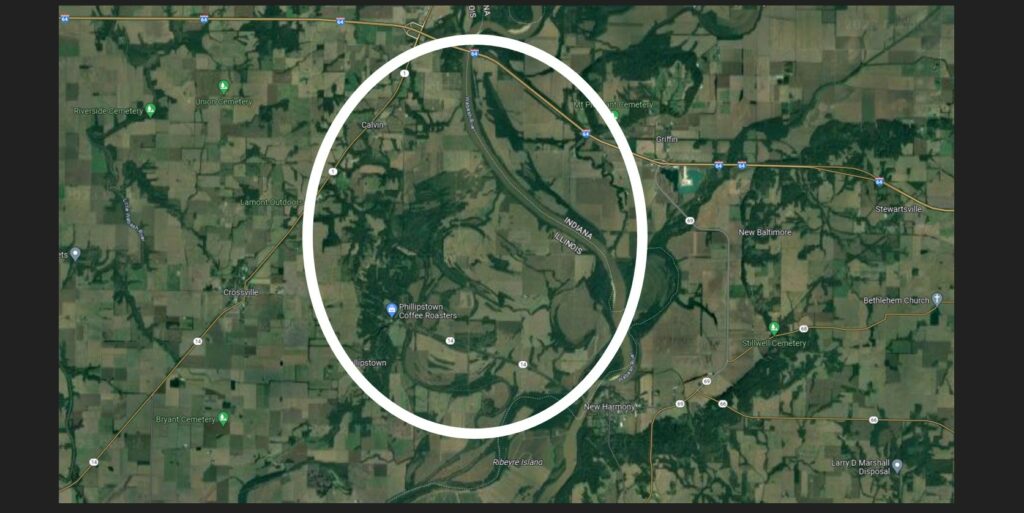 My wife and I took a trip to find out. We stopped at Harmonie State Park on the eastern bank of the river and asked folks there if something was lighting up the western sky. No.
The naturalist there, Amelia Wildeman, has worked there quite a while, knows the area, and likes a good mystery. She had recently figured out the source of a mysterious noise people were hearing at night at a nearby lake. It was large fish, scraping food off half-submerged logs and tree stumps. But she had no idea about any lights. She had not noticed any light pollution to the west.
The photo below shows the Wabash River, seen from the park, looking west, over to where the light pollution would be coming from. There is not much there. What could be putting out all that light pollution?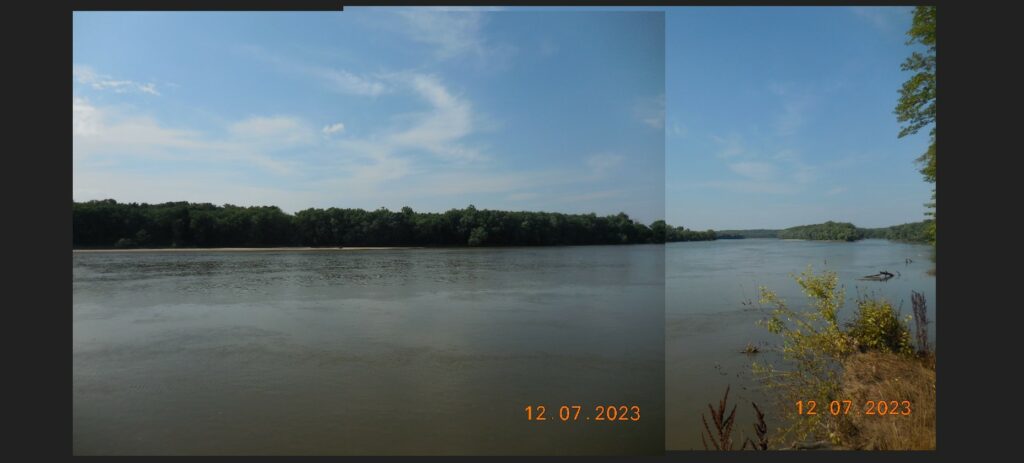 And indeed, we walked around the town of New Harmony in the evening, waiting for things to get good and dark. New Harmony is also on the eastern bank of the Wabash. It got dark. There was hardly a light dome to be seen to the west. No light pollution to speak of.
Well then, what the heck is going on?
We drove over to the area in question, which lies between New Harmony in Indiana and the towns of Crossville and Calvin in Illinois. The land is flat. It is all fields of soybeans and corn. There are almost no houses or other structures (no doubt because the area is a floodplain). We dodged a family of skunks, and a number of deer, and a lot of birds. And among all the green fields were…
Oil wells!
There were oil wells everywhere, pumping away. And many of those wells sported natural gas flares, some of which were quite large and directed down into dirt pits. No doubt those pits are hot. They are radiating heat (infrared) upward. At night, when the VIIRS instruments are taking photos, these are surely dramatic "hot spots" against the rest of the land. The video below was taken right at the center of the largest "hot spot" in the 2022 VIIRS map.
Note in the above video all the wells off in the distance, not just the well in the foreground. It seems likely that between 2012 and 2022, the oil business west of New Harmony really took off. These gas flares are clearly a huge waste of energy. They certainly are a source of carbon emissions. They must be the source of the bright spot that blooms up on the VIIRS maps. But they are putting out heat (infrared), not light. They are creating no light pollution dome west of New Harmony.
At the Seven Pines Symposium that I have been writing about for a while now, a big point of discussion was the idea of what exactly we are seeing with our instruments. What were astronomers really seeing when they turned the first telescopes to look at stars? Are we really seeing black holes today? You have to understand what your instruments are showing to you. Here we see an example of that. The VIIRS maps on www.lightpollutionmap.info suggest a light pollution explosion where there is, in fact, no light pollution explosion.
Sometimes you can't rely on the internet. You have to go see things for yourself.
---
A post script:
On the trip to find the Wabash Light Pollution we stopped at a park to hike around. We were surprised to find an observatory there! It was the Wahnsiedler Observatory of the Evansville (Indiana) Astronomical Society.