Annie Jump Cannon was an astronomer with Harvard Observatory in the late 19th and early 20th centuries.  She was one of a number of women who were hired by Edward Pickering, the director of the observatory at that time.  Cannon's specialty was stars and their spectra.  She worked on the Henry Draper catalog of stars, and she is the one who developed the OBAFGKM classification system for stars (O stars being the hottest, M being the coolest).  If you know that the sun has a spectral type G, or that Rigel is a type B, you are referencing Cannon's classification system.
But Cannon was the author of another book besides the Henry Draper catalog.  When she was in her late 20's she went to Spain to photograph an eclipse of the sun.  Cannon had received a degree in physics from Wellesley college.  After graduation she had returned home, where she taught herself photography, tutored students in math and history, and played organ for Sunday school at the Methodist church in her home town of Dover, Delaware (this despite having lost some of her hearing owing to a bout of scarlet fever while in college).  Her trip to Spain apparently became an opportunity to combine her interests.  She toured Spain, photographing and writing about the things she saw, with a focus on historical sites and churches.  She produced a small book about her trip, entitled In the Footsteps of Columbus, published in 1893.  Fortunately for us, a very nice electronic copy of Cannon's book is available on-line via The Internet Archive.  Click here to browse Cannon's book.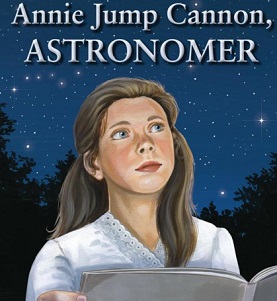 By 1896 Cannon had been hired by Pickering, and her astronomy career was set in motion—she would work at Harvard for her entire career.  There is a nice children's book about Cannon, entitled Annie Jump Cannon, Astronomer, by Carole Gerber.  It is illustrated by Christina Wald.  Many of the illustrations are closely based on historical photographs, so they give a reasonably accurate portrayal of what Annie Jump Cannon did as an astronomer.