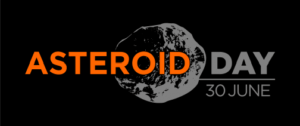 It's June, Asteroid Day approaches!
Asteroid Day is a global coalition of scientists, astronauts, physicists, artists, musicians and concerned citizens that have come together to focus the world's attention on the nature of asteroids, and the solutions that could protect all life on Earth from future asteroid impacts, and inspire the next generation.
Since the summer of 2015, worldwide Asteroid Day events have been held on June 30th, the date of the historic Tunguska Impact Event of 1908.
The founders of Asteroid Day drafted the 100X Declaration. In short:
Over the last decade and a half, we've discovered a LOT of near-Earth asteroids, and continue to do so.
Some of these asteroids can potentially impact the Earth.
Some of these asteroids are large enough that an impact would be "a bad thing."
We need to accelerate the discovery and tracking of Near-Earth Asteroids to 100,000 per year within the next ten years.
We need to get government, private and philanthropic organizations involved.
We seek to have Asteroid Day adopted as a globally recognized event.
Asteroid Day is supported by over 200 notable scientists, astronauts, business leaders, artists, Nobel Laureates and by tens of thousands of private citizens. YOU can read and sign the Asteroid Day declaration as a private citizen here: https://asteroidday.org/declaration/ (I did).
I wrote about Asteroid Day last year; what's changed since June 2016? Quite a bit, actually:
The United Nations General Assembly has officially declared June 30th as the International Asteroid Day!
NASA and FEMA held an Asteroid Emergency Planning Exercise on Oct. 25, 2016.
JPL researcher Davide Farnocchia developed the Scout software to help quickly identify potentially dangerous asteroids, and automatically call for follow-up observations to calculate a more precise path for these bodies.
I searched for the original document in the Obama Archive, and found the Strategy PDF here.
How much is going to happen in the area of planetary defense between now and Asteroid Day 2018? If the current pace continues, I would imagine quite a bit!
Asteroid Day will be broadcasting LIVE from Luxembourg during this year's event:
Asteroid Day LIVE
will be the first-ever 24-hour live broadcast about space, and specifically asteroids, airing on June 30, 2017 made possible by support from OHB, SES, BCE and the Luxembourg Government. Asteroid Day LIVE includes six hours from Luxembourg in addition to live programming from ESA, JAXA and NASA. The six-hour broadcast from Luxembourg plus hours of other international programming is creating a global conversation about some of the most important asteroid missions and new discoveries, with scientists and experts around the world.
http://asteroidday.org/live