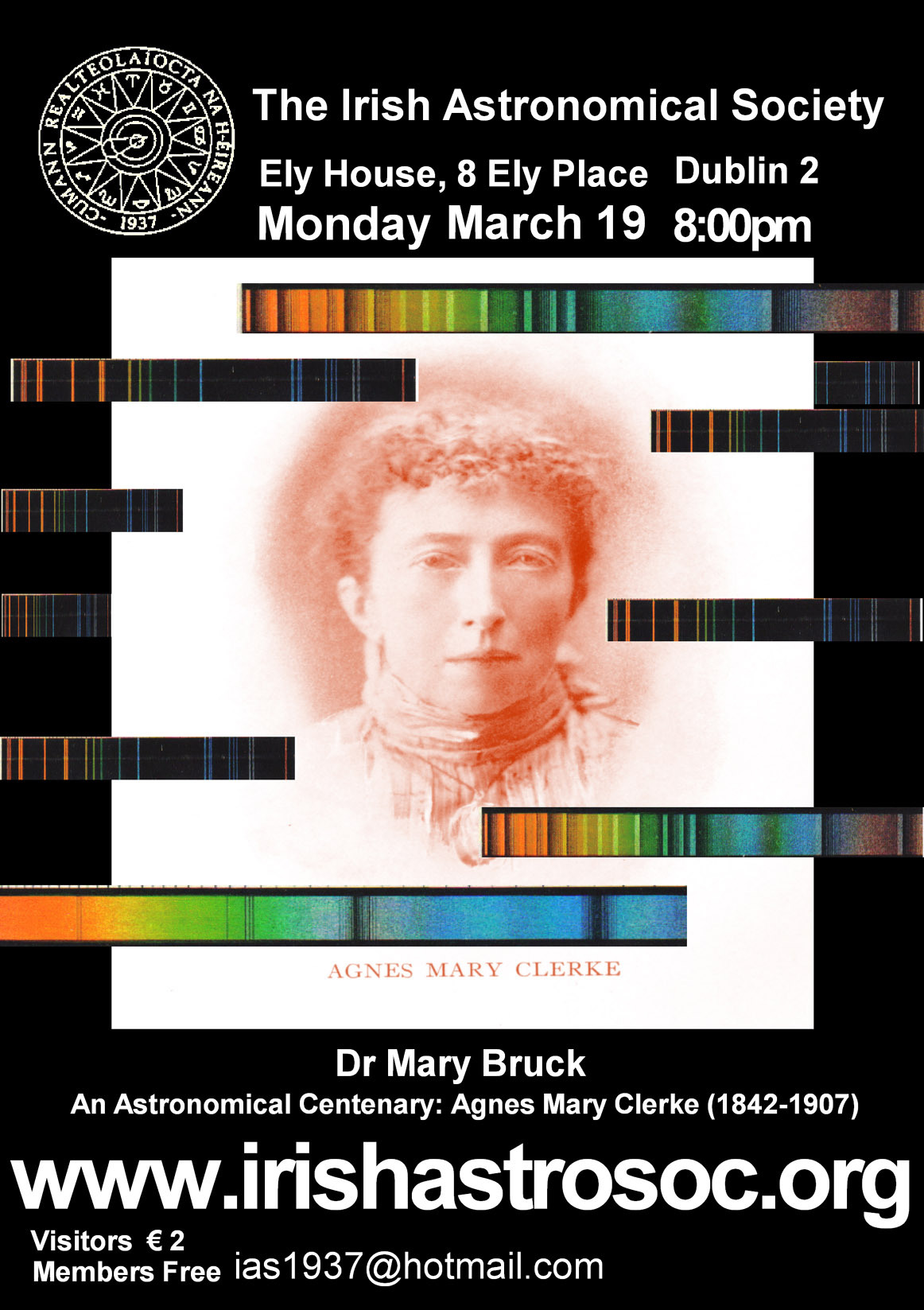 'Astronomy is essentially a popular science. The general public has an indefeasible right of access to its lofty halls, which it is all the more important to keep cleared of unnecessary technical impediments'           Agnes Mary Clerke
When I was president of the Irish Astronomical Society one of the most interesting guest speakers we had was Dr. Marie Bruck. She was noted for her interest in an Irish astronomer called Agnes Mary Clerke.  Back in 2007 our meeting room in Ely Place Dublin was full to  bursting point.  She delivered an eloquent talk on the centenary of the death of  this unusual lady astronomer. Her erudite presentation finished up to warm applause from all attending.
Marie did her doctorate at Edinburgh University and then went on to live and work at  Dunsink Observatory in Dublin in 1950. She met and later married the director of Dunsink, Dr. Hermann Bruck.  After Dublin Marie and her husband moved to The Royal Observatory Edinburgh.
Her own work involved solar spectroscopy, and the nature of star clusters. Her greatly admired studies were a valuable contribution to understanding stars in many aspects. Dr. Bruck was an excellent lecturer, and of course just like Agnes  she continued writing books and articles documenting  the history of astronomy. In 1965 she wrote The Night Sky a Ladybird book on astronomy for children. Marie sent me an acetate of star spectra by Thomas Heath which I scanned to use in the above poster for her talk. Some years ago  I got around to reading her book Agnes Mary Clerke & the Rise of Astrophysics. Which to my surprise was perfectly understandable, it displayed her obvious gift to share complex knowledge in a way that most people could grasp.
This book while very detailed in its astrophysical content, also tells the story of this remarkable nineteenth – century Irish woman. It reveals the life of Agnes Mary Clerke in an upper-middle-class family in urban famine Ireland.  Within its pages, we are given a peek at the unusual cocoon of education  Agnes enjoyed as a child and young woman. Her family were reputed to have started soup kitchens to help feed the starving people in their locality. Ireland was plagued by a famine between  1845 – 1852.  This episode in Irish history tore our population to shreds leaving it even today massively reduced and affected for generations. Agnes and her sisters were highly educated, an aspect of development that was denied to most women at the time. As well as giving us insight into the social history of Ireland the book also parallels and touches the lives of many working astronomers at the time.  One of the most enjoyable aspects of the book is a window into the correspondence between Agnes Mary Clerke and the leading astronomers in the world. David Gill, George Ellery Hale, Edward Holden, William and Margaret Huggins to name but a few. All correspondence was via letter, well written, polite and informative.
Marie Bruck was very encouraging to me over the years.  She admired my astronomical drawings and for a while, we corresponded by letter before moving on to more frequent emails.   She wrote to let me know that she enjoyed my drawings of Comet 17/P Holmes back in 2007. At that time she could not venture outside to observe it herself due to ill-health.   One evening I discovered that Agnes Mary Clerke had a crater on the moon in her name, so I made it my business to find it and capture it in a sketch. Marie wrote an article on Agnes Mary Clerke for Orbit ( the monthly publication of the Irish Astronomical Society) my sketch accompanied it.
While on  holiday in West Cork in 2010 I visited Skibbereen the town where Agnes was born and lived with her family. A plaque on the house records her life.  A display about  her work is on show in Skibbereen Heritage Centre.
Her prolific writing on astronomy for public understanding gained her such respect from her peers in her lifetime. Agnes's  fascination with spectroscopy might well have inspired Marie Bruck's work in that area. Agnes was smitten by spectroscopy which was at the time a "new science ". Measuring the spectra of starlight allows astronomers to understand what ingredients are within a given star. Every star has it's very own spectra, it's very own identity.  Dr. Marie Bruck and Agnes Mary Clerke , two Irish astronomers stellar in their work communicating and championing  astronomy for everyone.
Sketch – Conte crayons, Watercolor Pencils 300gm  Black Paper. Nov 25th 2006 – 16:30UT – 17:10UT FL 1200mm – 8mm TVP eyepiece 23.2% Waxing Moon, 22.8% illuminated, Altitude 11degrees. Bray Ireland.