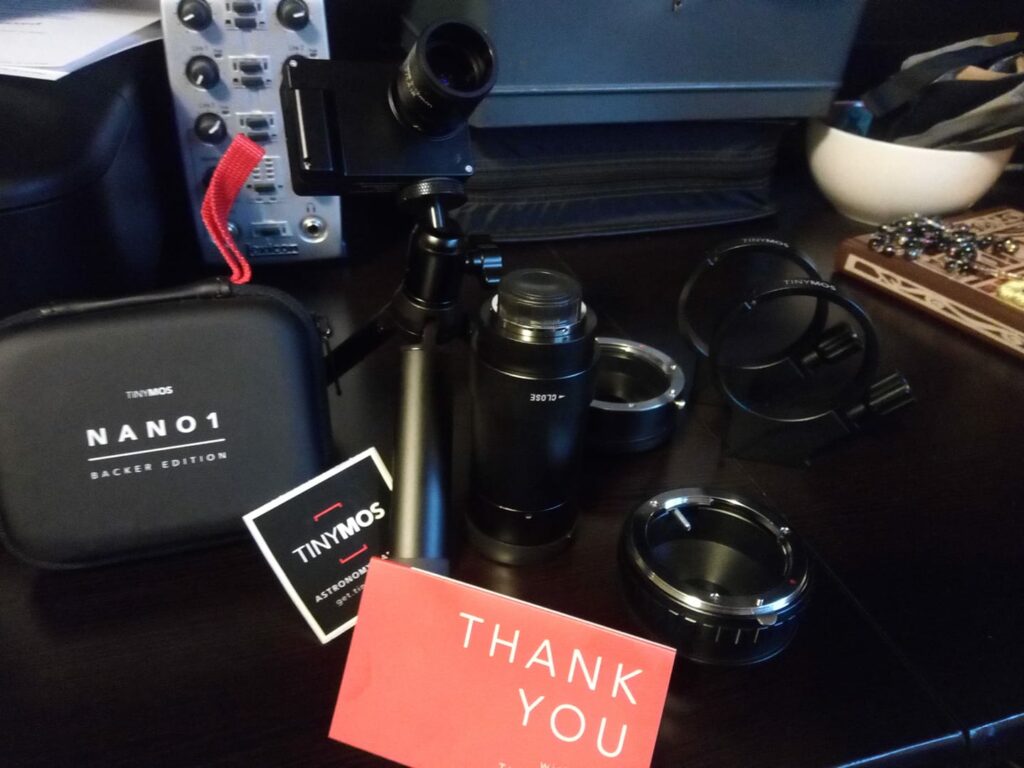 To follow up on last week's post, a big part of my vacation was to explore the capabilities of a new camera. Looking back, I can't remember how I stumbled upon the TinyMOS Kickstarter for the Nano1. I wasn't a frequent flyer on "fund-me" pages and really had no interest in donating toward new technological gadgets. Nevertheless, when I saw the advertisement for an astronomy camera for the beginner, I felt a tug. Ever since my youth, I wanted to do serious astrophotography, but after a few failed attempts in the film era and limited funds, I figured it was a lost cause. The promise of a user friendly camera to enter into astrophotography was quite alluring.
After receiving the camera, I was impressed with how easy it was to use (after finding the power button of course). Now, truth be told, I don't know if I would call it a completely "point and shoot" astronomy camera. In order to take good night photos, you still need to understand things like ISO, exposure times, "f" stops, and so forth. Still, all the presets on the camera are geared toward astrophotography. When using it for the first time, I had a lot of, "So that's the settings you should use for star photography!" Therefore, the first lesson was that not only was this "GoPro of Astronomy" giving me nice pictures, but it was also teaching me how to use the cameras I already own better! Even before I tried to develop any images, these insights made the camera well worth the investment!
So, this is all well and good, but I would understand if some of you are thinking, "Blah, blah, blah, get to the pictures. The proof is in the pixels… Let's see what you got!" Again, I am a beginner in the astrophotography world, so these represent my first attempts. For many, these pictures might evoke a "meh" moment accompanied by a shoulder shrug. However, for someone who's always struggled to take good night photography and has little time to commit to learning the art, these initial images took my breath away! The images below are straight out of the camera with no digital post-processing. Keep in mind, for those of you who know cameras, these images are from a 12 megapixel cmos sensor (basically a variation on the GoPro line). The wide angle exposures ranged from 20 second to 60 seconds! Typically, a camera can only take about 20-30 second exposures (depending on lens size and type of imaging sensor) before you get star trails. When you have a 3mm wide angle fish eye lens, that exposure time can increase. The moon photos are a little out of focus. The out of focus isn't the camera's fault, but mine. This is a completely manual camera and given the small margin of error when focusing a small camera through a Celestron C6 telescope pointed at a quickly moving moon… you get the point.
As I mentioned in the previous paragraph, one of the greatest gifts this camera has given me is not only beautiful pictures, but an intuitive lesson in how to better use the cameras I already own. I own two older digital cameras: A Pentax Q that's about seven years old (12 megapixels) and a Canon EOS-M that's a little newer (16 megapixels). I bought both of them used for about $100 each (minus the lens for the Canon). A few posts back, I posted some pictures with my Pentax. I think it's pretty safe to say that the Nano1 well out performed my Pentax. In regard to my Canon, at first the Nano1 outperformed it. However, when I took what I learned from the Nano1 and applied it to my Canon, I began to see how I could use the Canon to its maximum capacity. So, can my Canon take better night pictures than the Nano1? Yes. At the same time, I don't mention this to say one camera is better than the other. The difference in sensor size alone should clue you into the fact that this wasn't a "fair fight." I mention it because I'm pretty convinced I would not have learned how to use my Canon the way I do now without the Nano1 giving me a hands on crash course in night photography settings.
So, what faith lessons have l learned from this? The more I have been doing astrophotography, the more attentive I have been not only to the night sky, but the world around me. I find myself looking at things like flowers, trees, and buildings with new eyes. My sense of Awe and Wonder has been renewed through this journey as those same flowers, trees, and buildings are no longer just the visual background noise I pass to get from point A to point B. Instead, this form of photography has given me the opportunity to encounter God's creation in new, exciting, and fresh ways. And then, when the encounter is done, I get to sit in front of a computer and painstakingly edit these images so to reveal how God inspires me to view creation. Purchasing this little (and I mean little) astronomy camera was not just an investment, but a tool that has helped me grow in my attentiveness to God's creation.
As I mentioned last week, this review is not meant to be an endorsement or a critical rejection of the Nano1. Rather, I seek to answer a simple question, "Does the Nano1 allow me to purse my love of astronomy in a way that is meaningful and life-giving?" The answer was a resounding yes! In that spirit, the below images are from the three cameras mentioned above. These are heavily edited images and definitely fit more the genre I dubbed "Astronomical Impressionism" from last week. Some of them will appear in my piece for next week on light pollution.
Enjoy and happy Monday!