Sometimes you find the night sky where you least expect it. When I began writing for Sacred Space Astronomy / The Catholic Astronomer I started keeping an eye out for examples of astronomy in art and architecture. Those examples have been far less common than I would have guessed. So I was pleasantly surprised to find the sun, moon, and stars all represented in art—all in the sink of a Mexican restaurant!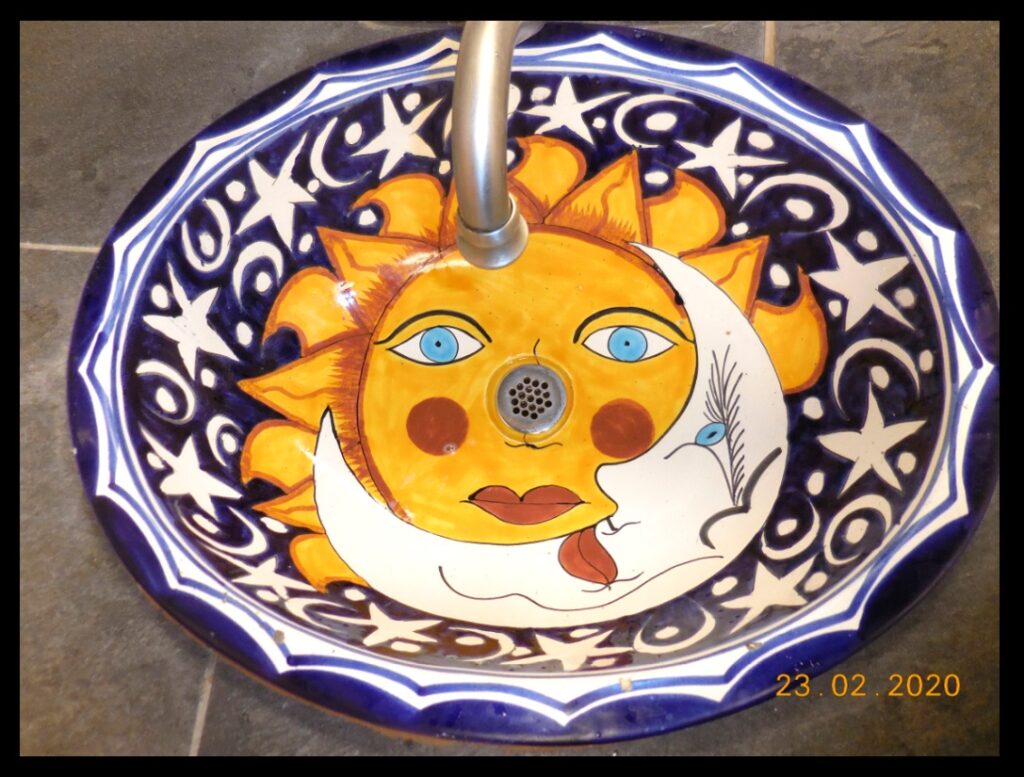 Who expects to look down into a sink and find the sky there? The answer to that question might be "more people than you think, Graney", because a few months after seeing the sink pictured above, I ran into another sky sink, pictured below. This was at a different Mexican restaurant (yes, I am a big fan of Mexican restaurants).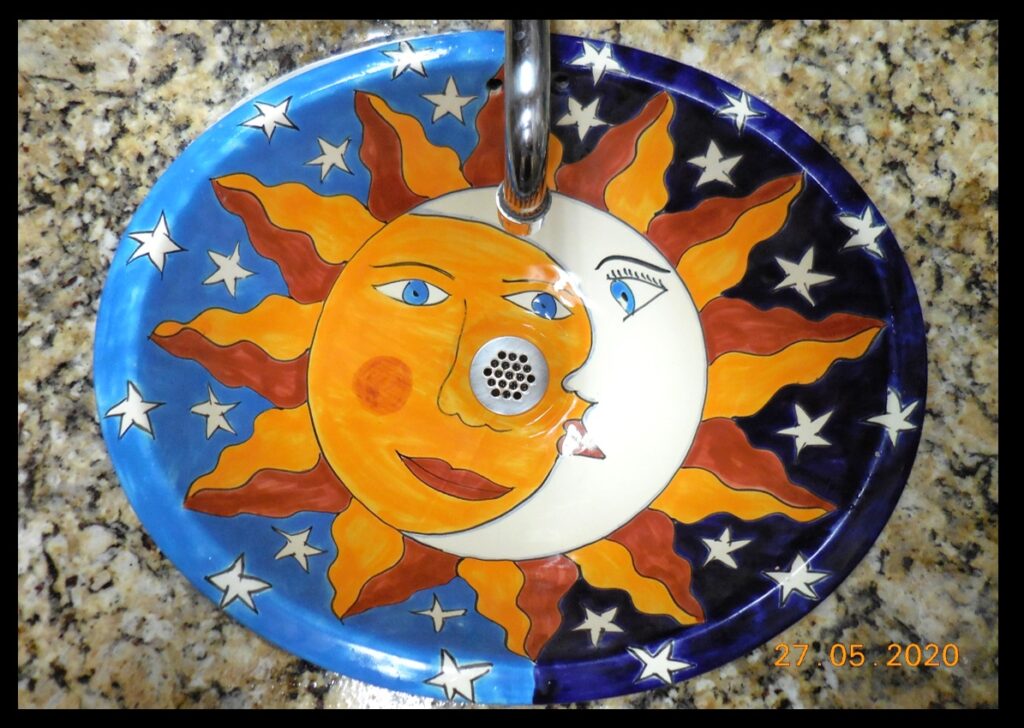 The artists who created these sinks did not aim for a "realistic" depiction of celestial bodies. In particular, the first sink shown here has little crescent shapes with dots embraced within the crescents—a configuration that never occurs in the sky. Nevertheless, these sinks represent all the heavenly bodies visible to the eye: the blazing sun, rosy-cheeked in both depictions; the crescent moon, shown in both sinks with long eyelashes; and stars (I am taking the historical view and counting the planets as "wandering stars" here).
While the artists may not have aimed for a realistic depiction, one of the sun depictions hints that its artist might have known a little more about astronomy than the average person. The first sink's depiction of the sun includes, inside the fiery blazes spreading out in all directions that are so common in representations of the sun, a sort of orange "grass" around the edge of the solar disk itself. This looks a lot like the solar spicules that I have seen in Hydrogen-alpha images of the sun.
Maybe the artist had some familiarity with what the sun looks like through an H-alpha filter. Maybe the artist had just seen enough H-alpha pictures of the sun to think to add this touch. Or, maybe this is purely coincidence, and the artist just liked the orange "grass".
At any rate, these two sinks are cool examples of astronomical art. I saw a lot of other examples of astro-art at a Mexican market in San Antonio, Texas, last year, so now I really have my eye on all things Mexican for still more cool examples of astronomy in art. Looking down and seeing the sky will no longer be so unexpected.
Click here for all Astronomy in Art & Architecture posts.