This discourse… might have happened. 
Frustrated first-time stargazer: "Fr. James, where's this comet you're talking about?"

Me: It's right below the bowl of the Big Dipper. Take your hand and place it over the bowl of the Big Dipper. Turn your palm toward you and move your hand straight down to the horizon. Put the pinky side of your palm on the horizon and then look above your thumb for a fuzzy dot with a tail."

Frustrated first-time stargazer: "I don't see it. Are you sure there's a comet out there Father?"

Me: Yes, it's there. Look for a fuzzy dot with a fuzzy streaming tail going up." 

Frustrated first-time stargazer: "You mean that little thing? Right there? That's the once in a lifetime comet you're talking about?"

Me: "Yes! Congratulations! You found it!"

Frustrated first-time stargazer: "Cool… but it doesn't look like your pictures. Are you sure you took those pictures? You Photoshopped a fake comet in didn't you?"

Me… feeling a little frustrated: "Yes, I took the picture and no it's not Photoshopped. I don't even own Photoshop."

Frustrated first-time stargazer: "Are you sure?"

Me.. trying not to slap my forehead with the palm of my hand: "Yes… Yes I am sure I took the picture."

Frustrated first-time stargazer: "I think there's something wrong with your camera."

Me… right after fighting back the temptation to go full camera nerd on the person: "Yes, you're right. There's probably something wrong with my camera."
Did I slightly embellish this story? Yes, yes I did. In part, I constructed this hypothetical conversation to give you a little laugh. However, there are true elements in these exchanges that reflect conversations I've had with people trying to see comet Neowise. As I have tried to help people see this now fleeting comet, most of their reactions go back to the same question: Why don't we see the comet the way we can in pictures?
There are a lot of ways into answering this question, but the basic answer is that the gift of technology has given us the ability to see our world and our universe differently. For example, the image below was taken at a parishioner's home. They live a little ways outside of the city I live in and gave me permission to set up my gear in their backyard. They had been on a camping trip, incredibly tired, and decided to go bed, not joining me while imaging Neowise. Here is one of the images I captured.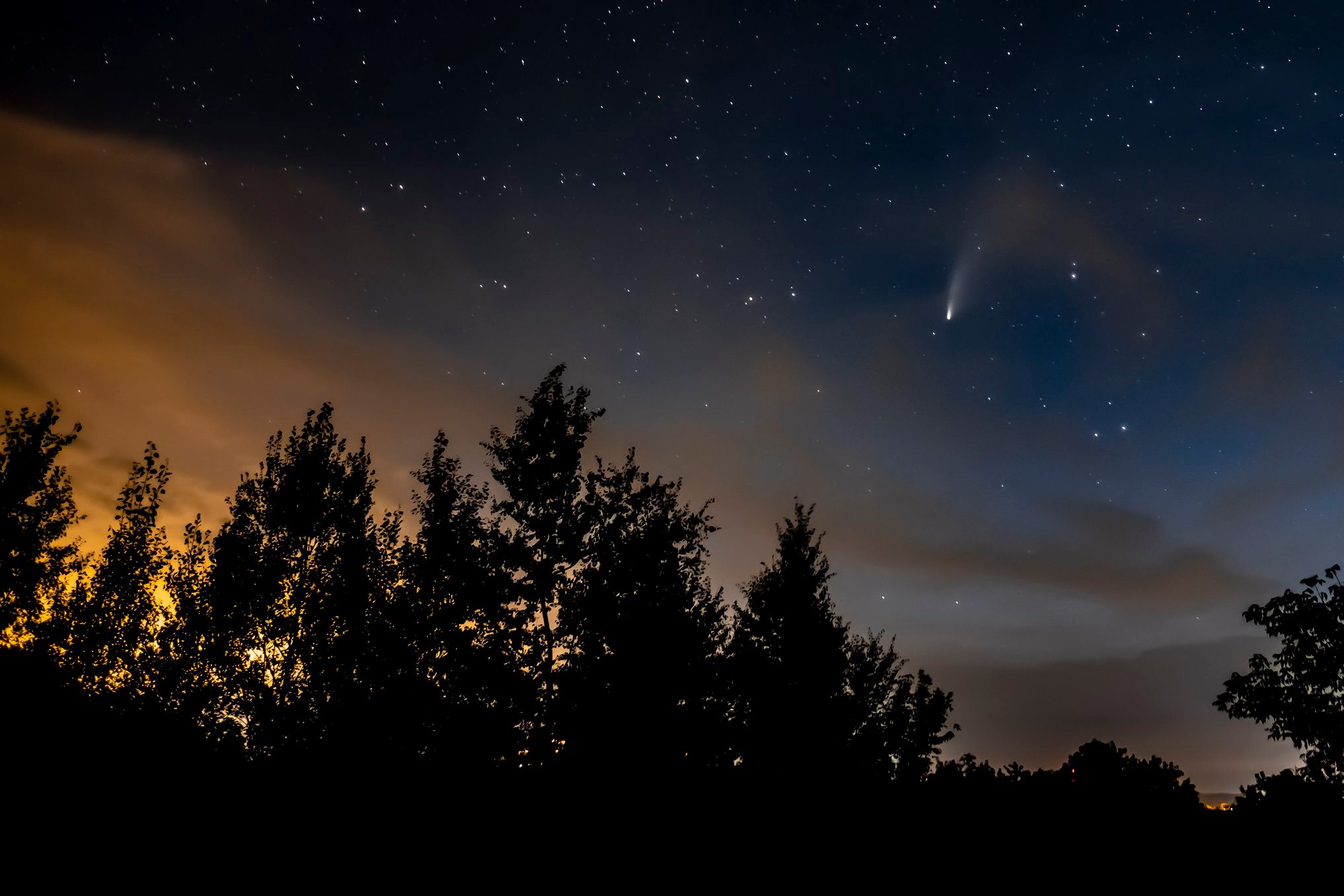 When I shared this image with them the next day, they were stunned. "Wow, we should have stayed up! The sky looks like it was amazing last night!" And, truth be told, it was! However, it didn't really look like this. What I mean is, yes, the clouds were there, but they actually looked more gray and rusty versus the "fireball" in the sky you see. Yes, I "doctored" the image. I didn't put anything fake into the image, but simply took the information that was there and emphasized certain colors and de-emphasized others. The comet somewhat looked like it does in the image, but fainter and the tail wasn't as prominent. I pray this doesn't sound arrogant, but I think they enjoyed my picture more after a good night of sleep than if they had stayed up to see the real thing. To come at this from a different perspective, I edited this image with the thought, "What would look nice framed and on the wall in their home?" Since that was my approach, does the way I edited this image make it a "fake" image? Well, no, because its really the image I took and I didn't add anything to it that wasn't captured that evening. I just adjusted the ordinary colors to make them look more extraordinary.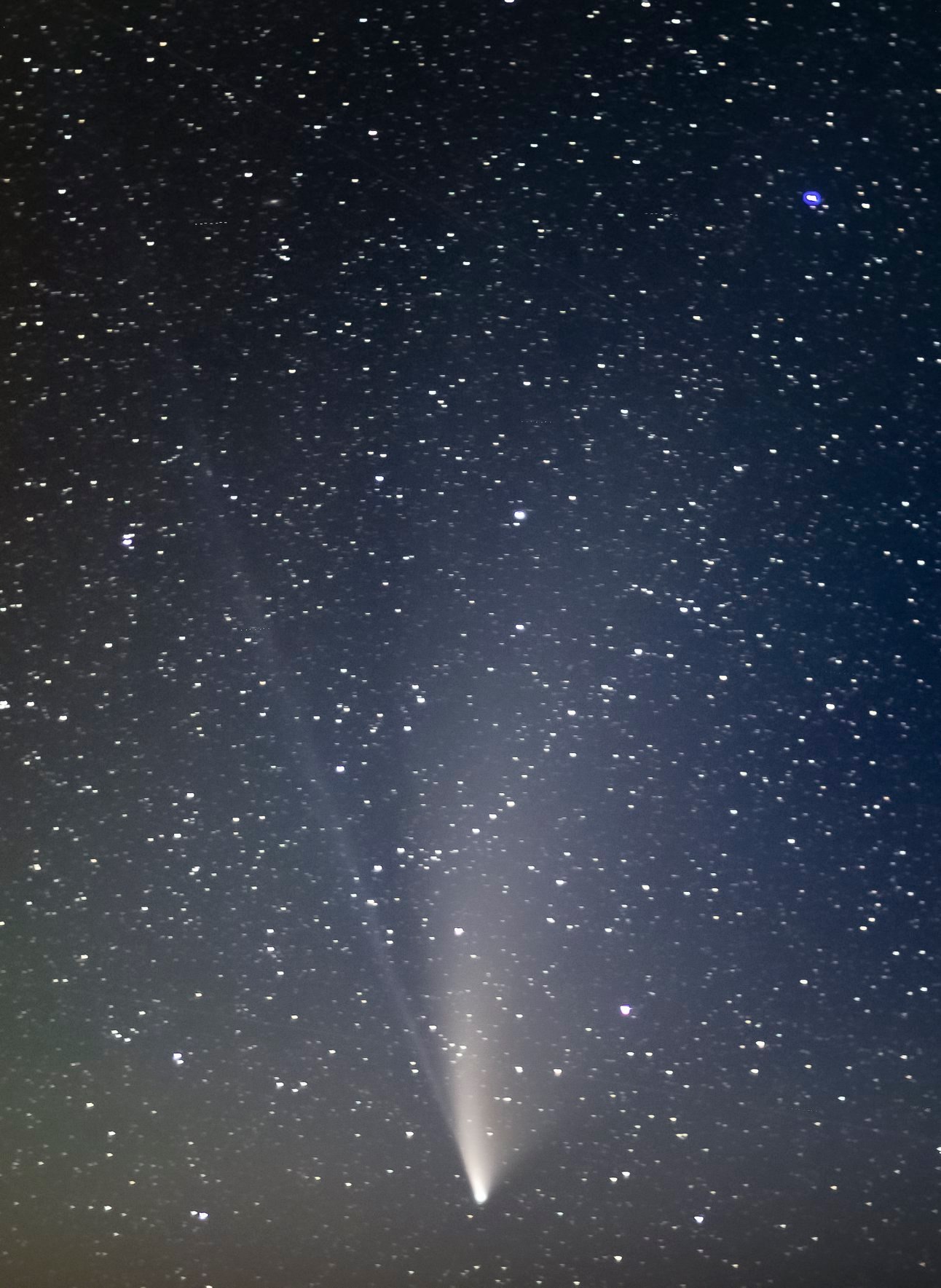 Here's another example. I knew this past Friday was the last night I would be able to image comet Neowise. Since the comet has become very faint, I drove up north of Winter, Wisconsin to one of the darker skies in the state. Two friends of mine run a camp in northern Wisconsin (currently closed due to Covid-19) and were happy to have me come up to do some photography. It was a tricky night for weather. We had relatively high humidity with low, fast moving clouds. Every time there was a break in the clouds, I starting imaging comet Neowise. Now, when I started editing the comet, I was noticing some odd color artifacting. To try to deal with the artifacting, I cropped the image to do away with all the odd colors. The image on the right is what I ended up with. It's 9, one minute captures stacked.
After getting some "oohs" and "ahs" on social media, a good friend of mine asked, "Father, did you see the Northern Lights last night?" Northern Lights? I didn't know they were out. Between the clouds and the comet, I wasn't paying much attention to the rest of the sky. I went back to the original image with all the weird "artifacting" and reedited it to try and emphasize the colors of Northern Lights instead of a comet. This is what I ended up with.
---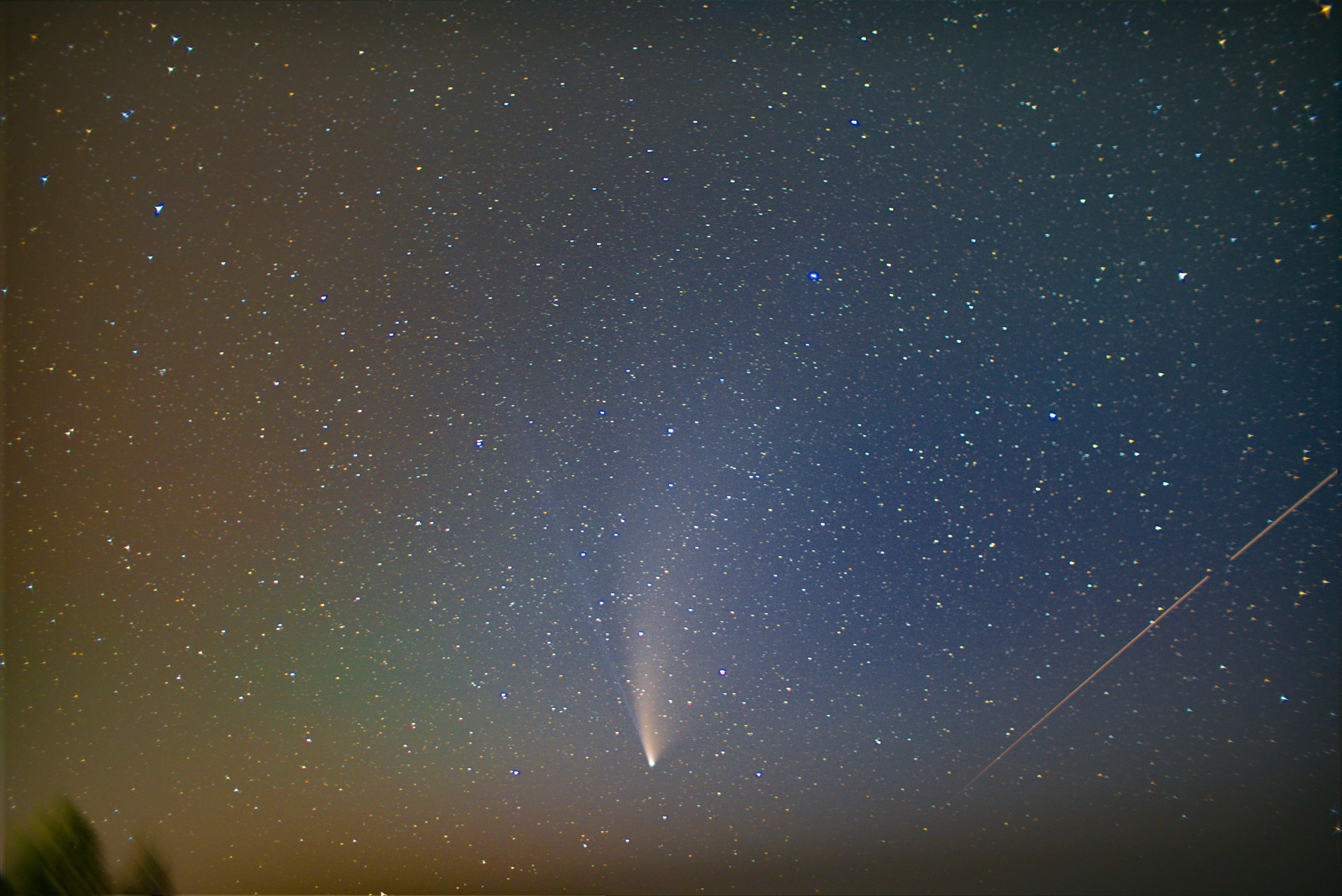 ---
Did I capture the faint presence of Northern Lights? My friend and I can't be sure, but we are sure this is a far more interesting image than my first edit. What do you think? Post your comments below! ( Just so you know before you post a comment, the dark splotch on the bottom is a cloud bank – Remember this represents about 10 minutes of exposure time.)
One of the things I so enjoy about star photography is that there's an odd intersection between what you think you're trying to capture, what you think you see captured when you look through the view finder of your camera, and what you actually captured when you blow it up to 1 to 1 size on your computer. Often times, it's the unexpected aspects of an image that become far more interesting and satisfying than the image you thought you were capturing.
It might be an unfair leap to make, but I wonder if the joy I felt imaging comet Neowise and some potential Northern Lights is a similar experience to what NASA and ESA imagers experience when they observe images of never before seen comets, the Sun, Asteroids, Dwarf Planets, Planets, and Moons other than our own? There's obviously a presumption of what will be seen before a prob with a camera is sent out into space. However, the joy they must feel when they see the image of a celestial body they have prepped years to image must be immense. Did they see what they thought they would see? My guess is that the answer is both yes and no. The images probably contain elements they anticipated along with beautiful surprises that surpass their presumptions.
As I shared with you in the past, a good friend of mine, Jason Bunn, was on the team that helped put together the navigation software for the New Horizon's prob that imaged Pluto and other objects it now passes. I thought of Jason a lot when I saw the NASA press conference of the first images of Pluto. Did it meet scientists expectations? From what I saw on the livestream, I would say they were more than happy with what they saw. Part of my joy watching this historic moment unfold was listening to the science team say numerous times, "We didn't expect to see (fill in the blank)."
---
---
"Father James, is that what Pluto 'really' looks like?" The answer I would give to my suspicious parishioner who is new to astronomy would be, "Yes, but, similar to my comet image, I'm sure there was some editing to emphasize certain aspects of Pluto and de-emphasize others." For some, I know this answer would be less than satisfying, arguing that any alterations to the image for scientific or artistic purposes would create a "fake" image. Now, can an image be edited in such a way that it becomes so divorced from the original capture that it would cease to be a fair depiction of an object? Absolutely! At the same time, we also need to be careful not to jump to too many presumptions about an image. We always need to keep in mind the intent of the person or people editing an image. For example, the image below might be considered "fake" to some given all its wild colors. At one level, that would make sense because I think it safe to say that nobody would think this is what Pluto actually looks like. However, to a scientist studying the surface features of Pluto who understands the editors intent to add theses colors to emphasize the different surface features of Pluto, this might be one of the truest images of Pluto to help them study this stunning Dwarf Planet.
---
---
---
Perspective and intent, key to understanding images of the night sky and key to understanding our faith. When I began to try and understand the Bible on a deeper level, I became frustrated with Scripture commentaries. I felt like I was spending more time reading about the Bible than actually reading the Bible.
Who cares who the audience was for Matthew, Mark, Luke, and John?

Why worry about the dating of these books?

Does it really matter to identify the different ways God is named in the book of Genesis?  

What do you mean I should learn some Greek and Hebrew, didn't the translators get the English translation right?

I just want to read the Bible!
Yes, these were true sentiments from my youth. So true, in fact, that I did ignore commentaries at first and just started to read the Bible. It was wonderful at first! Just letting the words of Scripture wash over me every day was a moment of true peace and joy. However, the more I read the more problems I saw.
Why is the Gospel of John so different from the other Gospels?

Why does Jesus die on two different days when looking at the four Gospels together?

Is there a difference between Matthew's "Blessed are the poor in spirit," versus Luke's "Blessed are you poor?"

Why are there four Gospels instead of one?

Why does God have so many different titles in the book of Genesis?
Now, I could have taken the easy way out and simply answer these questions with, "There must be something wrong with the Bible." However, just as you need to understand what information a photographer or professional imaging specialist is trying to emphasis with astrophotography, so, too, do we need to understand authorship, audience, era, genre, and specific struggles an author of Sacred Scripture is trying to address. Does this make the Bible "fake" when understanding that certain aspects of Jesus' life were emphasized over others to speak truth to a particular community? Absolutely not! In fact, one of reasons I so believe that Scripture is the inspired Word of God is that even though it was written for a specific community it still has the ability to speak clearly to us today in new and fresh ways. However, if we don't take the time to understand the "author's edits" of these beautiful images of Jesus we call the Gospels, we risk a thin understanding of Christ that can become a false image of our Lord. 
"Fr. James, doesn't this turn the Bible into a subjective text of people's opinions?" No, it doesn't. As I've shared with you in the past, one of the reasons I so love astronomy is that you always start with an objective source – the night sky. There are very different interpretations of that night sky, but we always go back to the source. Over time, certain interpretations of the sky have proven to be more accurate than others. This has created a body of science that needs to be understood to get an accurate understanding of our universal home before one becomes a professional astronomer. With Scripture, we always go back to a common source – The person of Jesus Christ. There have been a number of interpretations of that objective source, but some have emerged as more accurate than others. In fact, some of those interpretations have been shown to be so accurate we have named them divinely inspired. To become a professional theologian, these inspired texts need to be clearly understood and all future "imaging" of Jesus needs to reflect these texts. If they don't we then would have a "fake" interpretation of Jesus. However, to ensure a true representation of Christ, we need to understand how and why these four Gospels stood the test of time, even in their diversity of interpretation of the person of Jesus. 
Spiritual Exercise: How do you approach the night sky? How do you approach the Bible? What interpretations of both do you gravitate toward? Are they true images? Pray with and wrestle with these questions both today and for the rest of your lives. The wonders of creation and the wonders of Christ have inspired me to embrace the life that I live as a priest. May they inspire you to become the person and the people God call us to be.
Happy Monday everyone!