Some people really love the mathematical side of astronomy. They are just math nerds. They calculate because they love to calculate.
This past June I had the opportunity to visit the home of just such a nerd. This was the site of the former farm of the 18th-century American astronomer Benjamin Banneker. The farm, near Ellicott City, Maryland, is now the site of a museum and park dedicated to Banneker's life and work. Banneker was a math nerd.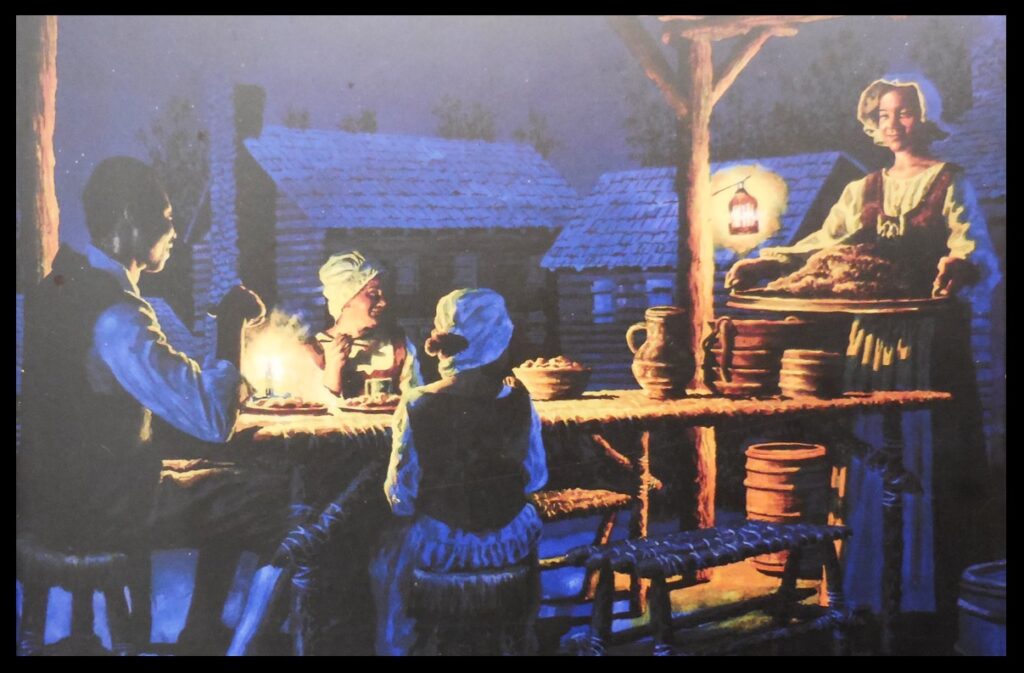 A panel in the museum speaks to this:
Not only a farmer, Benjamin Banneker came to be a master clockmaker, surveyor, writer, astronomer and musician (playing flute and fiddle). But for this early American renaissance man there was no subject more fascinating than mathematics, of which he never tired, both in theory (as in his puzzles) and in practice (as in his Almanacs). Benjamin's independent study, exploration and applications of mathematics would evolve to form the foundation of his thinking and achievements. Among his favorite interests were algebra, geometry and trigonometry—including logarithms and tables of trigonometric functions (sine, cosine, tangent, etc.). This was the root of his knowledge applied in surveying and astronomical calculations, as was needed to determine one's location on the earth, as well as revolutions of the heavens for the ephemeris of his almanacs. Essentially self-taught, it was his genius in mathematics that made self-evident the inherent intelligence of African Americans, in an era and culture that wanted to believe that they had little.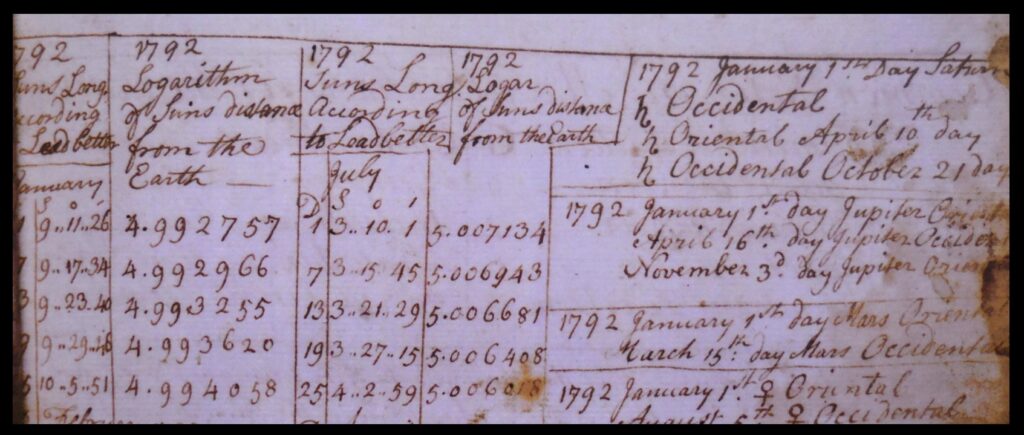 It is the "self-taught" aspect of this that particularly caught my attention here. How was it that a guy who was not at all wealthy—and who was a member of a group of people (African Americans) who had few rights recognized by the broader society around them, and who that broader society did not care to educate—came to be (as we see in the image above) determining logarithms of the sun's distance from Earth in 1792? There are plenty of people today who compared to Banneker are awash in resources and yet who have no idea of what a logarithm is.
Banneker's determination to learn, his love for mathematics and his pure brilliance must have been incredible. He must have oozed both talent and math-nerdness to such an extent that others around him who shared his appreciation for math somehow caught on to him, despite everything, and provided him with whatever was necessary for him to discover the concept of a logarithm and to teach himself what a logarithm was. And keep in mind: even had Banneker been a man of the highest position in society at the time, few others would have shared his appreciation.
The museum's panels show various examples of Banneker's work written out in his own hand. According to the panels, Banneker used James Ferguson's Astronomy Explained upon Sir Isaac Newton's Principles for his work. That book is available on Google Books—you can click here and read it. With it and with his own mathematical knowledge he would calculate eclipse information for London, or for some spot in the Indian Ocean, all by hand. Is there any reader of Sacred Space Astronomy who likes to do trigonometry and logarithms with no calculator of any sort?
Banneker surely did this calculating only for the fun of doing it. After all, he wasn't likely to be visiting London or the Indian Ocean. Indeed, according to the museum panels, he was a homebody who cared little to journey far from his farm. Calculations for eclipses visible from distant locations would not have been of much use for his Almanac. Banneker surely did these astronomical calculations knowing that they were useless to him from any practical perspective.
The late Fr. George V. Coyne, Director of the Vatican Observatory from 1978 to 2006, once commented on the uselessness of astronomy:
For many years I have taught a general astronomy course to college freshman. In an evaluation of the course after about one month I received a recurrent refrain: "This course is fascinating and full of very interesting and new ideas, but it is useless". After many attempts at trying to refute that remark, I finally realized that it is correct. The course is "useless", if that expression is understood correctly. Philosophers distinguish, I am led to understand, between "being" and "doing". A knowledge of astronomy helps us to "be", not to "do". It shares, in that regard, with the visual arts, with music, with sports. Astronomy will not help me repair my car or make better toothpaste, but it will help me be a more interesting person, to myself and to others. It will help me to participate in a richer way in our adventure as beings in the physical universe. Many of the other sciences, of course, share in this "useless" nature of knowledge, but astronomy, I hesitatingly assert, does so in a preeminent way.
Had Banneker and Coyne—both astronomers, both men of faith—met under the stars, they would have quickly found that they had common ground. Banneker did not do his calculations because they helped to advance his career or to make money. He did them because he thought they were worth doing—because they helped him to participate in a richer way in our adventure in the universe—because he was a real nerd.
A musician, an artist, or an athlete can indeed do "useless" things sort of like Banneker did. But, they will all be far more likely to find others who might share their interests than Banneker ever would have been. Banneker's eclipse calculations were indeed preeminently useless astronomy.
I am sure Fr. Coyne would have said, "way to go, Mr. Banneker!"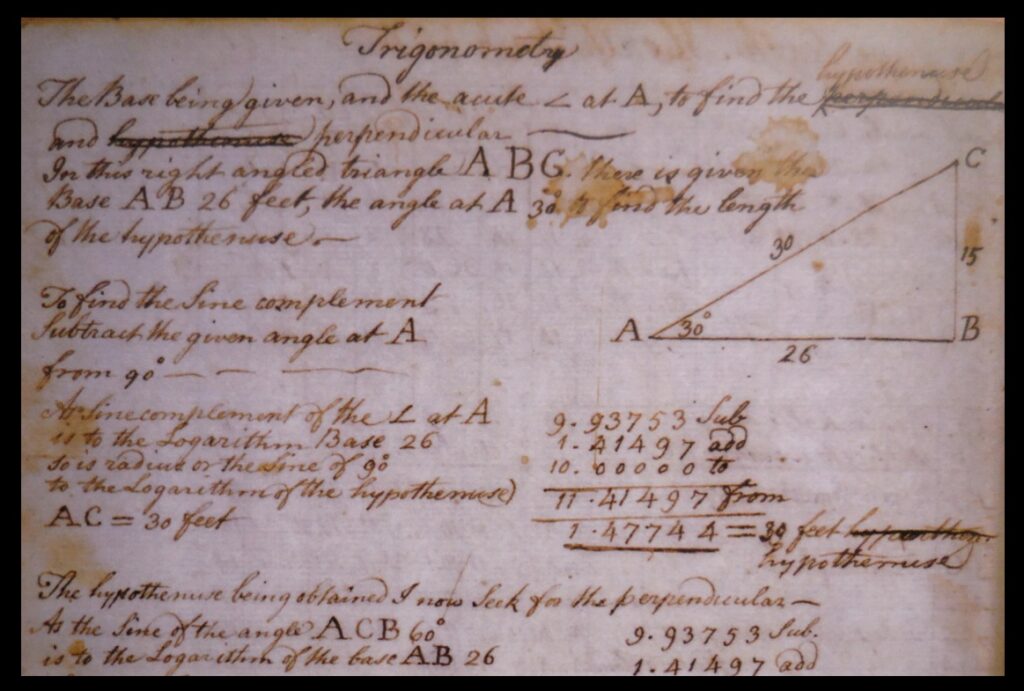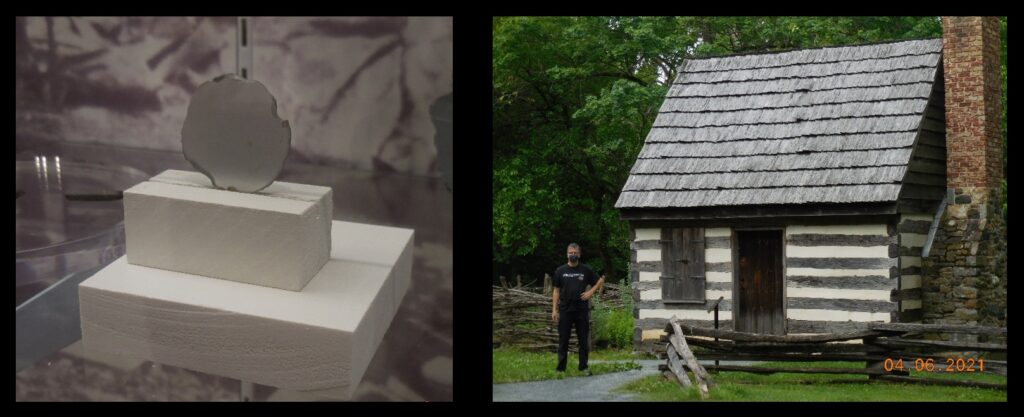 ---
The Vatican Observatory Foundation has just this year produced a commemorative book of selected the works of Fr. Coyne, currently in e-book form. The title of the book is From the Director, and I am happy to say that editing this collection was my job. If you are interested in the book, you can obtain a copy by contributing to the Fr. Coyne Memorial project. Click here for that.