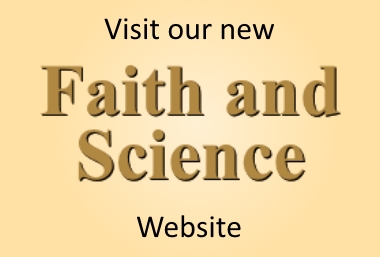 Take a look at a new resource on the Vatican Observatory Faith and Science website!—brief reviews of astronomy textbooks from a "Faith and Science" perspective.  You will find all this under "Educational Resources".
The idea for these reviews arose from questions that Vatican Observatory/V.O. Foundation folks have received over time, and from one question in particular.* A while back, someone used the contact link here on the blog to ask about astronomy textbooks. The questioner asked if we could recommend an introductory astronomy textbook that would be suitable for Catholic homeschooling.
This question produced a bit of discussion at the V.O.F.  What was the questioner looking for?  What would make an astronomy text more or less "Catholic-suitable"?  There are science textbooks, published for certain religious schools, that do not discuss, say, the Big Bang theory.  But the V.O. is a scientific establishment—we are not going to recommend a book that dismisses a major scientific idea that has good reasoning and data behind it.  Moreover, the Big Bang Theory was developed by Fr. Georges Lemaître, who would go on to head the Pontifical Academy of Sciences.  It's not as though the Church has some problem with the theory.  But our questioner probably knew all that.  And he or she did not ask for information about that kind of book.  Indeed, he or she might think us rude were we to respond with "waddaya want, some book that don't talk about da Big Bang?"
Maybe what the questioner wanted was a book that was scientifically sound, but that did not repeat those hoary and misleading "religion against science" myths that are so common. Unfortunately, they sometimes do appear in textbooks. It would be logical for a Catholic homeschooler to prefer not to have to deal with questions from his or her children like "hey, it says here in the book that Galileo invented the telescope, and he could look through it and plainly see that the Earth circles the sun, but the Pope threatened to burn him at the stake; how could the Pope threaten someone over something that anyone could look at and see was true?!"
But the fact was, we were unprepared to help our questioner on this.  We were not familiar with enough books.  The only V.O./V.O.F. person teaching introductory astronomy at the time was me; I used my own textbook however, and so I was not looking through commercially produced textbooks on a regular basis.  But, as Editor of the Faith and Science pages, I thought it would be useful for me to start becoming familiar with such textbooks.  I could stop in college bookstores and take a quick look at available texts to see what was good and bad in them.  That would be an interesting and fun project.  I like bookstores.
College bookstores are not so fond of people browsing the shelves these days, however, at least not in my region of the USA. The stores now keep the books behind a barrier. Stopping in college bookstores and wandering the textbook shelves was not going to work. That was the end of my short-lived astronomy textbook project. But, it remained in mind.
Then this past Fall I started work cleaning up one of the physics labs at my former college (I retired this past summer, so of course it is obvious that I would now hang around doing manual labor for fun).  The lab had not received attention for quite some time.  And, guess what I found buried under papers and old boxes of Vernier software and manuals from two or four decades ago ("Lab Interface card for the Apple IIe"!) and so forth?  A collection of astronomy textbooks!  The textbook review project came back to life, and thus the new addition to the "Educational Resources" section of the V.O. Faith and Science website.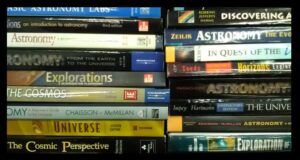 I have reviewed 19 astronomy textbooks so far. The oldest book was published in 1973; the most recent in 2018. The scope of the reviews is very limited, as you will find explained on the textbook review pages. Nevertheless, you will find much variety in the texts. You will learn something about astronomy textbooks, as you can find one text saying one thing, and another saying just the opposite. You will find, among the 19, several by the same author or authors (in one case, the authors of a book published in 1991 published another in 2018). In these cases, do the books improve with the passage of time? See what you think.
Click here for a direct link to the "Educational Resources" page of the Vatican Observatory Faith and Science site.  Scroll down a bit for the information on textbooks.  Enjoy.  Should someone ask us about astronomy textbooks now, we will have something toward which to direct them.
---
*This is my general recollection of something that occurred some time ago. I do not imagine that my memory regarding this is completely accurate.