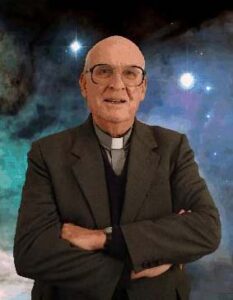 We've already collected more than a dozen remembrances from people who knew and worked with Fr. Coyne on our Fr. Coyne memorial page. Many have mentioned what a wonderful person he was, how much they enjoyed working and talking with him. If you have memories of Fr. Coyne you'd like to share, please use this form.
We're about 20% of the way to our fundraising goal – thank you to everyone who has donated! Donations to the Fr. Coyne memorial fund are still being accepted, and will go towards the creation of a book with a selection of Fr. Coyne's writings and the remembrances posted on our site.
We were planning on having a memorial gathering for George at the University of Arizona back on St. Patrick's day, but alas the coronavirus led to the shutdown of the University, so that event has been postponed at least until the fall.
Meanwhile, however, Br. Guy has created a video to show at the memorial with a number of photos that people had sent to him of Fr. Coyne over the years; and so, since we couldn't show it there, here it is online:
You can view more videos featuring Fr. Coyne on our memorial page: https://www.vaticanobservatory.org/fr-george-coyne/#videos.