Frank Borman, Commander of NASA's Apollo 8 mission, died at the age of 95 on Nov. 7, 2023. Apollo 8 was the first mission to fly a crewed spacecraft around the Moon. Borman held the rank of colonel in the United States Air Force in 1968, when he flew Apollo 8.
Christmas Eve Broadcast
Apollo 8 entered lunar orbit on Christmas Eve, Dec. 24, 1968. That evening, the 3 astronauts, Commander Frank Borman, Command Module Pilot Jim Lovell, and Lunar Module Pilot William Anders, broadcast live from lunar orbit, showing pictures of the Earth and Moon as seen from their spacecraft. They ended the broadcast with each of the crew taking turns reading from the book of Genesis.
Earthrise
Earthrise is the iconic photograph of planet Earth and part of the Moon's surface taken from lunar orbit on December 24, 1968 by astronaut William Anders. The photograph has been described as "the most influential environmental photograph ever taken."
I mentioned to my mother in-law that I was writing this post, and was going to include the Earthrise photo – she remembers that image, and profound effect seeing the whole Earth for the first time had upon her. Personally, I feel everyone should feel that way about our Earth, all the time!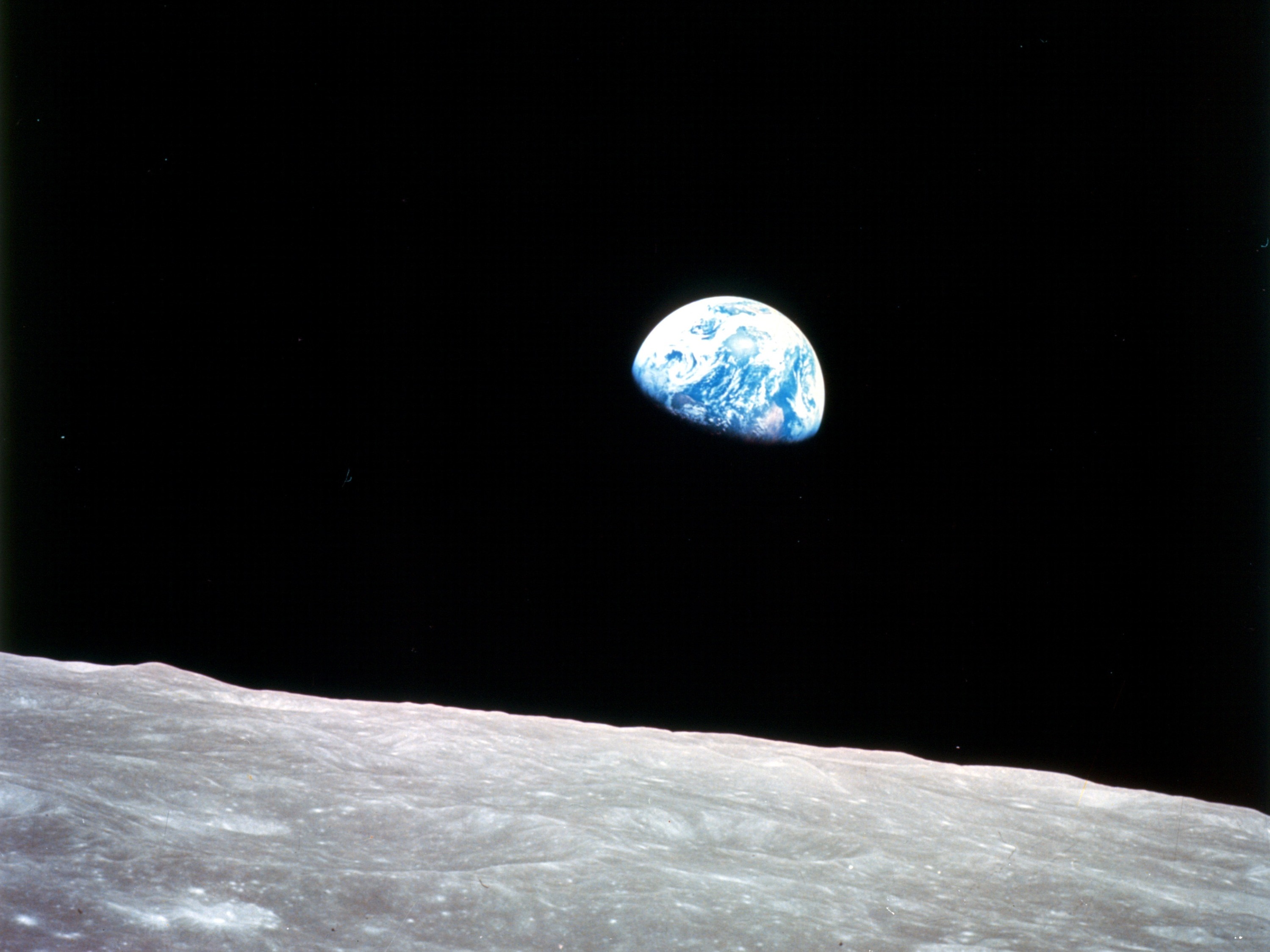 Papal Audience and Visit to the Vatican Observatory
Borman and him family had a 17-minute audience with Pope Paul, where short speeches were given, and gifts were exchanged – the Pope receiving a large color photograph of the Moon, and Borman receiving an autographed photo of the Pope, and two photocopies of ancient bibles.
The Pope praised Borman's lunar mission as having ''added to man's knowledge of God's work, thereby increasing his appreciation of the glory of God." Adding "Today, man's admiration of God's handiwork speaks with a new voice"
From the Catholic Northwest Progress, Volume 72, Number 8, 21 February 1969: Astronaut Borman calls visit with Pope Paul VI 'wonderful'
Article-Frank-Borman-presents-photo-to-Pope-Paul-IV

Article-Frank-Borman-presents-photo-to-Pope-Paul-IV-continued

Borman finished his trip to Italy by visiting the Vatican Observatory at Castel Gandolfo on Feb. 15, 1969, where left his signature in the guest registry – this was less than two months after his Christmas message from lunar orbit on Apollo 8!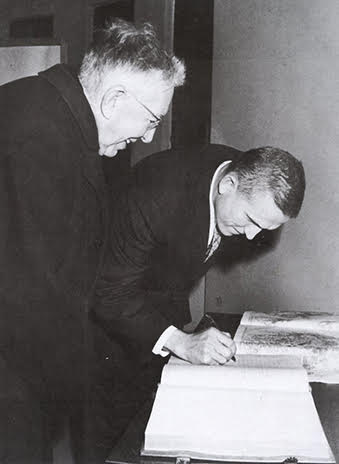 Borman also left a signed copy of Earthrise, addressed to Fr. Daniel O'Connell who was the director of the Observatory at that time. It now hangs in the hallway of the Vatican Observatory's main offices in Castel Gandolfo, next to the director's office. Beside it is a photograph from Gene Cernan, the Apollo 17 astronaut, inscribed to Pope Paul VI when he visited a few years later. Alas, both photographs are quite faded now, as is the Moon photo which is elsewhere at the Observatory.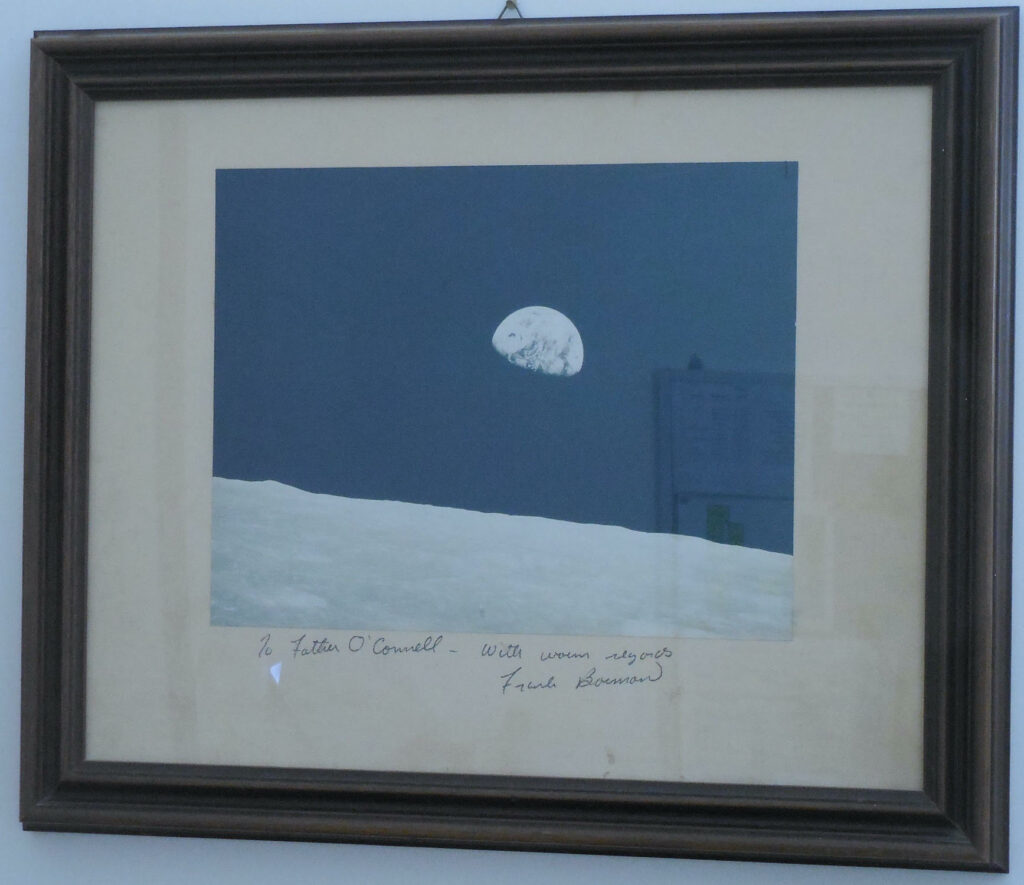 I followed the space program as a child – every launch, every moment of news surrounding astronauts I could watch. I remember the Christmas Eve broadcast from lunar orbit, but I only learned of Frank Borman's visit to the Vatican Observatory, and his audience with the Pope as I was writing this post. As unhappy as these circumstances are, I am glad to be sharing this story.
Video: Recreation of the Apollo 8 mission
This video shows many of the major events of the Apollo 8 mission; it combines original CBS news audio and video with Walter Cronkite, command module audio from NASA, and spacecraft simulations using Kerbal Space Program – a fantastic way to show modern-day animations of the historic events during the mission! The video includes the events surrounding the taking of the iconic "Earthrise" photo.
Acknowledgments
Thanks to Br. Bob Macke for providing images from the Vatican Observatory from this post.
And thanks to Br. Guy Consolmagno for eye-balling this post, and for the text he provided.
Related
Statement by NASA Administrator: https://www.nasa.gov/news-release/nasa-administrator-honors-life-of-apollo-astronaut-frank-borman/
NASA Apollo 8 mission details: https://www.nasa.gov/missions/apollo/apollo-8-mission-details/
Frank Borman's entry on Wikipedia: https://en.wikipedia.org/wiki/Frank_Borman
Borman was born in Gary, Indiana, but considered Tucson, Arizona his hometown – where he attended both elementary and high school, and where he met his future wife, Susan.