Mars helicopter to get software upgrade
The Ingenuity rovercraft detected an issue during a high-speed spin test of the rotors on April 9th; this occurred during a transition from 'Pre-Flight' to 'Flight' mode. The helicopter is safe and healthy and has communicated telemetry to Earth – which has been analyzed by engineers; a flight software update is being reviewed and validated at JPL.
I mentioned this to my wife before she left for work this morning – the path that software update has to take through the Mars Relay Network to get to Ingenuity just AMAZES me!

Mars appears high in the western sky after sunset; the waxing crescent Moon can be seen in the western sky at dusk, appearing near the star Aldebaran on April 15th, and nearby Mars on April 16 and 17th.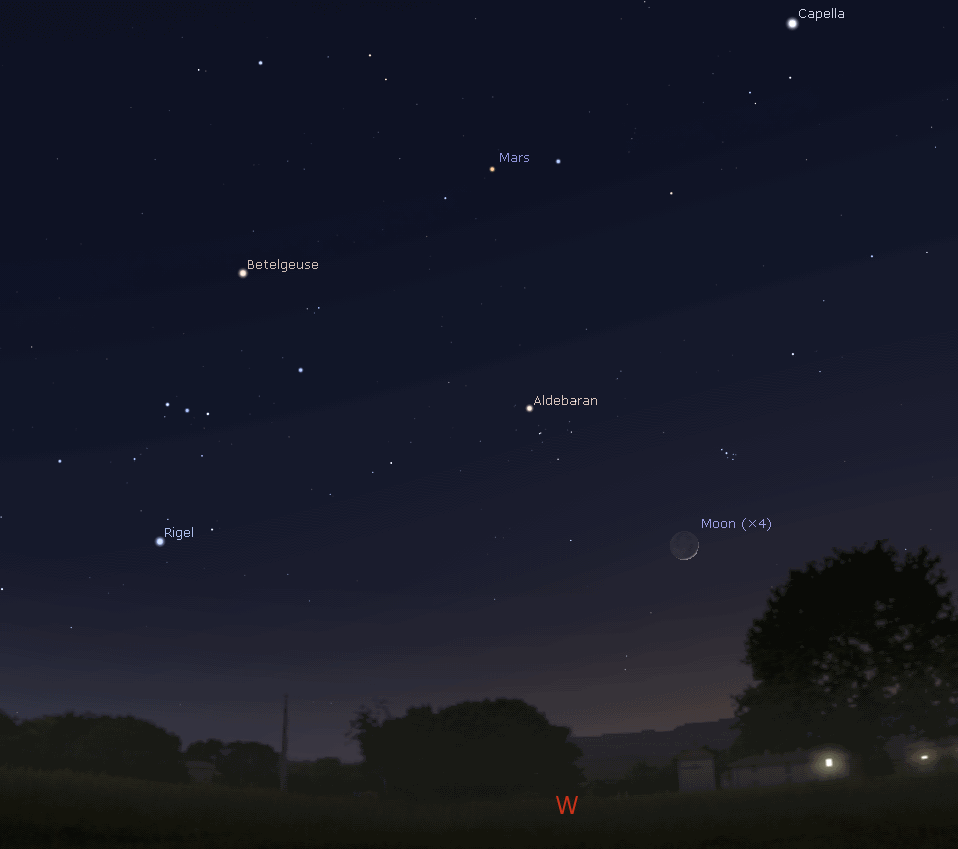 The waxing crescent (almost first quarter) Moon appears high in the southwestern sky after sunset near the star Pollux on April 19th.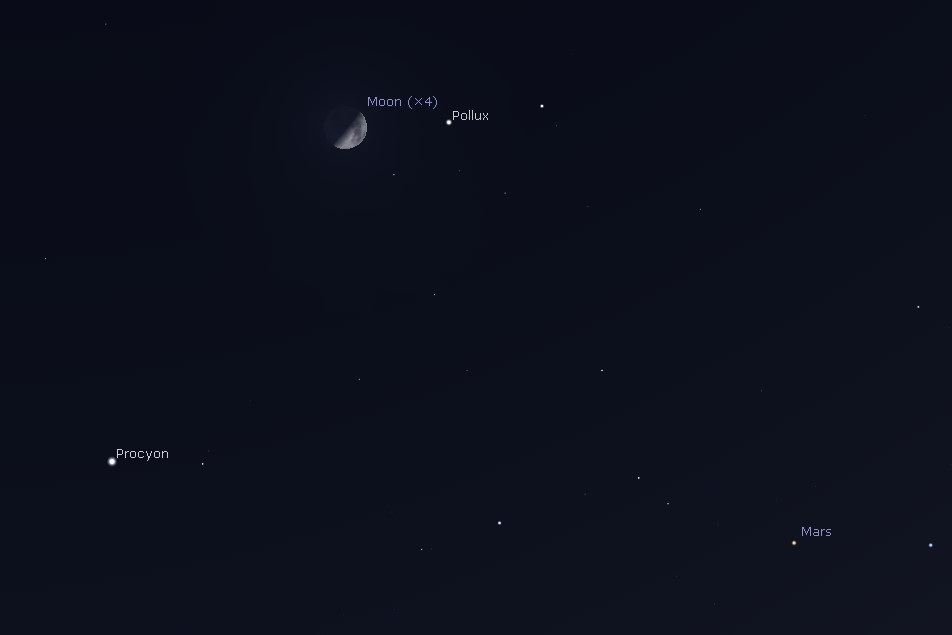 Jupiter and Saturn appear low above the southeastern horizon before dawn all week; I spotted the pair this morning as I was seeing my wife off to work – Jupiter was easy to spot, Saturn was MUCH dimmer than Jupiter.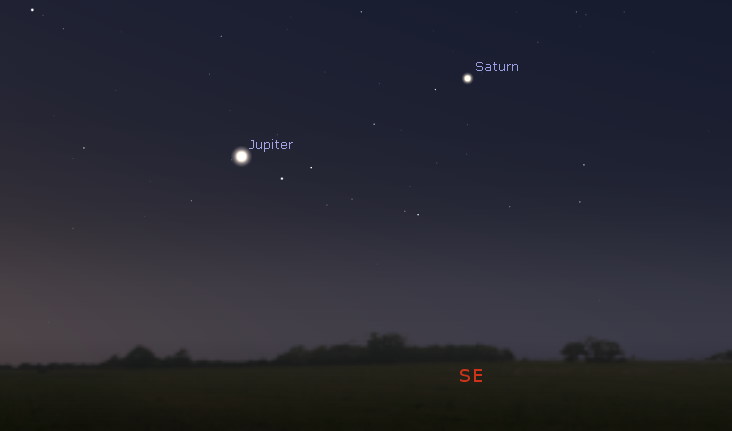 The Moon is a Waxing Crescent – visible toward the southwest in early evening.
The First Quarter Moon occurs on April 20th – it will be visible high in the southern sky in early evening.

If you click on the Moon image above, or click this link, you will go to NASA's Moon Phase and Libration, 2021 page – it will show you what the Moon looks like right now. If you click the image on that page, you will download a high-rez TIFF image annotated with the names of prominent features – helpful for logging your lunar observations!
Moon News:
My wife and I followed the events of Apollo 13 as they happened; the astronauts returned to Earth on her birthday!

The Sun has a spot – a different spot from last week. SpaceWeather.com reports:
"NEW SUNSPOT: Sunspot AR2814 has doubled in size since yesterday, when it first appeared in the sun's southern hemisphere. The active region is crackling with minor B-class solar flares and poses a growing threat for stronger C-class eruptions."
Intense coronal loop activity over the sunspot region; the southern coronal hole is very large, and there is a large and smaller coronal hole on the Sun's face.
Huge, ginormous and beautiful prominences, oh MY! So much so they were featured on SpaceWeather.com on April 13th!
Videos courtesy of
NASA/SDO
and the AIA, EVE, and HMI science teams.
You can view the Sun in near real-time, in multiple frequencies here:
SDO-The Sun Now.
You can create your own time-lapse movies of the Sun here:
AIA/HMI Browse Data.
You can browse
all
the SDO images of the Sun from 2010 to the present here:
Browse SDO archive
.
Solar Activity on Facebook – Run by Volunteer NASA/JPL Solar System Ambassador Pamela Shivak
Solar Corona
Solar wind speed is 345.7 km/sec, with a density of 8.0 protons/cm3 at 1050 UT.
Near real-time animation of the corona and solar wind from the Solar & Heliospheric Observatory (SOHO):
Sun News
Upcoming Earth-asteroid encounters:
Notes: LD means "Lunar Distance." 1 LD = 384,401 km, the distance between Earth and the Moon. Table from SpaceWeather.com
Asteroid News:

On April 5, 2021, the NASA All Sky Fireball Network reported 4 fireballs!
(4 sporadics)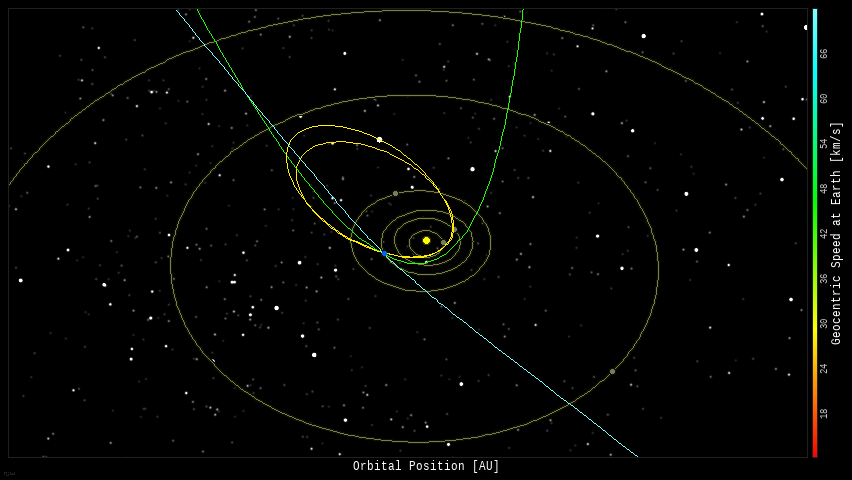 Fireball News
If you see a bright meteor or a fireball, please REPORT IT to the American Meteor Society and the International Meteor Organization!

Position of the planets and several spacecraft in the inner solar system: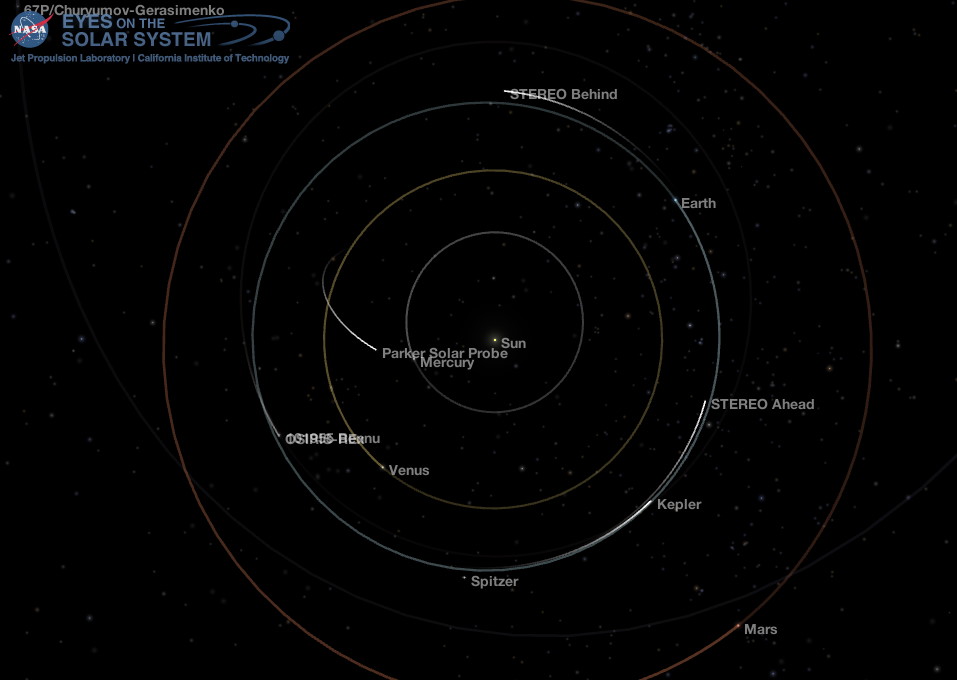 Position of the planets in the middle solar system: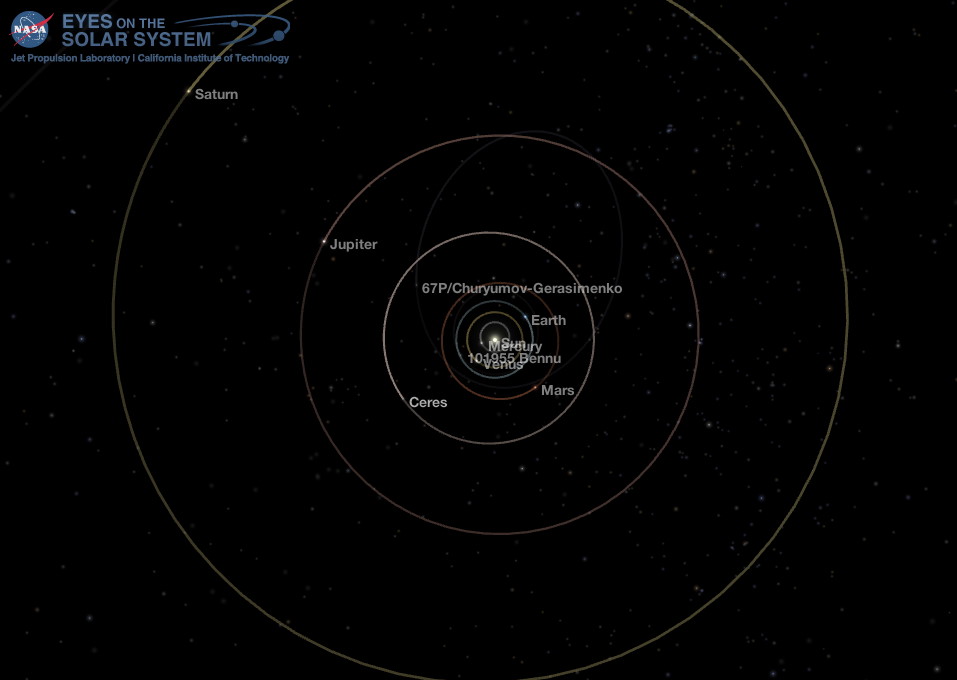 Position of the planets, and a several transneptunian objects in the outer solar system.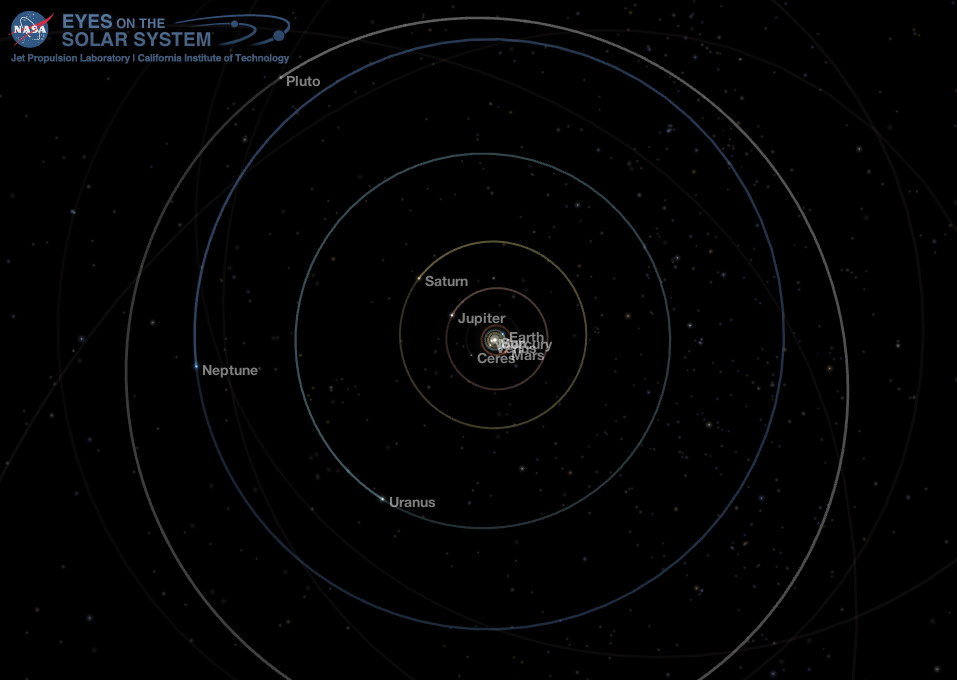 International Space Station:
HiRISE – on the Mars Reconnaissance Orbiter:
Hubble Space Telescope:
Landsat:
Climate:
See a list of current NASA missions here: https://www.jpl.nasa.gov/missions/?type=current

ex·o·plan·et /ˈeksōˌplanət/, noun: a planet orbiting a star other than the Sun.
Data from the NASA Exoplanet Archive
* Confirmed Planets Discovered by TESS refers to the number planets that have been published in the refereed astronomical literature.
* TESS Project Candidates refers to the total number of transit-like events that appear to be astrophysical in origin, including false positives as identified by the TESS Project.
* TESS Project Candidates Yet To Be Confirmed refers to the number of TESS Project Candidates that have not yet been dispositioned as a Confirmed Planet or False Positive.
Exoplanet News
Visit NASA's Eyes on Exoplanets site and explore exoplanets in 3D: https://eyes.nasa.gov/apps/exo/#/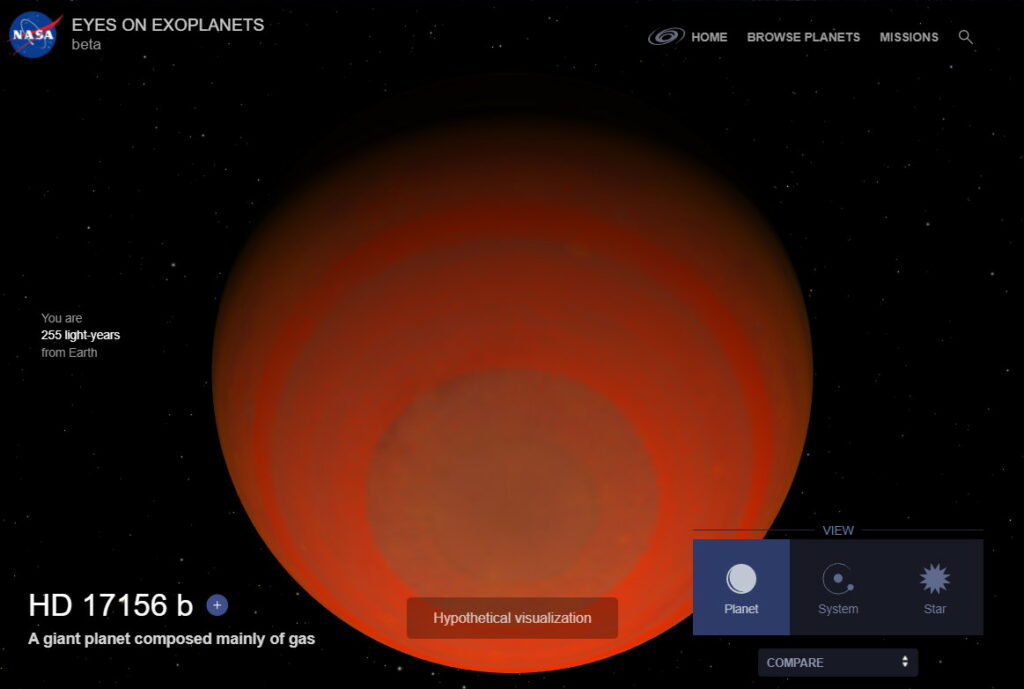 SpaceWeather.com Realtime Aurora Gallery: https://spaceweathergallery.com/aurora_gallery.html

Visit an International Dark Sky Park: https://www.darksky.org/our-work/conservation/idsp/parks/
If you live in Michigan, visit the Michigan Dark Skies site: https://sites.lsa.umich.edu/darkskies/

Hubble:
This video begins with a ground-based view of the night sky, before zooming in on a Hubble image of the Andromeda galaxy — otherwise known as M31.

The new Hubble image of the galaxy is the biggest Hubble image ever released and shows over 100 million stars and thousands of star clusters embedded in a section of the galaxy's pancake-shaped disc stretching across over 40 000 light-years.

Credit: NASA, ESA, Digitized Sky Survey 2, N. Risinger (Skysurvey.org), J. Dalcanton (University of Washington, USA), B. F. Williams (University of Washington, USA), L. C. Johnson (University of Washington, USA), the PHAT team, and R. Gendler.
Cover image: A very VERY tiny crop from the 4.3 GB full-size image of the Andromeda Galaxy from the Hubble Space Telescope.
---
Stay safe, be well, and look up!
---
Software Apps used for this post:
NASA Eyes on the Solar System: an immersive 3D solar system and space mission simulator – free for the PC /MAC. I maintain the unofficial NASA Eyes Facebook page.
SpaceEngine: a free 3D Universe Simulator for Windows. Steam version with VR support available.
Stellarium: a free open source planetarium app for PC/MAC/Linux. It's a great tool for planning observing sessions. A web-based version of Stellarium is also available.
---
Section header image credits:
The Sky – Stellarium / Bob Trembley
Observing Target – Turn Left at Orion / M. Skirvin
The Moon – NASA/JPL-Caltech
The Sun – NASA/JPL-Caltech
Asteroids – NASA/JPL-Caltech
Fireballs – Credited to YouTube
Comets – Comet P/Halley, March 8, 1986, W. Liller
The Solar System – NASA Eyes on the Solar System / Bob Trembley
Spacecraft News – NASA Eyes on the Solar System / Bob Trembley
Exoplanets – Space Engine / Bob Trembley
Light Pollution – NASA's Black Marble
Aurora – Bob Trembley
The Universe – Universe Today