Get Well Connie!
As I was working on images for this post yesterday, I had to rush my wife Connie to the hospital for an emergency appendectomy; hospital rules would not allow me to see her after she was admitted, and it was several hours before she was able to get into the operating room… Her appendix was removed and had not ruptured – which is what we were hoping for. As I'm writing this, she is eating for the first time in 24 hours, and it looks like they are starting on release paperwork.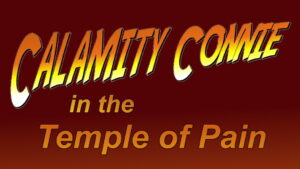 I love my wife dearly, but if she had a mutant super-power, it would be the ability to have calamitous things happen to her, or around her, frequently! Honestly, I've joked about this oddity for decades! Every time she gets hurt, I hum the first few bars of the "Raiders of the Lost Ark" theme! That theme song is Connie's ringtone on my smartphone – I even made an older version of this banner for her – decades ago!
What do I mean? Well… random injuries galore, a mysteriously snapped tendon walking down stairs, that thing that looked like a heart attack, but after scoping and a stress test turned out to be – who knows what? And the engine fire that consumed her D.C. tour bus filled with her middle school students – which she heroically got all off without injury… depositing them on to the side of a hill… during a thunderstorm! Seriously!

Saturn and Jupiter appear in the southern sky around midnight – I wanted the contrast what this scene would look like from suburban skies, verses a dark sky site.
The Moon appears with Saturn and Jupiter  the southern sky after sunset for the next several days.
Mars appears in the eastern sky during the early morning hours this week.
Before dawn, Mars will appear high in the southern sky.
The planet Venus appears on the eastern horizon with the constellation Orion during the predawn hours.
The Andromeda galaxy (M31) appears almost directly overhead at 4:30 AM this week.

The first quarter Moon occurs on Aug. 25th – it is visible high in the southern sky in early evening.
After the 25th, the Moon will be a waxing gibbous, visible to the southeast in early evening, and up for most of the night.
If you click on the Moon image above, or click this link, you will go to NASA's Moon Phase and Libration, 2020 page – it will show you what the Moon looks like right now. If you click the image on that page, you will download a high-rez TIF image annotated with the names of prominent features – helpful for logging your observations!
Moon News
More on International Observe the Moon Night – Sept. 26th

The Sun continues to be is spot-free; the coronal hole at the Sun's north pole appears to have widened, with a string of coronal holes appearing in the northern mid latitudes. The coronal hole at the south pole remains open, and appears lop-sided in the video below
The Sun seen in 193 angstroms (extreme ultraviolet) August 24, 2020:
Several prominences and a lot of coronal activity on the Sun's limb recently; see if you can spot the eclipse in a couple frames in the video below.
The Sun seen in 304 angstroms (extreme ultraviolet) August 24, 2020:
Videos courtesy of
NASA/SDO
and the AIA, EVE, and HMI science teams.
You can view the Sun in near real-time, in multiple frequencies here: 
SDO-The Sun Now.
You can create your own time-lapse movies of the Sun here:
AIA/HMI Browse Data.
You can browse
all
the SDO images of the Sun from 2010 to the present here:
Browse SDO archive
.
Solar Activity on Facebook – Run by Volunteer NASA/JPL Solar System Ambassador Pamela Shivak
https://www.facebook.com/photo.php?fbid=10220794831134359&set=gm.3480014798676506&type=3&theater&ifg=1
Solar Corona
Solar wind speed is 350.2 km/sec (↑), with a density of 13.8 protons/cm3 (↓) at 1430 UT.
Near real-time animation of the corona and solar wind from the Solar & Heliospheric Observatory (SOHO):
Sun News

Upcoming Earth-asteroid encounters:
Notes: LD means "Lunar Distance." 1 LD = 384,401 km, the distance between Earth and the Moon. Red highlighted entries are asteroids that either pass very close, or very large with high relative velocities to the Earth. Table from SpaceWeather.com
Asteroid News:
New Minor Planet Center Circular: lots of observations, but no newly named asteroids: https://minorplanetcenter.net/iau/ECS/MPCArchive/2020/MPC_20200807.pdf

On August 24, 2020, the NASA All Sky Fireball Network reported 27 fireballs. 
(26 sporadics, 1 Southern Delta Aquariid)
Fireball News:

Position of the planets and a couple spacecraft in the inner solar system.
Position of the planets in the middle solar system:
Position of the planets, some dwarf planets and some transneptunian objects in the outer solar system – dwarf planet Haumea is highlighted:
Highlight: Haumea
Haumea (minor-planet designation 136108 Haumea) is a likely dwarf planet located beyond Neptune's orbit. It was discovered in 2004 by a team headed by Mike Brown of Caltech at the Palomar Observatory in the United States and independently in 2005 by a team headed by José Luis Ortiz Moreno at the Sierra Nevada Observatory in Spain, though the latter claim has been contested. On September 17, 2008, it was named after Haumea, the Hawaiian goddess of childbirth, under the expectation by the International Astronomical Union (IAU) that it would prove to be a dwarf planet. It is probably the third-largest known trans-Neptunian object, after Eris and Pluto.

Haumea's mass is about one-third that of Pluto, and 1/1400 that of Earth. Although its shape has not been directly observed, calculations from its light curve are consistent with it being a Jacobi ellipsoid (the shape it would be if it's a dwarf planet), with its major axis twice as long as its minor. In October 2017, astronomers announced the discovery of a ring system around Haumea, representing the first ring system discovered for a trans-Neptunian object. Haumea's gravity was until recently thought to be sufficient for it to have relaxed into hydrostatic equilibrium, though that is now unclear. Haumea's elongated shape together with its rapid rotation, rings, and high albedo (from a surface of crystalline water ice), are thought to be the consequences of a giant collision, which left Haumea the largest member of a collisional family that includes several large trans-Neptunian objects and Haumea's two known moons, Hiʻiaka and Namaka.  – Wikipedia

There is an lot more about Haumea in this Wikipedia article.
Read more about Haumea on NASA's Solar System Exploration site: https://solarsystem.nasa.gov/planets/dwarf-planets/haumea/in-depth/

NASA's OSIRIS-REx Asteroid Sample Return Mission
International Space Station
NASA Perseverance Mars Rover
Climate


ex·o·plan·et /ˈeksōˌplanət/, noun: a planet orbiting a star other than the Sun.
Data from the NASA Exoplanet Archive
* Confirmed Planets Discovered by TESS refers to the number planets that have been published in the refereed astronomical literature.
* TESS Project Candidates refers to the total number of transit-like events that appear to be astrophysical in origin, including false positives as identified by the TESS Project.
* TESS Project Candidates Yet To Be Confirmed refers to the number of TESS Project Candidates that have not yet been dispositioned as a Confirmed Planet or False Positive.

NASA's Black Marble – Explore Global Light Pollution

Hubble: Beautiful Universe
Kerbal Space Program Milestone
I'm taking a break this week from my tour of nearby stars, and wanted to talk about something I've mentioned a bazillion times: Kerbal Space Program. Yesterday, I reached 4000 hours in Kerbal Space Program on Steam! My time in KSP is actually much greater than 4K – I helped beta test KerbalEDU, and I ran KSP offline several times while on various trips.
I wrote about KSP on this site in 2015, heaping praise on the app, and exclaiming how fantastically educational it can be. Time has not diminished my love for Kerbal Space Program! The developers of KSP recently partnered with the European Space Agency (ESA); KSP now has new parts and missions mirroring the Rosetta mission to comet 67P/Churyumov–Gerasimenko, and the current joint ESA/JAXA BepiColombo mission to Mercury!
Stay safe, be well, and look up!
---
Apps used for this post:
NASA Eyes on the Solar System: an immersive 3D solar system and space mission simulator – free for the PC /MAC. I maintain the unofficial NASA Eyes Facebook page.
Universe Sandbox: a space simulator that merges real-time gravity, climate, collision, and material interactions to reveal the beauty of our universe and the fragility of our planet. Includes VR support.
SpaceEngine: a free 3D Universe Simulator for Windows. Steam version with VR support available.
Stellarium: a free open source planetarium app for PC/MAC/Linux. It's a great tool for planning observing sessions. A web-based version of Stellarium is also available.
NOTE: Stellarium version 0.20.2 has been released! Get it free here: http://stellarium.org/en/
---
Section header image credits:
The Sky – Stellarium / Bob Trembley
Observing Target – Turn Left at Orion / M. Skirvin
The Moon – NASA/JPL-Caltech
The Sun – NASA/JPL-Caltech
Asteroids – NASA/JPL-Caltech
Fireballs – Credited to YouTube
Comets – Comet P/Halley, March 8, 1986, W. Liller
The Solar System – NASA Eyes on the Solar System / Bob Trembley
Spacecraft News – NASA Eyes on the Solar System / Bob Trembley
Exoplanets – Space Engine / Bob Trembley
Light Pollution – NASA's Black Marble
The Universe – Universe Today