Sirius "the Dog Star" appears in the southeastern predawn sky below the constellation Orion. If you look closely you may catch a glimpse of Mercury low in the east shortly before sunrise.
The splash of planets across the southern sky is free of the glare of the Moon – assuming your skies aren't obscured by smoke, or the ever-present cloud cover Michigan frequently offers, they should make for excellent observing all week.
In the southwestern sky at dusk, Jupiter continues to move slowly westward toward Venus, as Venus moves slowly southward. Venus continues to appear lower in the sky each evening.
The Moon
The Moon is a waning gibbous heading towards third-quarter on September 3rd. Next week the Moon will be a waning crescent.
Observing Target: The Double Cluster
NGC 869 and NGC 884 are open clusters located about 7600 light years away in the constellation of Perseus. The clusters most likely formed around 12.5 – 13 million years ago. "The clusters are both located in the Perseus OB1 association, a few hundred light years apart from each other. The clusters were first recorded by Hipparchus, but have likely been known since antiquity." ~ From Wikipedia
The Sun
Sunspot AR2720, with a moderate amount of coronal loop activity, is rotating out of view to the right in the animation below. The northern coronal hole is simply gargantuan! A smaller equatorial hole fills in and vanishes in over the last few days. The solar wind speed is 535.9 km/sec, with a density of 4.9 protons/cm3.
SpaceWeather.com says: "Earth's magnetic field is quieting, finally, almost 48 hours after a surprisingly strong geomagnetic storm sparked auroras seen from the Arctic Circle to the continental USA. Arctic sky watchers should nevertheless remain alert for auroras. Earth is passing through a stream of high-speed solar wind, and according to NOAA there is a 40% chance of renewed minor storms on Aug. 28th."
---
As I was looking at SpaceWeather.com this morning, I was completely gobsmacked by an article posted there – I'm reposting it here because of how exciting I found it! And yet again, I need to update my lecture about the Sun…
ELECTRICITY FLOWS THROUGH THE SOIL OF NORWAY: When a geomagnetic storm erupts, most eyes naturally turn to the sky, looking for auroras. But during the surprisingly strong G3-class geomagnetic storm of Aug. 26th, there was action underfoot as well. Probes buried in the ground in Norway detected strong currents of electricity moving through the soil. This chart recording made by Rob Stammes at the Polarlightcenter in Lofoten shows wild swings in current during the storm's peak: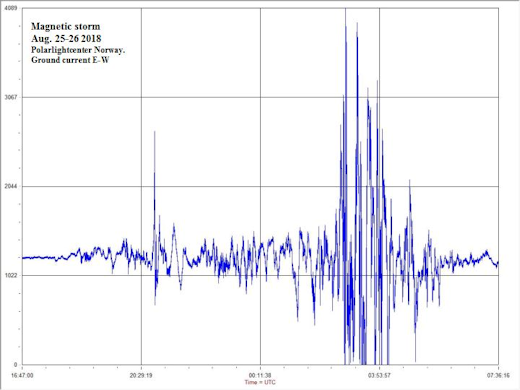 "The currents were remarkably strong," says Stammes, who has been monitoring ground currents outside his Arctic observatory for many years. "During the magnetic storm, voltages surged to 10mv/m or 10v/km. That's about 10 times stronger than normal. These are pretty rare readings without a strong solar flare during solar minimum."
Why does electricity flow through the ground during a geomagnetic storm? It's basic physics. Changing magnetic fields cause currents to flow in wires and other conductors. In most places, soil can conduct electricity due to the presence of dissolved salts and minerals. So when the local magnetic field begins to vibrate, electricity naturally begins to flow. Currents induced by geomagnetic storms can cause voltage fluctuations in power systems and in rare cases complete blackouts.
---
Prominences are few this week, with the notable exception of the roiling one in the upper left of the animation below. AR2720 appears as the bright orange region on the right below.
Asteroids
Upcoming Earth-asteroid encounters:
Notes: LD means "Lunar Distance." 1 LD = 384,401 km, the distance between Earth and the Moon. Table from SpaceWeather.com
Near-Earth objects (NEOs) discovered this month: 123, this year: 1095, all time: 18647.
Potentially hazardous asteroids: 1912 (as of August 28, 2018)
Minor Planets discovered: 779,736 (as of July 31, 2018)
Fireballs
On Aug. 27, 2018, the NASA All Sky Fireball Network reported 13 fireballs.
The Solar System
This is the position of the planets and a couple spacecraft in the solar system:
Spacecraft
The OSIRIS-REx asteroid sample return spacecraft is approaching its target.
The Mars InSight mission has passed the half-way point on its journey to Mars.
The Parker Solar Probe launched on Aug. 12, 2018 – it will fly closer to the Sun than any spacecraft before. To say I'm excited about this is an understatement!
In fact I'm SUCH a geek about the Parker Solar Probe, I wanted to share this video of a replica Parker Solar Probe, launched in Kerbal Space Program, with callouts from an actual United Launch Alliance systems engineer!
Exoplanets
Confirmed Exoplanets: 3,778 (8/23/2018)
Multi-Planet Systems: 625 (8/23/2018)
Kepler Candidate Exoplanets: 4,496 (8/31/2017)
TESS Candidate Exoplanets: 0
Data from the NASA Exoplanet Archive
---
Apps used for this post:
Stellarium: a free open source planetarium app for PC/MAC/Linux. It's a great tool for planning observing sessions.
NASA Eyes on the Solar System: an immersive 3D solar system and space mission simulator – free for the PC /MAC.
I maintain the unofficial NASA Eyes Facebook page.