Millions of people around the planet have seen NASA's Perseverance Rover descent and touchdown video – I've watched it over and over! I tweeted that this landing made me feel like a kid during the Apollo era again!
Cameras were not part of the rover's initial design – and were allowed to be added with the ideas that "they won't do any harm to the rover, and IF they work, great… you get what you get." Well what NASA got was a video seen across the globe, and a HUGE positive media boost – not to mention the invaluable engineering data these cameras have provided.
Can I just put out there that cameras should be default part of EVERY NASA mission from now on? Look at the Juno mission to Jupiter – the insanely popular citizen-scientist processed images and videos from Juno were obtained from a camera that was not originally part of the mission's specs, but were added as a public outreach tool.

The Moon appears near the star Pollux in the constellation Gemini, high above the east-southeastern horizon after sunset on Feb. 23rd.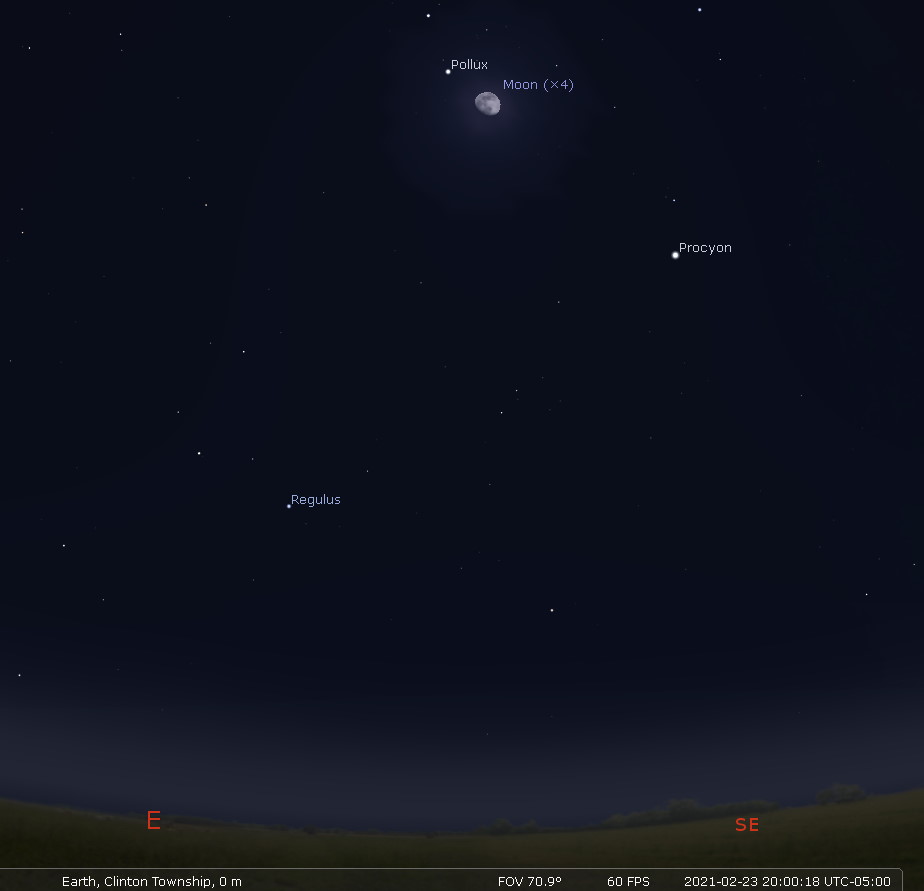 Moving eastward each day, the Moon appears near the star Regulus in the constellation Leo, above the east-southeastern horizon after sunset on Feb. 25th and 26th.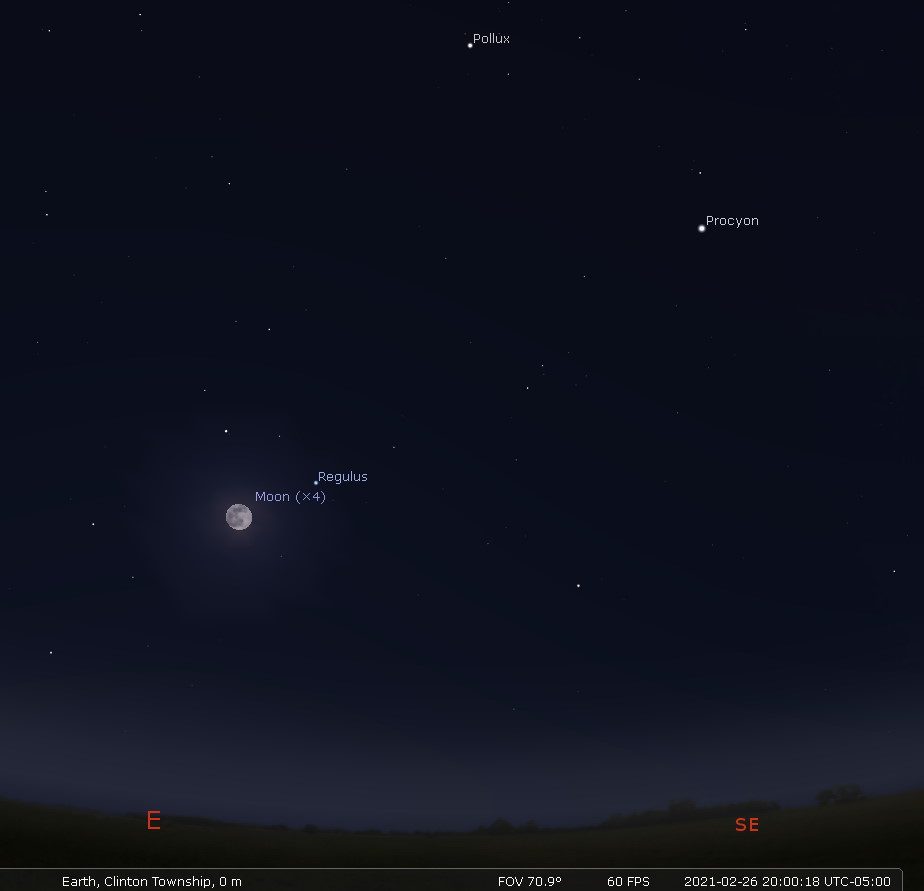 The Moon appears in a temporary asterism with the stars Arcturus and Spica in the east-southeastern sky at midnight on Mar. 1st.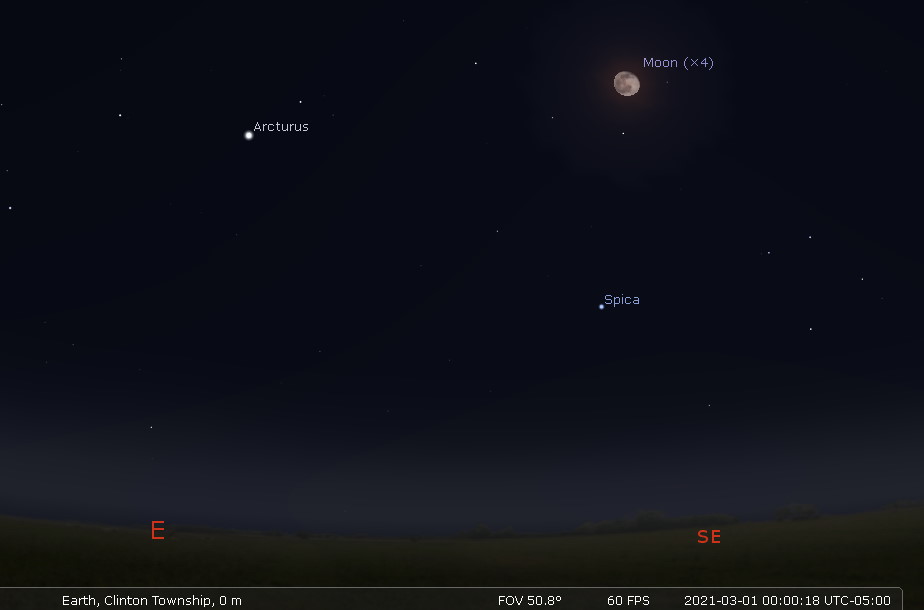 Mars and Uranus appear in the southwestern sky after sunset – Mars appears a bit closer to the Pleiades star cluster each evening.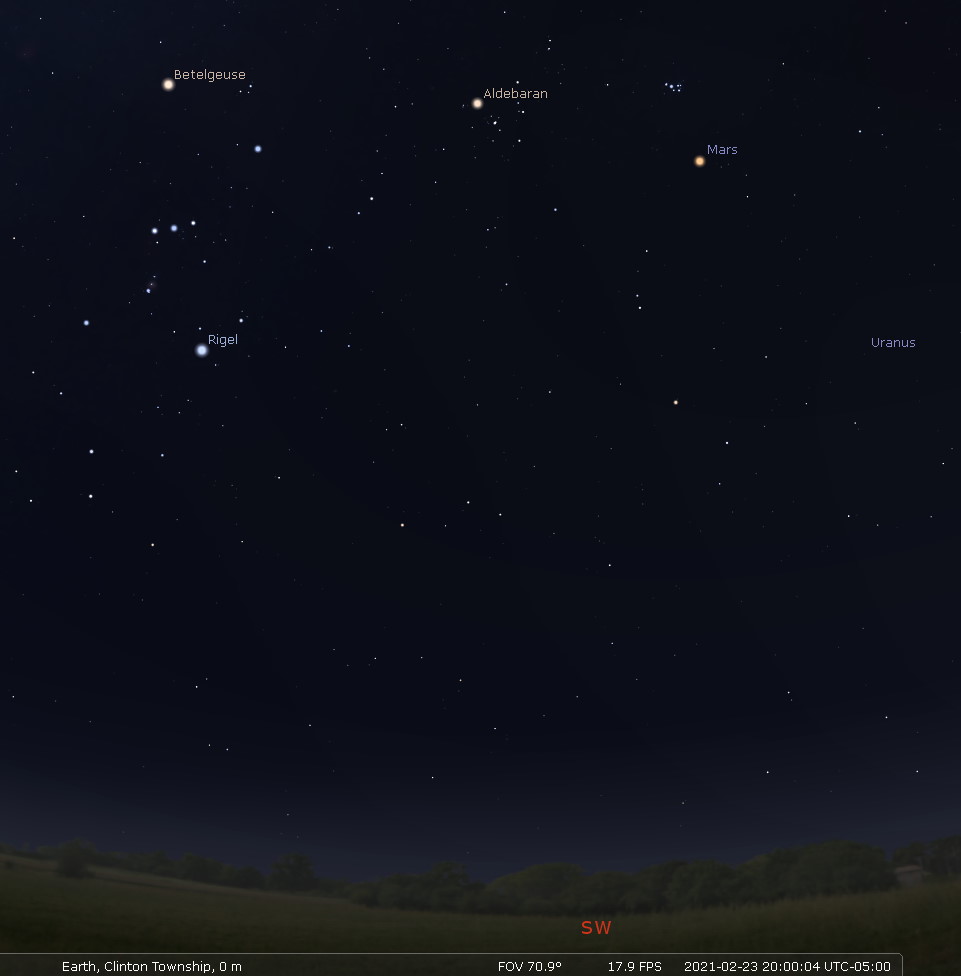 Mercury and Saturn continue to appear low above the east-southeastern horizon before dawn this week; Jupiter joins the pair of planets close to sunrise – so it may be a bit difficult to see..

The Moon is a waxing gibbous – visible to the southeast in early evening, and up for most of the night.
The full Moon occurs on Feb. 27th – rising at sunset, visible high in the sky around midnight, and visible all night.
After Feb. 27th, the Moon will be a waning gibbous – rising after sunset, visible high in the sky after midnight, and visible to the southwest after sunrise.

If you click on the Moon image above, or click this link, you will go to NASA's Moon Phase and Libration, 2021 page – it will show you what the Moon looks like right now. If you click the image on that page, you will download a high-rez TIFF image annotated with the names of prominent features – helpful for logging your lunar observations!
Moon News:
The Sun has two new sunspots: AR2804 and AR2805 are growing rapidly and blowing off B-class solar flares.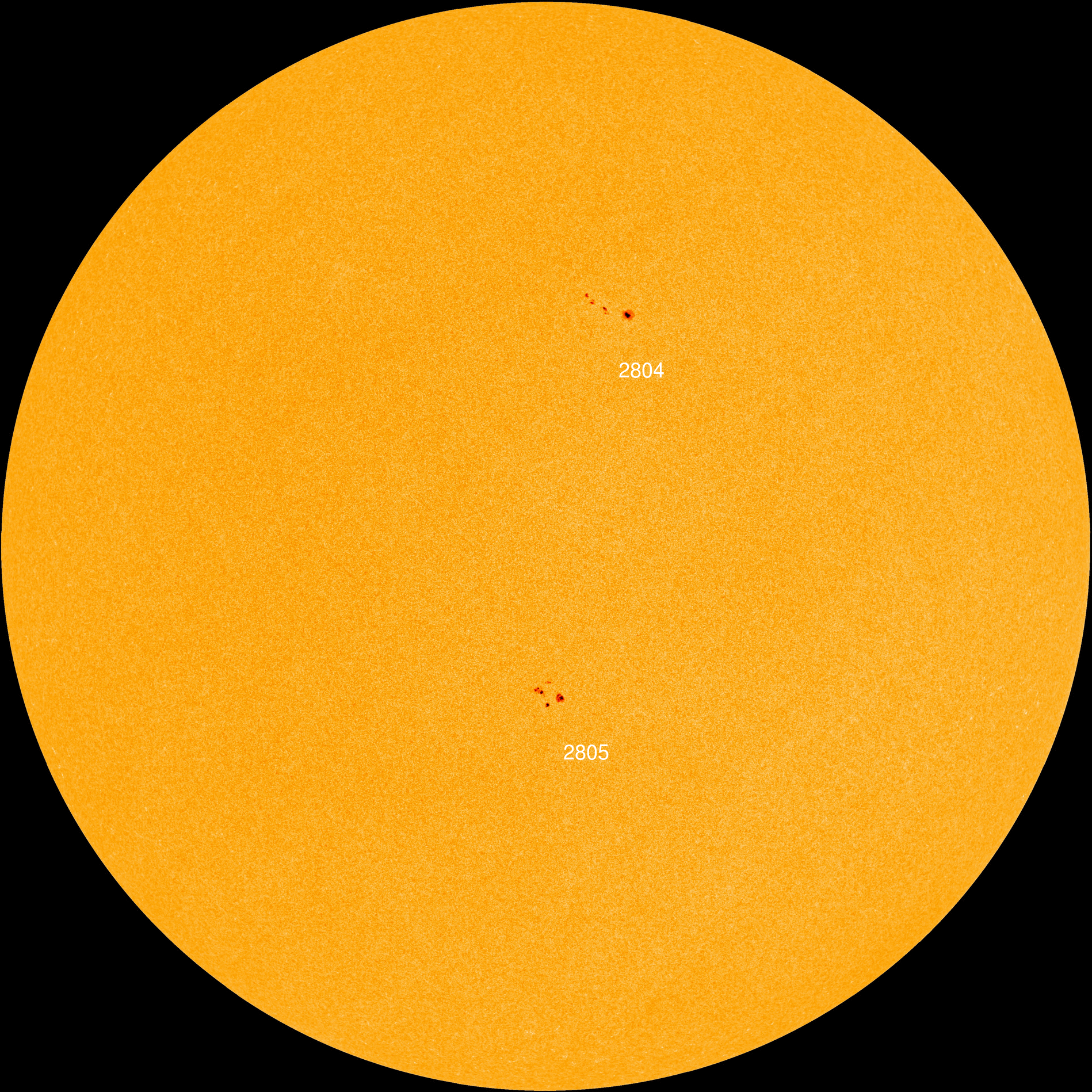 The southern coronal hole is huge, the northern coronal hole is medium-sized – there are some interesting "tiger stripe" patterns in the corona, and a large coronal hole will soon be rotating out of view (right). You can see a lot of coronal activity associated with the 2 sunspots – the northern one appears to be a bit more active than the one to the south.
The Sun seen in 193 angstroms (extreme ultraviolet) February 22, 2021:
LOTS of prominence activity over that last couple days – keep you eye on the prominence to the lower-right!
The Sun seen in 304 angstroms (extreme ultraviolet) February 22, 2021:
Videos courtesy of
NASA/SDO
and the AIA, EVE, and HMI science teams.
You can view the Sun in near real-time, in multiple frequencies here: 
SDO-The Sun Now.
You can create your own time-lapse movies of the Sun here:
AIA/HMI Browse Data.
You can browse
all
the SDO images of the Sun from 2010 to the present here:
Browse SDO archive
.
Solar Activity on Facebook – Run by Volunteer NASA/JPL Solar System Ambassador Pamela Shivak
Solar Corona
Solar wind speed is 574.6 km/sec, with a density of 8.0 protons/cm3 at 1225 UT.
Near real-time animation of the corona and solar wind from the Solar & Heliospheric Observatory (SOHO):
Sun News

Near-Earth objects
(NEOs) 
discovered
this month:
248
, this year:
497
, all time:
25,313  (+59)
Potentially hazardous asteroids: 2171  (updated  2021-02-23)
Total Minor Planets
discovered (NASA):
1,059,992  (+2,388)
Total Minor Planets
discovered (MPC):
1,026,572 (+18,162
, updated 2021-02-23)
Upcoming Earth-asteroid encounters::
Notes: LD means "Lunar Distance." 1 LD = 384,401 km, the distance between Earth and the Moon. Red highlighted entries are asteroids that either pass very close, or very large with high relative velocities to the Earth. Table from SpaceWeather.com
Asteroid News:
New Minor Planet Center Circular: https://minorplanetcenter.net/iau/ECS/MPCArchive/2021/MPC_20210127.pdf – a boatload of astronauts got named asteroids!

On February 15, 2021, the NASA All Sky Fireball Network reported 7 fireballs!
(7 sporadics)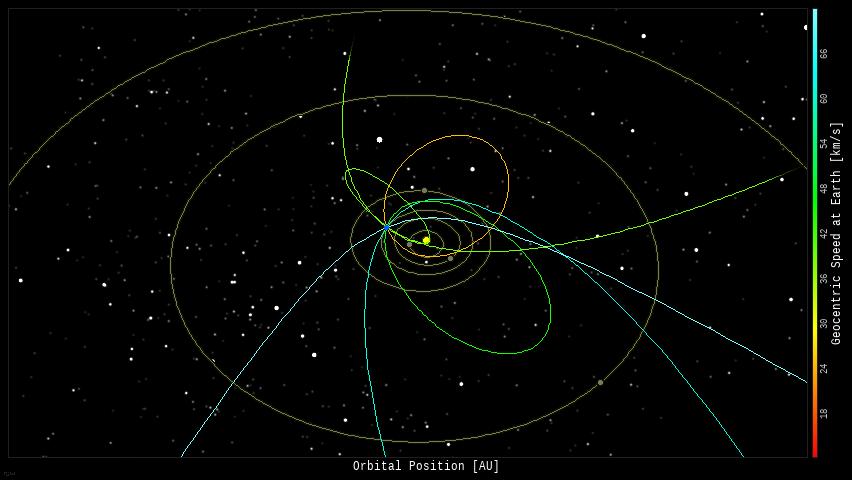 Fireball News
Fireball over Alberta – February 22nd, 2021 around 6:23am MST (13:23 UT) (Source)
If you see a bright meteor or a fireball, please REPORT IT to the American Meteor Society and the International Meteor Organization!
I used NASA's Orrery to create the solar system images for this week's post: https://eyes.nasa.gov/apps/orrery/. This app runs in the browser, and does not require the installation of an app. If you can see it, you can click on it; you can click and drag to scroll-around with the mouse (or use A, D, Q & E), and zoom with the mouse wheel (or use S and W).
Position of the planets and several spacecraft in the inner solar system: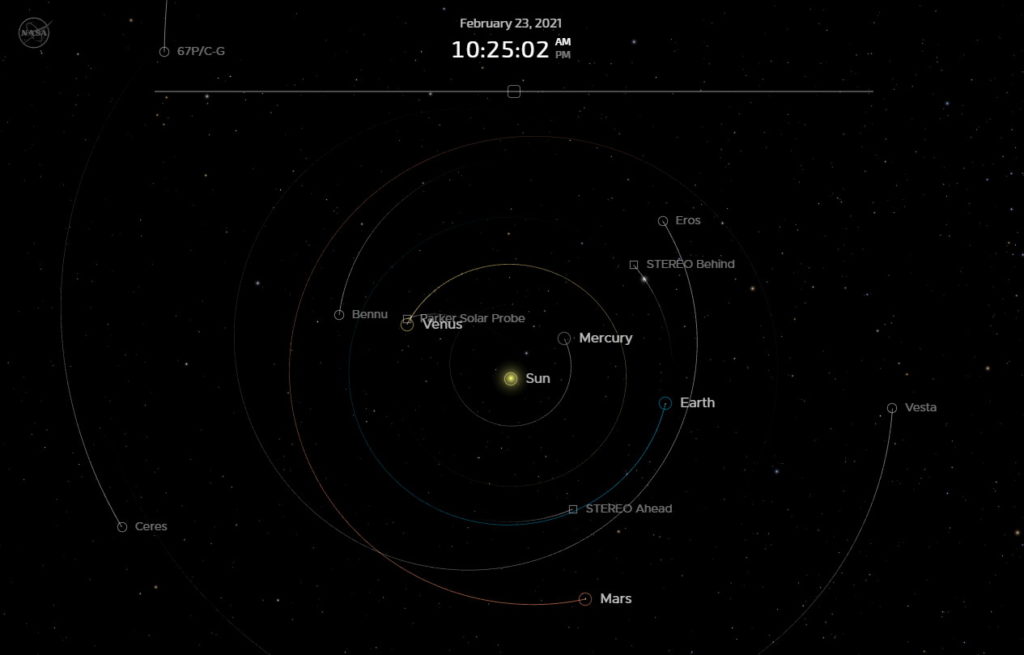 The Parker Solar Probe flew-by Venus on Feb. 20th: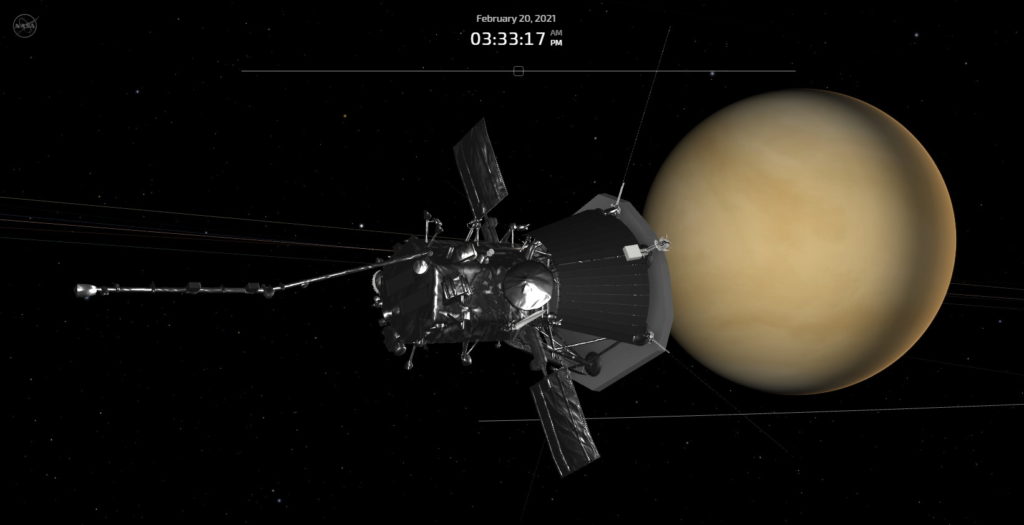 And Mars' population of robots increases by 5 this week: NASA's Perseverance rover and Ingenuity helicopter, the United Arab Emirates orbiter named Al-Amal, and China's orbiter-rover combo called Tianwen-1… it's been a busy week at Mars, but that's what happens during launch windows…
Aside: When I've been playing Kerbal Space Program, there have been a couple time when I've had multiple missions all arriving at Duna (Mars) at the same time; juggling a polar orbiter, space station core in equatorial orbit, and lander – all at the same time is "exciting!"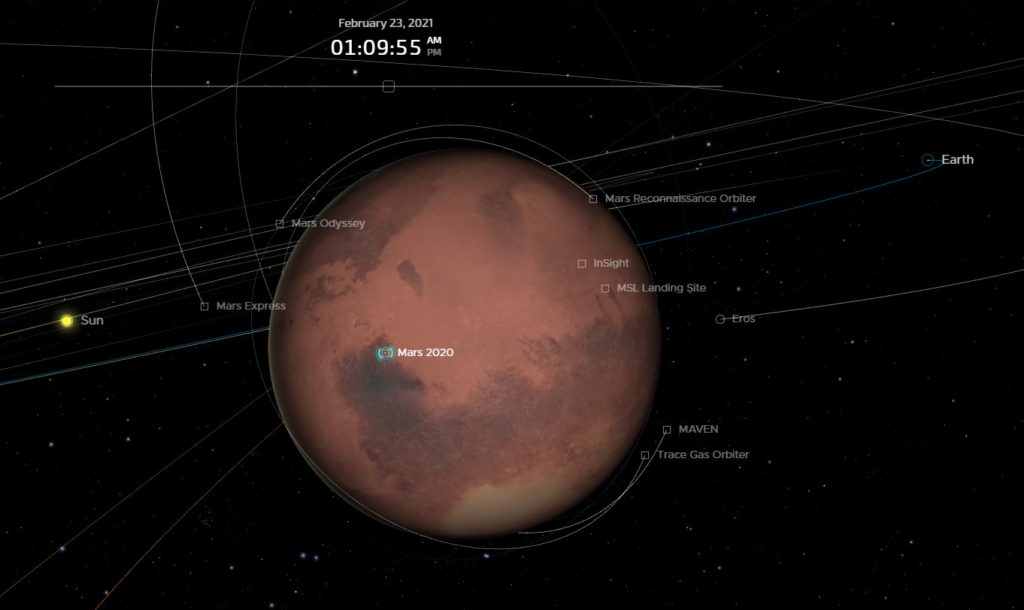 Position of the planets in the middle solar system: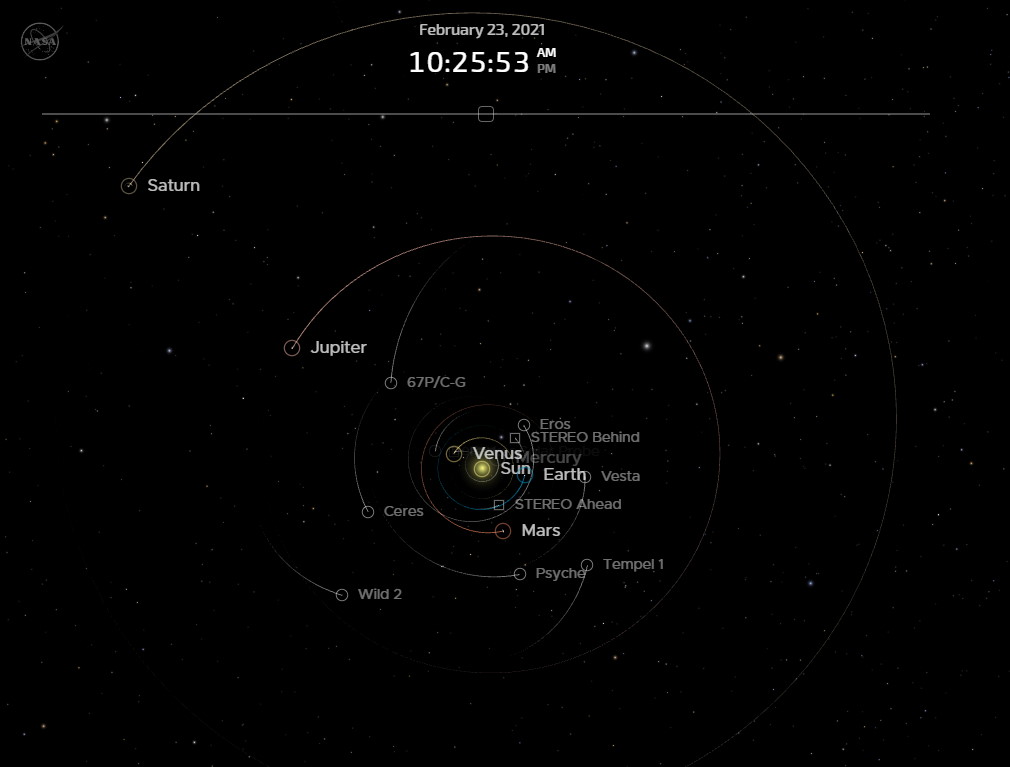 Position of the planets, dwarf planets and some transneptunian objects in the outer solar system: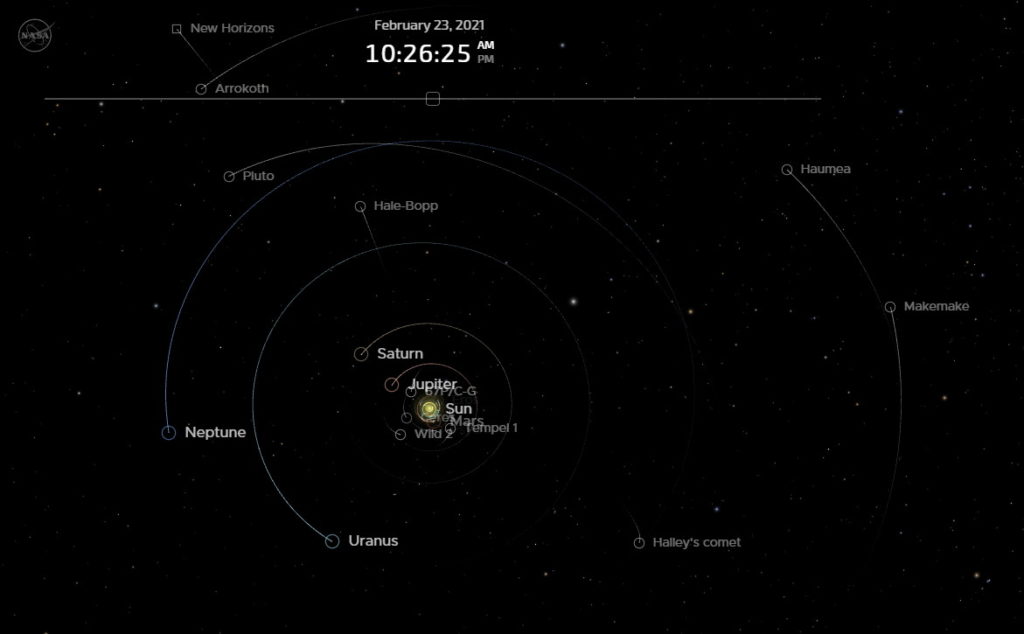 Position of the planets, dwarf planets and some transneptunian objects and space probes in the extreme outer solar system: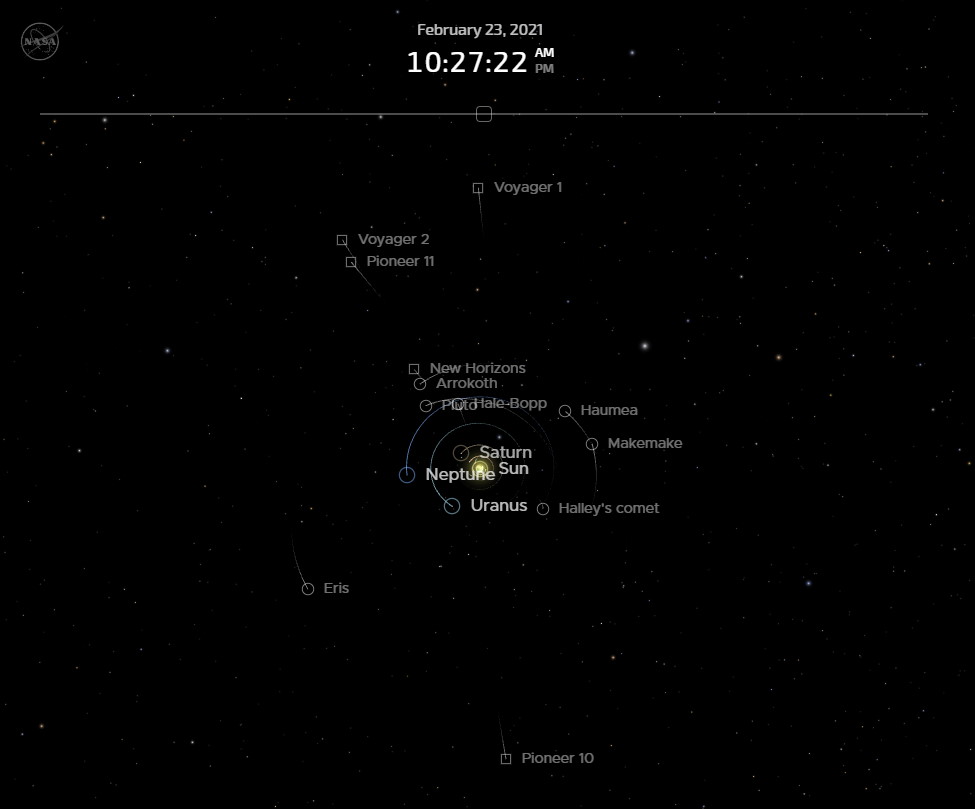 And finally, the position of the Sun in the Milky Way galaxy – if you zoom WAY out: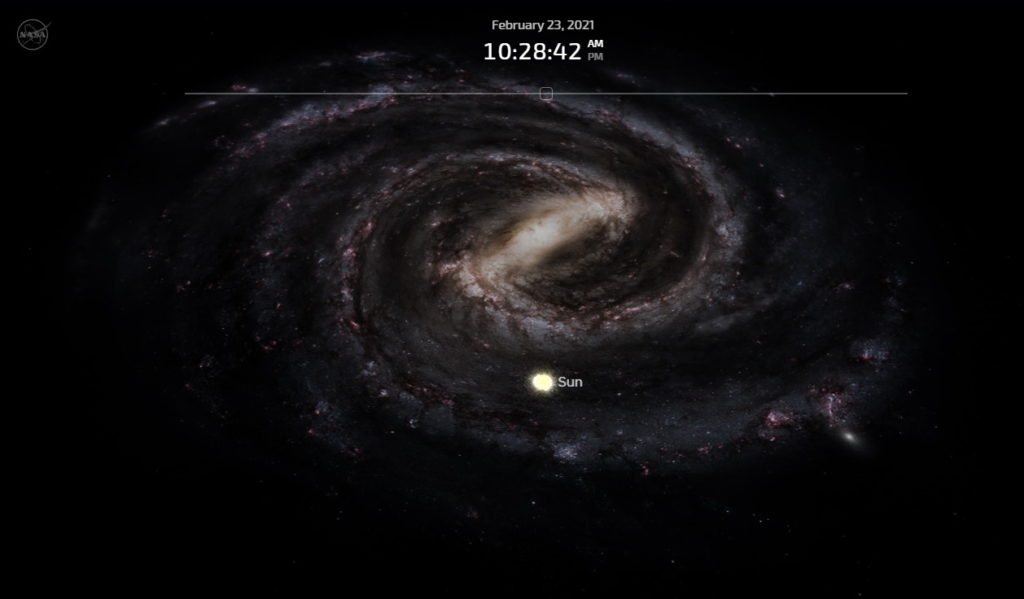 Mars Perseverance Rover:
In the "This is WAY too much fun" department – there was a secret message, written in binary, hidden in Perseverance's parachute!
"Dare Mighty Things," and the latitude and longitude of JPL.
Kerbal Space Program ran a #PerseveranceLanding Challenge, asking players to recreate NASA's rover mission:
International Space Station:
HiRISE – on the Mars Reconnaissance Orbiter:
S.S. Katherine Johnson: #Cygnus
Hubble Space Telescope:
Climate:
See a list of current NASA missions here: https://www.jpl.nasa.gov/missions/?type=current


ex·o·plan·et /ˈeksōˌplanət/, noun: a planet orbiting a star other than the Sun.
Data from the NASA Exoplanet Archive
* Confirmed Planets Discovered by TESS refers to the number planets that have been published in the refereed astronomical literature.
* TESS Project Candidates refers to the total number of transit-like events that appear to be astrophysical in origin, including false positives as identified by the TESS Project.
* TESS Project Candidates Yet To Be Confirmed refers to the number of TESS Project Candidates that have not yet been dispositioned as a Confirmed Planet or False Positive.
Exoplanet News

SpaceWeather.com Realtime Aurora Gallery: https://spaceweathergallery.com/aurora_gallery.html

Visit an International Dark Sky Park: https://www.darksky.org/our-work/conservation/idsp/parks/

For Students:
Hubble: Beautiful Universe – Supernova 1987A
Distant stars serve as a backdrop for Supernova 1987A, located in the center of the image. The bright ring around the central region of the exploded star is composed of material ejected by the star about 20,000 years before its demise. Gaseous clouds surround the supernova. The clouds' red color represents the glow of hydrogen gas, which is fueling a firestorm of star birth.

Supernova 1987A was discovered in 1987, and Hubble began observing the exploded star in the early 1990s. This latest view was taken by Hubble's Wide Field Camera 3 in January 2017. The colors of the foreground and background stars were added from observations taken by Hubble's Wide Field Planetary Camera 2.

Supernova 1987A resides 163,000 light-years away. – NASA.

You can download a 3667 X 4024 (34.2 MB) TIFF version of this image HERE. (That image is now the background image across my 3 monitors!)
What I'm Playing now: Dyson Sphere Program
Available in early-access on Steam, Dyson Sphere Program is a science fiction themed factory simulation game where the ultimate goal is to harvest resources from planets across multiple star systems and build a Dyson Sphere megastructure. The learning curve is pretty steep, but if you like engineering and problem-solving games, this is worth a look – it's been selling like gangbusters since release on Jan. 21st. The fact that there's a game out there with this subject pretty much guaranteed I had to get it.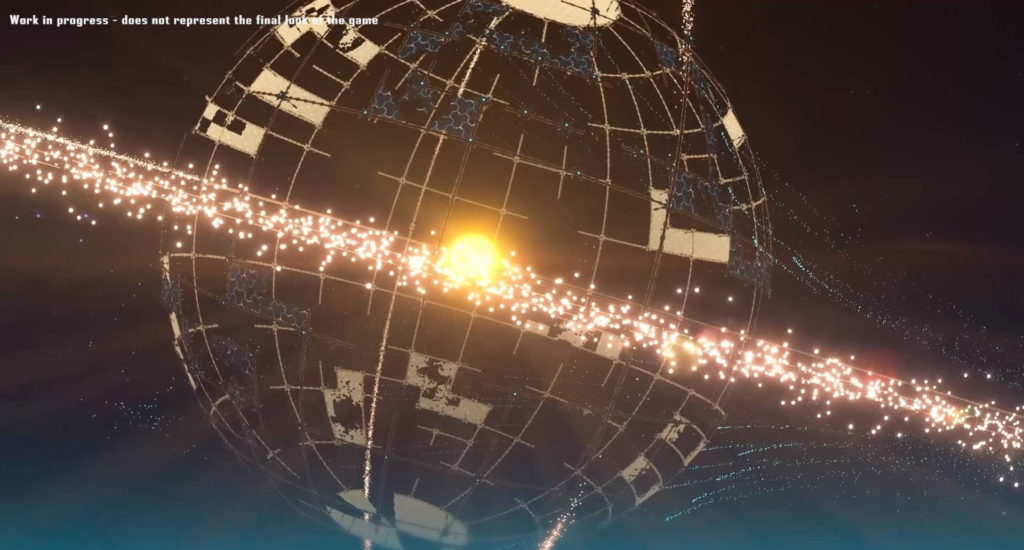 What I was listening to while writing this post:
Cover Image: Artist's illustration of Mars Perseverance descent to Mars, the spacecraft containing NASA's Perseverance rover slows down using the drag generated by its motion in the Martian atmosphere. Hundreds of critical events must execute perfectly and exactly on time for the rover to land on Mars safely on Feb. 18, 2021. Credit: NASA/JPL-Caltech.
Stay safe, be well, and look up!
---
Software Apps used for this post:
Stellarium: a free open source planetarium app for PC/MAC/Linux. It's a great tool for planning observing sessions. A web-based version of Stellarium is also available.
---
Section header image credits:
The Sky – Stellarium / Bob Trembley
Observing Target – Turn Left at Orion / M. Skirvin
The Moon – NASA/JPL-Caltech
The Sun – NASA/JPL-Caltech
Asteroids – NASA/JPL-Caltech
Fireballs – Credited to YouTube
Comets – Comet P/Halley, March 8, 1986, W. Liller
The Solar System – NASA Eyes on the Solar System / Bob Trembley
Spacecraft News – NASA Eyes on the Solar System / Bob Trembley
Exoplanets – Space Engine / Bob Trembley
Light Pollution – NASA's Black Marble
Aurora – Bob Trembley
The Universe – Universe Today