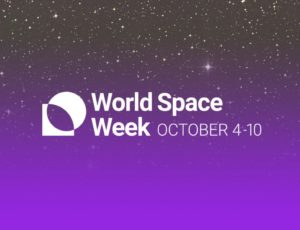 World Space Week runs from Oct. 4-10 – this year's theme is "Satellites Improve Life." World Space Week is an international celebration of science and technology, and their contribution to the betterment of the human condition. The United Nations General Assembly declared in 1999 that World Space Week will be held each year from October 4-10. These dates commemorate two events:
October 4, 1957: Launch of the first human-made Earth satellite, Sputnik 1, and the dawn of the space age.
October 10, 1967: The signing of the Treaty on Principles Governing the Activities of States in the Exploration and Peaceful Uses of Outer Space, including the Moon and Other Celestial Bodies.
World Space Week consists of space education and outreach events held by space agencies, aerospace companies, schools, planetaria, museums, and astronomy clubs around the world in a common timeframe. These synchronized space events attract greater public and media attention. Register new events, and search for events near you here: https://www.worldspaceweek.org/events/

Venus appears in the eastern predawn sky, having moved towards the eastern horizon, far from its close conjunction with Regulus last week; the Moon forms a temporary asterism with the stars Pollux and Procyon on the morning of Oct. 11th
The Moon appears near the star Regulus in the constellation Leo, and forms a temporary asterism with Venus in the predawn sky on Oct. 13th; Venus appeared near Regulus for a couple days last week.
Saturn and Jupiter appear in the southern sky after sunset – simply great targets for observing!
Mars appears high in the southwestern predawn sky this week; the Moon appears in the southern sky on Oct. 7th, and moves eastward with each morning.

The Moon is a waning gibbous – rising after sunset, visible high in the sky after midnight, and visible to the southwest after sunrise.
The third quarter Moon occurs on Sat. Oct. 10th – rising around midnight, and visible to the south after sunrise.
After Oct. 10th, the Moon will be a waning crescent – visible low to the east before sunrise.
If you click on the Moon image above, or click this link, you will go to NASA's Moon Phase and Libration, 2020 page – it will show you what the Moon looks like right now. If you click the image on that page, you will download a high-rez TIF image annotated with the names of prominent features – helpful for logging your observations!
Moon News

The Sun has been spotless for 10 days now; coronal holes continue to remain open at both poles – one rotating out of view, the other forming in the southern hemisphere. The region with a lot of coronal loop activity from last week remains active, and is rotating out of view.
The Sun seen in 193 angstroms (extreme ultraviolet) October 5, 2020:
WOW! Lots of prominence activity over the last several days! You may have to watch the video below several times before you see them all!
The Sun seen in 304 angstroms (extreme ultraviolet) October 5, 2020:
Solar Activity on Facebook – Run by Volunteer NASA/JPL Solar System Ambassador Pamela Shivak
Solar Corona
Solar wind speed is 352.0 km/sec (↓↓), with a density of 8.3 protons/cm3 (↑) at 1410 UT.
Near real-time animation of the corona and solar wind from the Solar & Heliospheric Observatory (SOHO):
Sun News

Upcoming Earth-asteroid encounters:
Notes: LD means "Lunar Distance." 1 LD = 384,401 km, the distance between Earth and the Moon. Red highlighted entries are asteroids that either pass very close, or very large with high relative velocities to the Earth. Table from SpaceWeather.com
Asteroid News:

On October 5, 2020, the NASA All Sky Fireball Network reported 7 fireballs. 
6 sporadics, 1 Southern Taurid)
Fireball News:

Position of the planets and a couple spacecraft in the inner solar system:
Close-up of the positions of Earth, Mars and the Mars 2020 rover on Oct. 6th – Mars is having a "close encounter" today (62 million km) with Earth. It won't pass this close again until Sept. 2035!
Position of the planets in the middle solar system – the orbit of comet 67P/Churyumov-Gerasimenko is highlighted.
Position of the planets, some dwarf planets and some transneptunian objects in the outer solar system – the orbit of transneptunian object (TNO) Arrokoth is highlighted.
The orbit of TNO Arrokoth seen from an oblique angle:

NASA's OSIRIS-REx Asteroid Sample Return Mission
International Space Station
This is SO COOL!
Mars HiRISE: AI used to find tiny craters on Mars
Mars Reconnaissance Orbiter: MRO detected by 60cm radio dish antenna
Climate: I have a grandchild; I want to Earth to be a safe and healthy place for her to live in.
See a list of current NASA missions here: https://www.jpl.nasa.gov/missions/?type=current


ex·o·plan·et /ˈeksōˌplanət/, noun: a planet orbiting a star other than the Sun.
Data from the NASA Exoplanet Archive
* Confirmed Planets Discovered by TESS refers to the number planets that have been published in the refereed astronomical literature.
* TESS Project Candidates refers to the total number of transit-like events that appear to be astrophysical in origin, including false positives as identified by the TESS Project.
* TESS Project Candidates Yet To Be Confirmed refers to the number of TESS Project Candidates that have not yet been dispositioned as a Confirmed Planet or False Positive.


Hubble: Beautiful Universe
Tour of the Local Stellar Neighborhood
Continuing with my visual tour of nearby stars and their systems, we travel to the Luyten 145-141 (LP 145-141) system, about 15 light years distant.
Luyten 145-141
LP 145-141 (also LAWD 37) is a white dwarf located 15 light years from the Solar System. According to a 2009 paper, it is the fourth closest known white dwarf to the Sun (after Sirius B, Procyon B, and van Maanen's star.)

LP 145-141 is known at least from 1917, when its proper motion was published by R. T. A. Innes and H. E. Wood in Volume 37 of Circular of the Union Observatory. The corresponding designation is UO 37. (Note: this designation is not unique for this star, that is all other stars, listed in the table in the Volume 37 of this Circular, also could be called by this name)

LP 145-141 may be a member of the Wolf 219 moving group, which has seven possible members. These stars share a similar motion through space, which may indicate a common origin. This group has an estimated space velocity of 160 km/s and is following a highly eccentric orbit through the Milky Way galaxy.

White dwarfs are no longer generating energy at their cores through nuclear fusion, and instead are steadily radiating away their remaining heat. LP 145-141 has a DQ spectral classification, indicating that it is a rare type of white dwarf which displays evidence of atomic or molecular carbon in its spectrum.

LP 145-141 has only 75% of the Sun's mass, but it is the remnant of a massive main-sequence star that had an estimated 4.4 solar masses. While it was on the main sequence, it probably was a spectral class B star (in the range B4-B9). Most of the star's original mass was shed after it passed into the asymptotic giant branch stage, just prior to becoming a white dwarf.

A survey with the Hubble Space Telescope revealed no visible orbiting companions, at least down to the limit of detection.

Its proximity, mass and temperature have led to it being considered a good candidate to look for Jupiter-like planets. Its relatively large mass and high temperature mean that the system is relatively short-lived and hence of more recent origin. – Wikipedia
Artist's Rendering of a Jupiter-like Exoplanet Orbiting LP 145-141
Stay safe, be well, and look up!
---
Apps used for this post:
NASA Eyes on the Solar System: an immersive 3D solar system and space mission simulator – free for the PC /MAC. I maintain the unofficial NASA Eyes Facebook page.
Universe Sandbox: a space simulator that merges real-time gravity, climate, collision, and material interactions to reveal the beauty of our universe and the fragility of our planet. Includes VR support.
SpaceEngine: a free 3D Universe Simulator for Windows. Steam version with VR support available.
Stellarium: a free open source planetarium app for PC/MAC/Linux. It's a great tool for planning observing sessions. A web-based version of Stellarium is also available.
---
Section header image credits:
The Sky – Stellarium / Bob Trembley
Observing Target – Turn Left at Orion / M. Skirvin
The Moon – NASA/JPL-Caltech
The Sun – NASA/JPL-Caltech
Asteroids – NASA/JPL-Caltech
Fireballs – Credited to YouTube
Comets – Comet P/Halley, March 8, 1986, W. Liller
The Solar System – NASA Eyes on the Solar System / Bob Trembley
Spacecraft News – NASA Eyes on the Solar System / Bob Trembley
Exoplanets – Space Engine / Bob Trembley
Light Pollution – NASA's Black Marble
The Universe – Universe Today