Ed Yepez left an interesting comment in response to my December 2 post (a post on attitudes about who can do science, and on historically uninformed stereotypes about how religion and science are supposed to be separate).  Of course, in December I also had a post on giving a gift to a telescope this year (click here for that post—the telescope is still happy to receive presents), and on the value of comments on this blog.  So, I thought I'd write a post in response to Yepez's comment.  A belated Happy New Year to Yepez and to all those others who give the gift of commentary to this blog, and to all readers of The Catholic Astronomer, and here we go:
Yepez commented—
I'm a little off topic here. 12-08-2017 Today's Google Doodle features Dr. Jan Ingenhousz and his work with photosynthesis in the 1790's. (It's his 287th birthday!)
He was also a pioneer in innoculations.
I was curious and looked up where he studied. The University of Lueven(est. 1425, later known as the Catholic University of Leuven 1835-1968). St. Robert Bellarmine was another alum.
I'm not sure if I am ignorant, or just took for granted what Christianity, and specifically, the Catholic Church did to advance, not suppress, science.
I guess the 'modern' argument is: "who wasn't 'religious' in the old, ('un-enlightened') days?".
Yepez's comment prompted me to look up what Google had to say about their Doodle:
Dec 8, 2017
Jan Ingenhousz's 287th Birthday
From the mind of a Dutch scientist in the 18th century sprouted a flowering understanding of the secret life of plants. Jan Ingenhousz – born on this day in Breda in 1730 – is remembered as the inspired thinker who discovered the photosynthetic process.
Ingenhousz began studying medicine at the age of 16 and developed an interest in inoculation. He followed that passion to London, where he immunized hundreds of village people who were at risk for smallpox. The Austrian Empress Maria Theresa heard of this remarkable feat and sent for Ingenhousz to come to Vienna and inoculate the entire Habsburg family. In those days, inoculations consisted of pricking the skin with a needle that had been dipped into the pus of an infected person's wound – not a very pleasant-sounding business! Ingenhousz's mission was a success, and the Empress brought him on as the family's doctor.
His interests, however, expanded beyond inoculation and even medicine. Among his other accomplishments were discoveries around energy generation, particle motion and of course, photosynthesis. Though it was already known that plants produced and absorbed gases, it was Ingenhousz who first noticed that oxygen was produced by leaves in sunlight, and carbon dioxide produced in darkness. He published these findings in 1779, significantly influencing further research on plant life in the centuries to follow.
In today's Doodle, we celebrate the lasting contributions of this scientist to our understanding of the natural world. For those digging into their biology textbooks this school year, be sure to thank Jan Ingenhousz!
The Doodle shows Ingenhousz with a growing plant and sunlight, water, oxygen, carbon dioxide, and glucose (C6H12O6).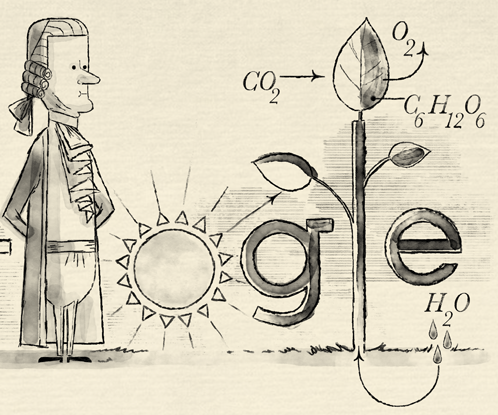 So, what about Ingenhousz's religion?  Well, a few things come up in a search on that.  It does not take a lot of looking to confirm that Ingenhousz was a Christian, and in particular a Catholic.  There is an entry for him in the old Catholic Encyclopedia.  A biography of Ingenhousz, From Sunlight to Insight: Jan IngenHousz, the Discovery of Photosynthesis & Science in the Light of Ecology, by Geerdt Magiels, mentions in multiple places that he was Catholic, and how that had an impact on his life.  For example, Magiels cites his religion as being one of the reasons he studied at Louvain and ended up at the court of Maria Theresa.  J. L. Heilbron, a well-known historian of science, also mentions Ingenhousz being Catholic and that having an impact on his career.
Of course secondary sources can be wrong, so it is good to cross-check what others have written regarding Ingenhousz against Ingenhousz's own writings.  And, he indeed included some religious commentary in his writings.  In his 1779 book Experiments upon Vegetables, Discovering Their great Power of purifying the Common Air in the Sun-shine, etc., he says—
Though we are too much accustomed to look upon the most obvious operations of nature with a kind of unconcern and indifference, such as, for instance, the vegetation of plants; yet we cannot look with so much indifference upon the final causes of those every where obvious scenes when we discover them; for they do not so much affect the organs of our sight and other external senses, as they do our understanding, our reason, our judgment; by which only we are superior to all other living animals. The consideration of final causes gives us to understand that this great universe is not the offspring of chance, not coëval with the beginning of time, or of an eternal origin; but that it has been made by an Omnipotent Being, who, by giving it existence, has, at the same time, endowed it with most wonderful qualities and powers, continually in action, and tending with an astonishing harmony to one general end, the preservation of the whole.
An upright mind, averse to that manner of living which induces many to wish, rather than really to believe, that this world is not superintended by an intelligent Being, takes delight in finding out those deep designs, which, by their obvious tendency to promote the preservation of the whole, inspire him with that awful reverence we owe to the Supreme Cause of every thing, and fill him with that consoling expectation, that the only being upon earth capable of true reason, and of tracing the existence of a God in his wonderful works, and of contemplating him in adoration, may expect not to be entirely annihilated after his body is returned into dust, out of which it took its origin. 
But to come back from this digression to the purpose, let us consider how much the real facts drawn from nature itself are concordant with the theory deduced from my experiments.  If the leaves of vegetables have really a considerable share in cleansing the atmosphere….
There is more than a little similarity between these sentiments of Ingenhousz and those expressed in the General Scholium of Newton, the writings of Kepler, or the poetry of Perry.  I think this is more evidence placed on the scale, indicating that stereotypes about how religion and science are supposed to be separate are historically uninformed.  And, insofar as those stereotypes drive people away from science or make people think that science is not the business of people like them, those stereotypes are exclusionary and bad for science.