For those of you who have followed The Catholic Astronomer from the beginning, you know my journey. For those of you who may be new to our blog, you might be wondering, "Why is a non-scientist, Diocesan priest with very little formal training in astronomy writing for an astronomy blog that includes Vatican Observatory scientists, along with brilliant lay women and men who are professional and amateur astronomers (and artists)?" If you've ever wondered this, you're in good company – I've often wondered the same thing. The oft-used baseball analogy to give voice to these feeling is that I often feel like I am "swinging out of my league." Yet, every time I feel a twinge of unworthiness for the gift I have been given, I take this to prayer and sense God simply saying, "Keep swinging!"
The reason for this Monday reminisce is that I felt a twinge of nostalgia when reading about the gravity assist received by OSIRIS-REx last week. Why, might you ask? The reason is that it was the first active NASA mission I had ever visited, fulfilling a lifelong dream. And this moment of accomplishment would not have happened without the Vatican Observatory being open to help a complete stranger chase a dream.
In 2015, I had the privilege of participating in the first Faith and Astronomy Workshop (FAW) in Tucson, Arizona. It was a first on many levels, both for the Vatican Observatory Foundation (VOF) and myself. For the VOF, it was the first time they had put together a workshop on faith and astronomy that was meant for non-scientist priests and religious educators. For me, it was the culmination of a journey that began by simply wanting to find a workshop or retreat to enrich my interest in faith and astronomy.
In 2013, I contacted Br. Guy, asking if he knew of any programs, retreats, or conferences in faith and astronomy meant for non-scientists. In short, his answer was, "No, but let's make one!" His openness to this idea was both shocking and exhilarating. I was expecting a simple yes or no to my inquiry, pointing me to another person who ran a program I could attend or simply saying no and wishing me well. The thought that somehow my inquiry would lead to something original was not on my radar screen. As I think back on how FAW came about, I can honestly say that I didn't find FAW, but FAW found me.
The first time I met Br. Guy was the day the workshop began in January of 2015 at the Redemptorist Renewal Center, just outside of Tucson, Arizona. "So, you're the reason we're all here!" This initial greeting from Br. Guy seemed to contain a twofold, "it's nice to meet you" and "this is all your fault" air of humor, typical of Br. Guy. After the ice was broken when a good friend visiting me asked Br. Guy about his t-shirt that read, "Ask me about my vow of silence," we agreed that if the workshop went well, it was all because of Br. Guy. If it flopped, it was all my fault.
There were many memorable moments at the 2015 FAW. However, the field trip to visit the OSIRIS-REx mission headquarters at the University of Arizona was most memorable. As a child, I loved space exploration and always hoped to visit an active NASA mission. I was glued to Carl Hergenroth's presentation, explaining how OSIRIS-REx was going to literally bounce off of astroid Bennu, vacuum up a water bottle sized sample of the astroid, and then come back to Earth as soon as possible. One of the reasons to do this, Carl explained, was to bring back a pristine sample of an astroid that has as little outside contamination as possible. Carl explained that this will provide important data to help scientists study the astroid itself, but could potentially hold keys to help understand the early Solar System. Below is a video of the OSIRIS-REx mission overview.
At one point, Carl was talking about the limitations scientists must deal with due to issues of funding. I asked Carl, "If funding wasn't an issue, what mission would you like to pursue?" His answer was quick and clear, "To the deepest parts of the universe as quickly as possible." His response left a deep impression on me, reminding me why I so enjoy science and, in particular, space exploration: Science feeds my desire to explore the depths of creation and, in the process, explore who I am in light of this exploration.
Something I think religion can learn from science is the willingness to never fear the unknown exploration. As a child, my Catholic faith was an exploration and journey, seeking God and understanding who I am in light of that journey. Now that I am a priest, I fear the day to day grind of office work, annual reports, and meetings can create a pragmatic sense of religion. In the process, priestly ministry can be reduced to maintaining healthy budgets, pew counts, and the daily goal to not show up late to a meeting while trying to cram pastoral care of the people we serve into our schedule.
If the previous sentence didn't make you uncomfortable, it should have. As a priest, I never want to "cram" my ministerial responsibilities between two meetings, implicitly saying that the meetings are more important than ministry. Thankfully, I have an amazing staff at Saint Joseph Parish that work very hard, allowing me the ability to focus primarily upon my ministry while also having to take care of administrative tasks. The point is that if faith becomes nothing more than something to put on your calendar for purposes of time management, it tells me that we are losing something. This is why I so appreciated Pope Francis' early reflection after his election as Pope on the dangers of the "sin of efficiency."
I am not so naive as to think that a similar tension between desk work and exploration doesn't exist in science. One of the great gifts of FAW was to have an honest look at not only the excitement of OSIRIS-REx's exploration of Bennu, but also to have a sober dose of understanding the politics and grunt work that goes into making such an exploration possible. Nevertheless, I do think that religion can learn from missions like OSIRIS-REx that at the heart of everything we do as a people of faith is to explore the depths of God in our lives and in our world. Our faith calls us to a "no limits" approach to God, in which no part of our life or our world is off limits. From this standpoint, I find a meeting point between faith and science: Often times the only limits on the exploration of God and our world are the ones we place upon ourselves.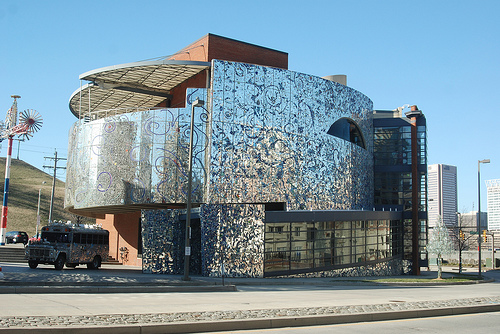 A couple weeks back, I received a phone call from an office in the United States Council of Catholic Bishops (USCCB). They informed me that the curator of the American Visionary Museum in Baltimore, Maryland was working with her Bishop to find someone to present on faith and science at an event that will include scientists who use the Hubble Space Telescope (I hope they've thought about inviting our own Brenda Frye).
When I first visited their website, as an art enthusiast, my first thought was, "This is not the type of art I enjoy." After a brief moment of apprehension about the invitation, I did a little more digging and found that this museum is the largest collection of untrained, intuitive artists, creating art from some inner compulsion, making many of the contributors to this museum uncomfortable to be seen as artists. This hit a chord with my journey as an author for an Astronomy blog with little formal training, pursing a compulsion I have for beholding God's creation, and feeling very uncomfortable when people use terms to define me as "astronomer" or even "amateur astronomer." In that moment, my whole journey with the VOF came to mind and made me think, "Maybe I'm not as uncomfortable with this request as I first thought?" After some prayer, I accepted the invitation.
One of the things my journey reminds me of is that all of us are on a journey of some type. What is your journey? What are the passions you have that you have never explored, but sincerely desire to? Pray with that question this week and don't be surprised if the fruit of that prayer calls you to begin a journey of your own. On this journey, trust that you will encounter the God of surprises, enriching your life beyond anything you can possibly imagine.