I've seen pictures of America's first spacewalker. But what did America's first spacewalker see?
Fifty years ago, astronauts James A. McDivitt and Edward H. White blasted off from Cape Kennedy aboard Gemini 4. Their mission would last four days. Flights of NASA's two-seat Gemini spacecraft would practice the long durations, complex tasks, and astronautical skills necessary for the eventual Apollo missions to the Moon.
Eleven weeks previously, on 18 March 1965, Soviet Union had launched Voshkod 2. Alexei Leonov had, for 12 minutes, become the first human to leave a spacecraft and drift in the void. NASA referred to this as "extravehicular activity," or EVA, but the press began to call it a "spacewalk," a name which has been with us ever since.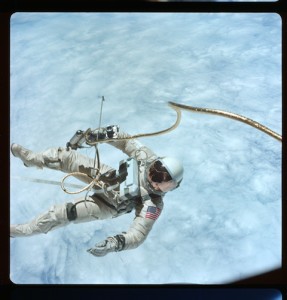 It was time for an American to follow. On 3 June 1965, Captain Ed White left the Gemini 4 capsule and, protected by his G4C pressure suit, soared weightlessly in space alone for 20 minutes.
You've seen the famous—nay, iconic—pictures McDivitt took of him. He floats effortlessly against black space, blue ocean, and white clouds, his air hose snaking across the picture. He's holding a pistol-grip gas-jet gadget called the Hand-Held Maneuvering Unit intended to practice movement in space.
In these photos, you can see that Ed White has a camera mounted atop his gas gun.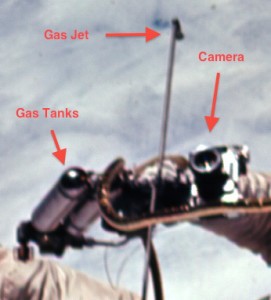 I've seen McDivitt's photos countless times. I'd never seen any photos White took.
I became curious to see the Gemini 4 spacecraft from the outside. What did the EVA look like from White's camera?
At Arizona State University, the March to the Moon project has scanned photos taken by astronauts in NASA's Mercury, Gemini, and Apollo programs. They've provided a nice Web interface for browsing this historic database.
I went looking for the roll of film from White's camera. Its magazine number is GT4-37199. Here's what White saw.
White had a lot on his mind that day, so he can be forgiven if the photos are less than perfect.  None of these would win a photography prize, and several are seriously flawed.
Now here's the sort of photo I was hoping for, when I went looking through the March to the Moon database. It's White's most dramatic shot of the spacecraft, Frame 2. The nose is on the right and McDivitt's window appears at lower left.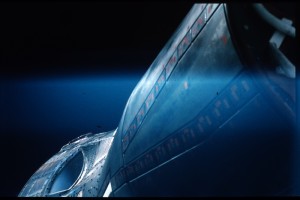 I may be slow, but it wasn't until I had looked over White's pictures that a thought dawned on me.
Without leaving his seat, McDivitt also took photos of Gemini 4's exterior!
Look again at the classic pictures of White.
His helmet visor is a mirror.
It was gold-plated to reduce the intensity of sunlight, much like sunglasses do. One can crop out everything but the visor, and get some pretty good views of the Gemini 4 spacecraft.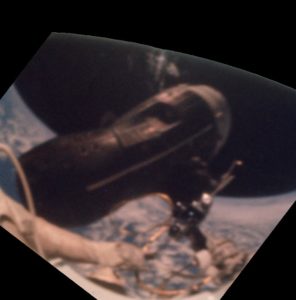 I think this is about as good as White's own best photo!  Here's a visor view, less distinct, from another photo.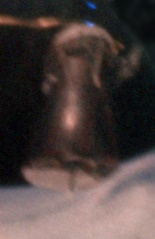 In the course of time, after their return to Earth, the city of Chicago threw a parade for White and McDivitt.  Other astronauts had had other parades, but Chicago's had a difference: High up on a skyscraper, balloon-filled mannequins formed a long row of spacewalkers, waving in the breeze.  Perhaps they were a portent of the many EVAs that would be undertaken by cosmonauts and astronauts in the five decades to come.
Ed White perished less than two years later, in the tragic Apollo 1 launch pad fire.  He is constantly remembered, a symbol of the Space Age, as the man floating free, blue and white Earth moving below him, facing the stars.