In honor of the Fiftieth Anniversary of the Apollo 11 moon landing,
I am today "re-running" this slightly edited combination of two posts that originally ran last summer.
---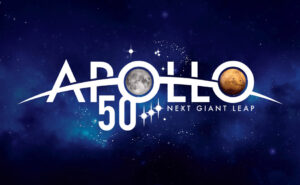 Today we celebrate the Fiftieth Anniversary of the Apollo 11 moon landing.*  I wish those celebrations included more recognition of a unique accomplishment that is part of the Apollo 11 story but that is widely unknown: the work of Larry Baysinger—a man from my home town of Louisville, Kentucky—who independently detected signals from the Apollo 11 astronauts as they walked on the lunar surface.  Baysinger's accomplishments were recorded and promptly published in the Louisville Courier-Journal, by another Louisvillian by the name of Glenn Rutherford, who later went on to be editor of the newspaper of the Archdiocese of Louisville, The Record.
Rutherford was a 23-year-old reporter for the Courier-Journal, and his article about Baysinger was published under the headline "Lunar Eavesdropping:  Louisvillians hear moon walk talk on homemade equipment".  Baysinger was a technician for Louisville's WHAS 840 AM radio, and only a few years older than Rutherford.  The story garnered some attention for Baysinger at the time.  He was interviewed by the Collins Radio Company, who made the communications equipment that was used for the Apollo, Gemini and Mercury programs.  They were very impressed that anyone could detect the Apollo signals with home-built equipment.  However, in time the story faded from view.  In 2009, when I first learned of the story, I saw just how much it had faded by doing searches for information using keywords such as "Baysinger" and "Apollo" in Google, as well as in EBSCO and JSTOR databases.  These searches yielded no references to Baysinger's work.  Searching "Lunar Eavesdropping" yielded no returns of any sort at all.  (Today such searches return more results, thanks in part to a 2010 article about Baysinger that I wrote for the National Association for Amateur Radio.)
I learned about the story thanks to a discussion between Rutherford and me about some of the research Henry Sipes and I had going on at Otter Creek-South Harrison observatory.  Rutherford had written about this research in a July 2009 article in The Record.  Our discussion drifted into the issue of Kentuckians doing scientific research.  That reminded Rutherford of the story of Baysinger's work, and he told me the story.  I later had the pleasure of speaking to Baysinger directly.  It was remarkable that these two gentlemen, forty years later, should both still be here in Louisville, just a phone call away!
Baysinger told me that his Apollo lunar eavesdropping project arose because in the late 1960's he was an amateur radio astronomer with an interest in NASA, in astronomy, in UFOs, and in other such things that were hot topics at a time when America was on the verge of landing its first men on the moon.  He experimented with satellite tracking and capturing pictures of Earth transmitted from weather satellites.  He had some success in these matters—for example, he was able to print out crude images from weather satellites using an impact printer that printed using carbon paper.  These interests and efforts led to the idea that he might independently verify the information that NASA had been providing about the Apollo program.  Could he get unedited, unfiltered information about the Apollo 11 landing by eavesdropping on the radio signals transmitted from the lunar surface?  And could he find out things that NASA did not want the public to know about?  But most of all, successfully detecting a transmission from the lunar surface would be a great technical accomplishment.
According to Baysinger, various local experts had said that it could not be done.  However, information about the communication frequencies used by the Apollo missions was widely available.  The March and June 1969 issues of CG: The Radio Amateur's Journal, for example, contained this sort of information.  If a person could build a good radio, he or she should be able to listen to Apollo.  And not only did Baysinger listen to Apollo, but he recorded it, and saved those recordings for decades.
And, four decades later, Baysinger still had the reel-to-reel tape recordings that he had made.  He transferred the salvageable sections of the tape to digital format.  You can listen to his recording and compare it to NASA's own recording here:
Some years later, the BBC Radio 3 included an interview with Baysinger and Rutherford in a show called "Space Ham".  By that point Baysinger had managed to salvage more of the tape, including a section with President Richard Nixon speaking to the astronauts.  You can click below to hear their interview, in which they give a nice discussion of their experience:
One interesting thing you will hear Baysinger and Rutherford discuss in the interview is how they were hoping to hear something that the general public would not hear.  And they did not.  When I talked to Baysinger back in 2009, I asked him about this, and he said that absolutely everything was transmitted to the public on TV, and that, in fact, "that was kind of disappointing".  Part of the idea of this project was to hear the unedited "real story", and it turned out there was nothing edited out.  Indeed, Rutherford's story in the Courier-Journal makes no mention of hearing anything unusual.  Baysinger did not attempt to eavesdrop on any other Apollo missions.  After Apollo 11 he moved on to other projects.
Various Google/EBSCO/JSTOR searches have convinced me that there certainly were not a lot of amateur radio astronomers eavesdropping on Apollo transmissions.  An inquiry I made via the HASTRO-L history of astronomy e-mail listserver did turn up the web page of Sven Grahn.  Grahn and Dick Flagg apparently received some signals from the Apollo 17 command module in orbit around the moon, although the voice signals they received were limited to two small sentence fragments and they were using a large dish to receive the signals.  A German radio observatory also recorded signals from the Moon.  I made inquiries with a number of people in the radio community, none of whom knew of anything comparable to Baysinger's work.  These include Zack Lau, Senior Lab Engineer for the ARRL (the national association for amateur radio) and their QST magazine, who responded to an e-mail I sent to QST to say that they have no record of anyone picking up signals from Apollo 11; Rachel Baughn, editor of Monitoring Times magazine, who responded to an e-mail I sent that she had no information on this sort of thing; and Jim Sky of Radio-Sky Journal who responded to an e-mail Henry Sipes sent to him—again, no additional information.  Phil Plait featured Baysinger's work on his Bad Astronomy blog.  His readers posted many comments, but no definite information.  In general, people seem to be aware that amateur radio enthusiasts and radio astronomers listened in on Apollo missions.  But what was heard, whether the signals were received from the Moon or just from the Apollo spacecraft when they were in Earth orbit, and so forth is an open question.  What truly makes Baysinger's work unique is that it was recorded in print at the time, and that he not only received but recorded extensive audio, much of which has survived to this day.  If someone else did succeed in eavesdropping on NASA, but no record was ever made, and if that someone is no longer around, we will not know about it.
Besides the obvious "local interest" aspect to this story, there is a great educational aspect as well.  Most people are aware that there is a significant (or significantly vocal) "Apollo denier" movement that says that we never went to the moon.  The Apollo deniers have received attention through shows on Fox and Mythbusters that address the Apollo deniers' arguments.  I have found that a noticeable minority of my students, or maybe more than just a noticeable minority, are at least open to the idea that we never went to the moon—an issue I have discussed on this blog more than once.  In a sense this is not surprising.  Today's traditional-age college students were born many decades after Apollo 11.  They have no memory of the moon landings—Apollo is just something in a book.  And, it is not obvious that we will be returning to the moon any time soon; humankind today has little in the way of manned space capability beyond low Earth orbit.  Thus the voyage to the moon probably seems to today's students like a mythical voyage such as might have been made by Jason and the Argonauts, to a land which we visited once but to which we cannot go now.  And, since all the evidence that we went to the moon comes from one source (NASA), it is relatively easy for conspiracy theorists to make their claims.  Had thousands of amateur astronomers been able to see the men on the moon for themselves, there would be no Apollo deniers.
Baysinger's lunar eavesdropping is an independent verification that men were on the moon, by a local person who is not part of the scientific establishment.  Had there been more Larry Baysingers eavesdropping on Apollo, or had there been more Glenn Rutherfords to record the work of the Baysingers who did eavesdrop, there would be no Apollo deniers (this is an illustration of the importance of "reproducibility" in science).
For a more detailed discussion of Baysinger's work, see Lunar Eavesdropping in Louisville, Kentucky, on the web page of my college's observatory.  These posts were based on that discussion, which includes some additional details, especially on technical matters.
---
* I note that while the Apollo 11 landing was a great achievement, worth celebrating, the fact that since the Apollo program we have not returned to the moon, or even left Earth orbit, is hugely disappointing.  When I was a kid I thought average people might be able to travel the solar system in the early 21st century!