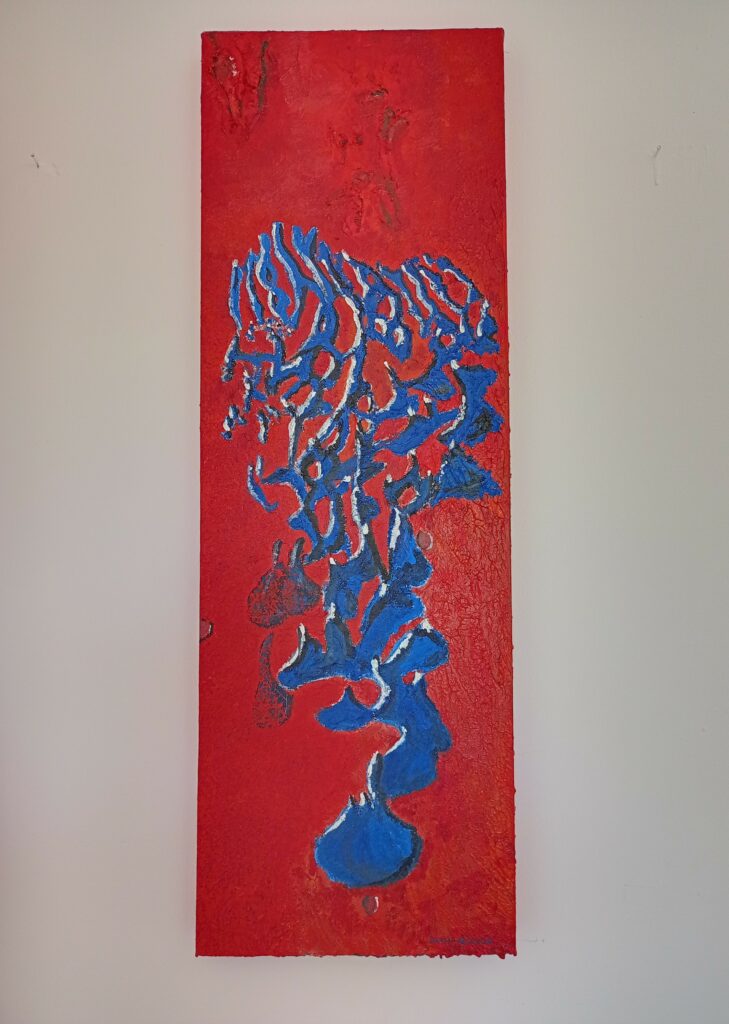 Inside my head is a queue of images waiting to become Mars on canvas. Many pictures taken by Mars orbiters are reproduced in false colour to make different areas or structures stand out. Some of these images are works of art in their own right. All of them give us insight into the surface of Mars and its geology. Bunge crater is one such wonder, inspiring my painting. I painted the Martian sand in blue to emulate the lovely blue used in false colour images. The background surfaces are done in various orange/red tones, just like Mars itself.
Bunge Crater
This black-and-white image of Bunge crater on Mars inspires my painting. Like many craters on the red planet, sand has accumulated in the bottom of the cavity. The Martian wind has sculpted the sand into these beautiful shapes. I got so involved with the patterns of the wind-blown sand that the sand shapes seemed to take on a life of their own. This shape-shifting on my canvas felt like my materials were pulling me into the crater.
Visual Beauty
Some images give Mars a wasteland face to onlookers. But Mars is far from barren when it comes to visual beauty. The textures, patterns, and structures offered to the eye are magnificent. Sometimes I see an image that sits in my mind for years until I attempt to paint it. Frequently I work on a painting in a way that precisely captures the image. Occasionally like my new work, the paint and materials led the way. Experimenting with materials is always an exciting journey. Bringing small fragments of Martian visual beauty to canvas gives me great pleasure.
Materials
I often wake up in the middle of the night, and materials for paintings pop into my head. Yes, I will go on to use a stainless steel pot scrubber to apply that deeply textured background to the picture. And YES! I will use Polyfilla to create those wind-carved dunes directly onto the canvas. Good idea until you run out of Polyfilla. Then try grouting. But alas, the grouting all cracked and fell off the canvas a few days later. However, it conveniently left its pattern behind. A week later, I added a new Polyfilla and continued to work away, getting lost in this sandy world on a planet far away from where I was.
Visitors to our house thought the sand dunes looked like bladderwrack seaweed in the ocean. This perception was slightly more an earthly pareidolia than canals on the red planet many decades ago.
Raising Dunes for Mars on Canvas
The Bunge crater image was taken by NASA's Odyssey spacecraft, which is on orbit around Mars since 2001. I could have drawn all the shapes directly onto my canvas. It could have been a direct copy in black and white. But that would have been less fun. My pallet knife had never been used to spread Pollyfilla before and struggled to make the shapes I wanted. However, we worked around the issue and continued to pursue our goal of raising dunes on the Martian surface.
Structure
I chose the Bunge crater image because I loved the way the wind sculpted the sand. Using Pollyfilla helped give that 3D carved look. In past projects, I used structure gel. This is a very thick transparent gel that mixes well with acrylic paint. This product helps the paint be more defined if you use it to create mounds and textures. I was all out of structure gel. So I experimented with Pollyfilla overpainted with heavy body acrylics.
Questions
I learnt a lot by experimenting with materials. Mars on Canvas started in April and finished around June 10th. It hangs in my hall and asks me questions every time I pass it. Is that more shaped sand hidden under thicker sand to the lower left in the black-and-white image? Do the sand shapes occasionally change when the Martian wind decides to blow? Or does the crater wall protect its formations? Is the land's surface on the left higher than the surface on the right? That's Mars for you—more questions than answers.