Happy New Year!
This has been an interesting Advent-Christmas season. Christmas 2022 fell on Sunday, making Advent 2022 as long as it could be—four full weeks. Thus New Year's Day this year, the Solemnity of Mary, the Holy Mother of God, also fell on Sunday. The Baptism of the Lord, which in 2022 and 2021 were celebrated on the Sunday after the Epiphany, this year will be celebrated on this coming Monday, January 9.
Priests like Fr. James Kurzynski here at Sacred Space Astronomy, and others involved in liturgies, have had a light load this year; there have been far fewer masses than there usually are during the Christmas season. Enjoy it, Fr. James! You won't see this again for a while.
The Earth takes about 365.25 days to orbit the sun. That's the astronomical basis for a year. Every 365.25 days the sun returns to the same spot in the zodiac, as we look across our orbit to see the sun against the stars that lie along the orbital plane. The images below show the location of the sun (in the constellation of Sagittarius) at noon (U.S. Eastern time) on January 1, 2022 (left), at noon on January 1, 2023 (center), and at 6:00 p.m. on January 1, 2023 (right).

The sun requires 365… and ¼… days to complete its cycle through the zodiac. That's why it is not back to the same spot until 6:00 p.m. (Actually, it is not exactly ¼ of a day, but it is very close.) The fact that the sun is not back to exactly the same spot in 365 days is more apparent in the images below.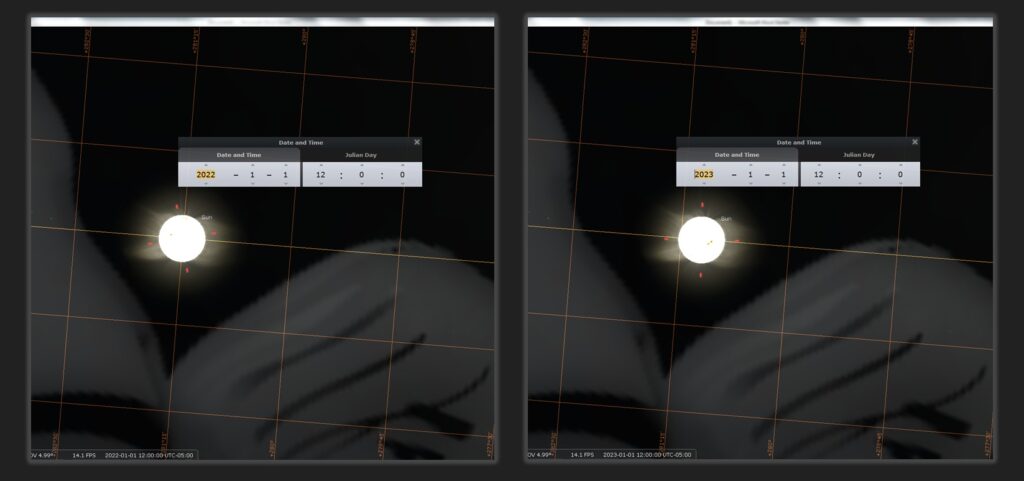 A year on the calendar consists of 365 days: 31 (Jan) + 28 (Feb) + 31 (Mar) + 30 (Apr) + 31 (May) + 30 (Jun) + 31 (Jul) + 31 (Aug) + 30 (Sept) + 31 (Oct) + 30 (Nov) + 31 (Dec) = 365. But that calendar year is, in terms of 7-day weeks, 7 (days per week) x 52 (weeks per year) = 364 days… plus one more day to get 365. Because of that "one more day", each year the day of the week on which a given date falls changes by one day: In 2021, January 1 fell on Friday, in 2022 it fell on Saturday, this year it fell on Sunday.
This might lead us to expect that Christmas and New Year's fall on Sundays once every seven years. However, because of that "and ¼", we have a leap year once every four years. On leap years, there are 29 days in February, and the calendar year consists of 366 days.
That means that in terms of 7-day weeks, we need 7 x 52 = 364 days… plus two more days to get 366. In 2020, January 1 fell on Wednesday. That was a leap year. So in 2021, January 1 jumped two week days, to Friday.
So, in 2017 New Year's fell on Sunday (as did 2016's Christmas). In 2018, New Year's fell on Monday; in 2019, on Tuesday; 2020, Wednesday; 2021, Friday (thanks to February 29, 2020); 2022, Saturday; and now we are back to Sunday in 2023. So, Sunday Christmas-New Year's every six years, right?
No.
The previous Sunday New Year's was 2012! But 2012 was itself a leap year. So in 2013 New Year's was on Tuesday, because of the two-day jump. Then 2014, Wednesday; 2015, Thursday; 2016, Friday… but 2016 was another leap year, jumping things forward by two days again, giving us New Year's on Sunday in 2017. Only five years passed between Sunday Christmas-New Year's.
And look at what is coming up:
New Year's in 2023 fell on Sunday; in 2024 it will fall on Monday; in 2025, on Wednesday (because 2024 will be a leap year); 2026, on Thursday; 2027, on Friday; 2028, on Saturday. But 2028 is a leap year, so in 2029 New Year's will fall on Monday, skipping right over Sunday!
Then things continue so that in 2030 New Year's falls on Tuesday; 2031, on Wednesday; 2032, on Thursday; 2033, on Saturday (thanks to leap year 2032). And in 2034, New Year's will again fall on Sunday—after eleven years!
The table below shows all the years between 1900 and 2150 that have had or will have Sunday Christmases (and thus maximum-length Advents, Sunday New Year's following, etc.), and the number of years passing between them. Note the repeating pattern of six years, five years, six years, eleven years.
Except for around 2100. That's because, while 2092 and 2096 will be leap years, 2100 will not be. That has to do with that "not exactly ¼ of a day" business. That's a topic for another post, maybe in another New Year.
---
| | |
| --- | --- |
| 1904 | Passing |
| 1910 | 6 |
| 1921 | 11 |
| 1927 | 6 |
| 1932 | 5 |
| 1938 | 6 |
| 1949 | 11 |
| 1955 | 6 |
| 1960 | 5 |
| 1966 | 6 |
| 1977 | 11 |
| 1983 | 6 |
| 1988 | 5 |
| 1994 | 6 |
| 2005 | 11 |
| 2011 | 6 |
| 2016 | 5 |
| 2022 | 6 |
| 2033 | 11 |
| 2039 | 6 |
| 2044 | 5 |
| 2050 | 6 |
| 2061 | 11 |
| 2067 | 6 |
| 2072 | 5 |
| 2078 | 6 |
| 2089 | 11 |
| 2095 | 6 |
| 2101 | 6 |
| 2107 | 6 |
| 2112 | 5 |
| 2118 | 6 |
| 2129 | 11 |
| 2135 | 6 |
| 2140 | 5 |
| 2146 | 6 |