In working on the material for the "Black Holes at Seven Pines" posts (click here for that series), I spent some time perusing the work of Peter Galison, Harvard's filmmaking scientist and historian of science. Along with his black hole material he has a film featuring the eighteenth-century African-American poet Phillis Wheatley. In it, she is talking about astronomy, and about faith!
Galison was featuring Wheatley's poem "To the University of Cambridge, in New-England" (that is, Harvard). In the poem Wheatley writes,
Students, to you 'tis giv'n to scan the heights
Above, to traverse the ethereal space,
And mark the systems of revolving worlds.
(The full text of "To the University" is below.) I thought it interesting that she was talking about astronomy, so I looked to see if she has other astronomical references in her 1773 book, Poems: On Various Subjects, Religious and Moral. She does!
There is this, from the poem "On Imagination":
Imagination! who can sing thy force?
Or who describe the swiftness of thy course?
Soaring through air to find the bright abode,
Th' empyreal palace of the thund'ring God,
We on thy pinions can surpass the wind,
And leave the rolling universe behind:
From star to star the mental optics rove,
Measure the skies, and range the realms above.
There in one view we grasp the mighty whole,
Or with new worlds amaze th' unbounded soul.
Then there is this, from "A Funeral Poem on the Death of C. E., an Infant of Twelve Months":
Through airy roads he wings his instant flight
To purer regions of celestial light;
Enlarg'd he sees unnumber'd systems roll,
Beneath him sees the universal whole,
Planets on planets run their destin'd round,
And circling wonders fill the vast profound.
Th' ethereal now, and now th' empyreal skies
With growing splendors strike his wond'ring eyes.
Phillis Wheatley clearly had an interest in and knowledge of astronomy.  She understood the structure of the universe, composed of revolving worlds and stellar systems, of planets on planets running their courses.  No doubt she would be pleased by, but not stunned by, our discovery of so many exoplanets orbiting other stars.  This view of the universe comes from study, not just from naked eye observation of the night sky.  It seems Wheatley was brilliant and absorbed knowledge rapidly.  If you do a quick search on her, you will promptly find that she learned various languages within a short period of time after having arrived (in captivity) in New England.  She obviously picked up astronomy, too.
Of course, the title of her book references poems on religion, not astronomy; that is the focus of the work. For example, after noting how students can scan the heights and traverse space and measure the "systems of revolving worlds", she notes that what is more important is that they receive the Good News of Jesus Christ. Indeed, her urging them to think of Christ "out-stretcht upon the cross", and to avoid sin, the road to perdition, sounds like a traditional Catholic Lenten meditation.
Phillis Wheatley's poems reflect both her faith and her interest in science.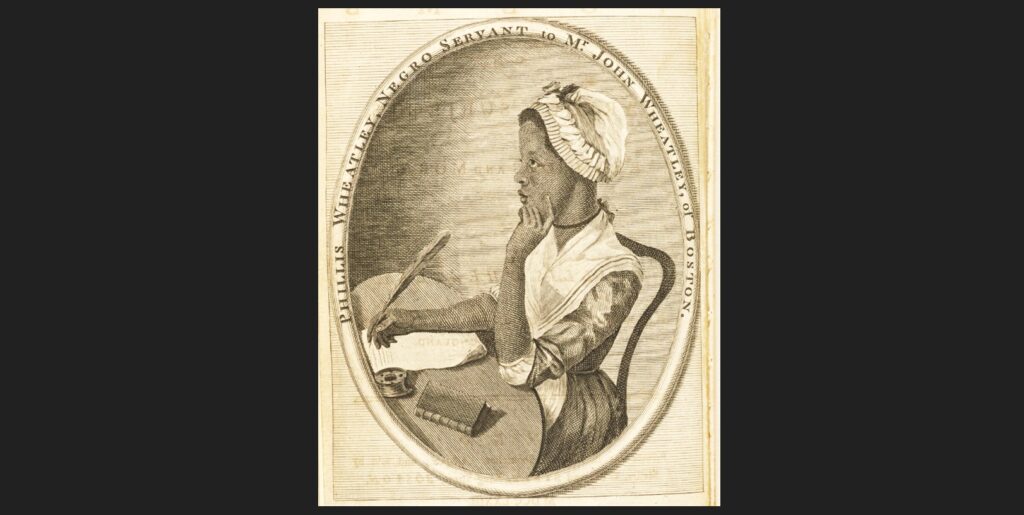 ---
To the University of Cambridge, in New-England.
WHILE an intrinsic ardor prompts to write,
The muses promise to assist my pen;
'Twas not long since I left my native shore
The land of errors, and Egyptian gloom:
Father of mercy, 'twas thy gracious hand
Brought me in safety from those dark abodes.
Students, to you 'tis giv'n to scan the heights
Above, to traverse the ethereal space,
And mark the systems of revolving worlds.
Still more, ye sons of science ye receive
The blissful news by messengers from heav'n,
How Jesus' blood for your redemption flows.
See him with hands out-stretcht upon the cross;
Immense compassion in his bosom glows;
He hears revilers, nor resents their scorn:
What matchless mercy in the Son of God!
When the whole human race by sin had fall'n,
He deign'd to die that they might rise again,
And share with him in the sublimest skies,
Life without death, and glory without end.
Improve your privileges while they stay,
Ye pupils, and each hour redeem, that bears
Or good or bad report of you to heav'n.
Let sin, that baneful evil to the soul,
By you be shun'd, nor once remit your guard;
Suppress the deadly serpent in its egg.
Ye blooming plants of human race divine,
An Ethiop tells you 'tis your greatest foe;
Its transient sweetness turns to endless pain,
And in immense perdition sinks the soul.