What is the perspective you take on life? As a priest who also loves art, I am often taken by the elegant simplicity of impressionism. When standing close to masterpieces by Monet, Sisley, Cassatt, Guillaumin, and Degas, the brush strokes can be so gentle and transparent that it almost looks like randomly placed patches on a canvas. However, when you step back to behold the entire image, a clear picture begins to emerge of simple beauty that, as a collected genre of works, we have named masterpieces.
This twofold reality of perspective, the immediate and the distant, reminds me of the multilayered nature of the Bible. When we isolate individual passages from Sacred Scripture, we find both beauty and confusion, encountering random sentiments that can be theologically spun in numerous directions. It is only when we stand back and see Scripture as a whole that the transcendent beauty of God's Word takes shape in these sacred texts. In many ways, Scripture is similar to an impressionist canvas.
These reflections speak to me of the necessity of immediacy and distance. We need the light brush strokes that appear as random chaos and the distance perspective that presents a full canvas of beauty and order. We need individual passages from the Bible to provide moments of reflection and the totality of Scripture to grasp the full scope of Salvation History. This "both and" approach to art and the Bible reminds us that truth is discovered when multiple perspectives come together to create an image, a whole that is beheld and reverenced. A theologian who strongly emphasized this approach to truth was Blessed John Henry Newman. In his understanding of the Illative Sense, he spoke of how truth is discovered through the coming together of a number of perspectives. When enough data has come together, there is a moment of ascent when we know something as true. This ascent is also applicable to our faith life. Through study, experience, and encounters with people of faith, we accumulate a story, a life that is pointing toward a goal, an end. When enough of this knowledge and experience comes together, there is a moment of ascent into the heart of God.
I was reminded of these reflections on art and scripture while looking at NASA images of wildfires. My first summer in Menomonie, Wisconsin (2015) presented me with a new experience. One day, while driving on the Interstate, I thought I smelled a camp fire while the sky had an odd, hazy look to it. I noticed that it didn't hurt my eyes to look at the sun. No, I wasn't having a mystical experience. When I got home, I turned on the local weather and saw an air quality warning for my new hometown due to wildfires in Canada. Looking at a broad view map of the United States, it may seem that Wisconsin is rather close to Canada. However, when you take the closer perspective, to drive to the most logical border point between my current hometown and Canada (International Falls, Minnesota) is over five hours away. In other words, it's a healthy hike to get to Canada. When you move from the micro to the macro, you get an even broader perspective, discovering that the source of these fires came from locations that would more than triple my drive to International Falls. When both the immediate and the distant perspectives are taken into consideration, one can seen how much of an impact a wildfire from its source can have upon our common home.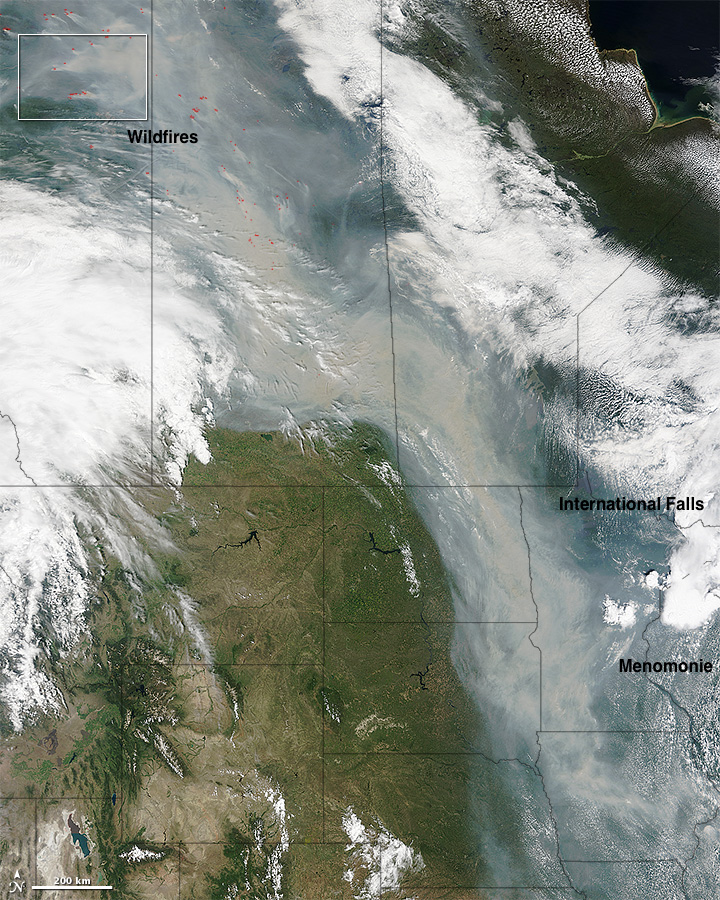 This tension between experiencing something in its immediacy and stepping back to view its totality is true of the spiritual life. For example, when tragedies and difficulties hit, we can feel like we are staring into the immediate teeth of a wildfire, gazing at a random stroke of paint on a canvas with no meaning or purpose, or randomly stumbling upon a passage from the Bible that makes us feel judged and/or condemned. If we stay in these immediate experiences, we can begin to feel trapped, as if life is caving in upon us with little to no safety or escape.
When facing moments of difficulty, we need to step back, drinking in a deep breath of prayer, and seek a broader perspective on life. We need to see where the fire's origin truly begins, we need to see the paint strokes in their totality, and we need to see the harsh passages from Scripture in the context of passages of love and mercy to discover meaning and purpose in our struggles. This approach requires patience, not falling into the trap of running to false conclusions of what is presented to us only in immediacy, but being able to see a broader perspective, patiently looking for God's presence and listening for God's voice.
Are you experiencing the wildfires of life? Do you feel that life is thin and meaningless, like a single brush stroke on a canvas? Does your heart become troubled when you find passages in the Bible that seem to contradict the God of mercy? Take a deep breath this week, avoid our normal tendency to rush to snap decisions about these circumstances, and seek the broad view of God's mercy and love. In those moments, trust that both the details of struggle and the broad canvas of God's mercy will lead you to peace, to hope, and a grounded heart in the Lord.
Enjoy your Monday, and together let us walk in faith, drinking in the beauty and totality of God's creation!