The Holmdel Horn – the device which first heard evidence of the Big Bang, is at risk due to redevelopment plans of its historic site
The radio telescope used by Arno Penzias and Robert Wilson when they discovered the cosmic microwave radiation from the big bang is still in place on Crawford Hill in Holmdel, New Jersey. It has been designated a National Historic Landmark and has also been named an Historical Site by the American Physical Society. However, these designations are mere honors, and provide no real protection.
The Bell Labs Crawford Hill Laboratory has been sold to a private developer, who has no desire to keep the antenna, as it would interfere with planned residential development. The developer may be willing to have the antenna moved, but that would be very expensive, and would remove the antenna from its historical landmark.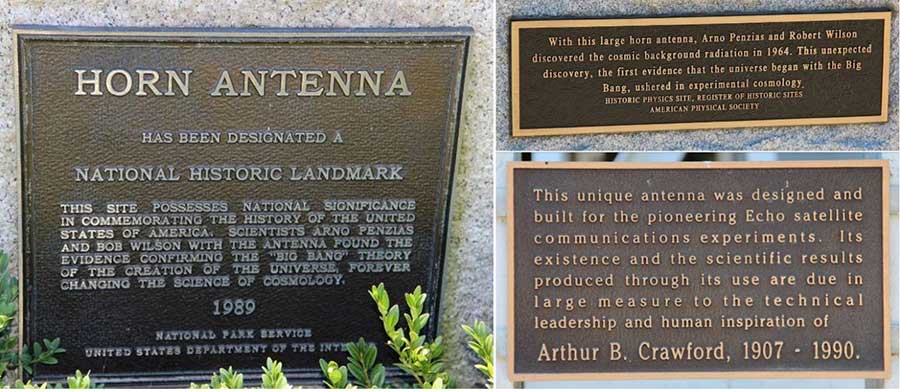 Not everyone is happy about this, including Bob Wilson, who still lives nearby. A group of local organizations, including Friends of Holmdel Open Space (Janet Jackel president) is advocating for preservation of the antenna and the creation of a park for the land on which it sits.
The Friends of Holmdel Open Space, along with two other local groups, have created an online petition which at the time of this writing has received almost 7000 signatures. The petition website has considerable background information; there have been signatories from across the US, and from many other countries, including many ex-Bell Labs researchers, astronomers, scientists, and a large number of local people.
The situation is evolving as more people become aware of it; the Friends of Holmdel Open Space are hoping for a happy outcome.
Videos
Articles
Sky and Telescope: The Holmdel Horn that "Heard" the Big Bang is at Risk
https://skyandtelescope.org/astronomy-news/holmdel-horn-which-heard-evidence-of-the-big-bang-is-at-risk/
IEEE Spectrum: Saving the Big Bang (Antenna)
https://spectrum.ieee.org/cosmic-microwave-background
Additional Publications
https://tworivertimes.com/holmdels-historic-big-bang-antenna-at-risk-residents-say/
https://patch.com/new-jersey/holmdel-hazlet/redevelopment-study-holmdels-horn-antenna-site-approved 
Petition
https://actionnetwork.org/petitions/save-big-bang-antenna