If one mentions the name Pierre Teilhard de Chardin, the first thing that comes to mind is his philosophical/theological speculation on the evolution of Creation and mankind toward its ultimate Omega Point. During his lifetime (i.e. before the Second Vatican Council), such theories were quite controversial and he was not permitted to publish them. Even today, while many people embrace his writings, others continue to view them with skepticism.
Regardless of one's views regarding his theology or philosophy, one must also recognize that Pierre Teilhard de Chardin was quite an accomplished scientist in the fields of paleontology and geology. He investigated early hominids, and took part in the discovery of Peking Man in China.
Biographical Sketch:
Pierre Teilhard de Chardin was born on the first of May, 1881, into a large French family in the region of Auvergne. His father instilled in him an interest in geology, and his mother encouraged his prayer and spiritual development.
He attended a Jesuit school and then entered the Jesuit order in 1899. He studied philosophy and earned a licentiate in literature in 1902.
He did his Jesuit regency a the College of the Holy Family in Cairo, Egypt, where he taught chemistry and physics.
He studied theology in Hastings, Sussex, England from 1908-1912, and was ordained to the priesthood in 1911.
He took final vows in the Order on 26 May, 1918.
In 1912, he began work on the paleontology of early mammals at the Museum National d'Histoire Naturelle in Paris. This research was associated with academic studies in geology, botany, and zoology at the University of Paris.
It was during his time in Paris that fragments of the infamous "Piltdown Man" were discovered in Sussex, England. Teilhard joined the team to explore the dig site, being taken in by the hoax. After that, colleagues at MNHN encouraged him to study human paleontology. This new direction would eventually take him to dig sites around the world.
His work was interrupted from 1914-1918 due to World War I. He served as a stretcher bearer, and earned several honors for his service.
In 1920, the became a lecturer in geology at the Catholic University of Paris. He earned his doctorate in 1922.
In 1923 he joined Fr. Emile Licent S.J. on his first expedition to China, and would then spend the periods 1926-1935 and 1939-1945 in that country, studying the geology of the region. It was during the period 1926-1935 that he joined the excavation that discovered Peking Man.
He returned to France in 1946, but later moved to the United States, hoping to find a more receptive audience for his ideas there.
Pierre Teilhard de Chardin died of a heart attack on April 10, 1955 in New York City.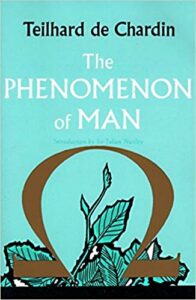 Beginning as early as the time of his theology studies in Sussex, he was captivated by the idea of developing theological and philosophical concepts around new information and theories about human evolution and mankind's spiritual relationship with the created world as a product of evolution. This led to the concept of the noosphere and the Omega Point; ideas that he would pursue throughout his life. He wrote several books and essays on the subject, including The Phenomenon of Man and The Divine Milieu. He did not receive permission to publish during his lifetime, so these books were published posthumously.
In the period preceding the Second Vatican Council, any innovative theology that incorporated any modernist ideas at all was considered suspect. It is worth noting that, during this period, the works of such theologians as Karl Rahner and Yves Congar were also sanctioned. Those two then served as periti during the Second Vatican Council, and their thought can be found throughout the Conciliar documents. One wonders if, had Teilhard lived to see the Council, he might also have played a role.
Today, while some endorse his ideas and others still find it problematic, the taint of unorthodoxy has dissipated. Both Pope Benedict XVI and Pope Francis have made positive references to Teilhard's writings.
Scientific Contributions:
Peking Man: Pierre Teilhard de Chardin was part of a team (along with Davidson Black, C. C. Young, and Pei Wenchung) excavating a cave site known as Choukoutien, in China's Beijing province. In December of 1929, they uncovered a skull. This skull was later joined by four others. The specimens (known as "Peking Man") belonged to the hominid Homo erectus pekinensis, and are now considered the closest relative to Java Man (Homo erectus erectus). Teilhard established the geological era of the inhabitation at about 750,000 years ago. With Henri Brueil, Teilhard determined that this hominid used fire and manipulated stone tools.
This site remains one of the largest finds of Homo erectus.
Teilhard de Chardin also visited numerous other excavation sites where other early hominids had been uncovered.
Paleontology: Much of Teilhard de Chardin's scientific study, particularly his early work in Paris, focused on the paleontology of early mammals. These were mammals of what was then considered the middle tertiary period (approx. 20-35 million years ago).
Geology: Teilhard de Chardin extensively studied the geology of China on at least five geological expeditions throughout the country. He improved understanding of China's sedimentary deposits and established approximate ages for various layers. He also produced a geological map of China.
The primate genus Teilhardina is named for him.