Father, how can something so beautiful be so devastating? This question was posed to me by one of my parishioners after Mass. The beauty she spoke of was a stunning NASA image of hurricane Florence. I must admit, I agree with my parishioner that it seems paradoxical that something so beautiful and mesmerizing can also be the source of great devastation and death.
Though this paradox is self-evident, it is also important not to overly moralize this tension. For example, hurricanes are necessary to help relocate tropical air. In some ways, hurricanes are like environmental regulators, helping our common home keep balance. Therefore, if we are seeing stronger and stronger hurricanes, it also means something is out of balance. Perhaps our focus should be less about the power of these storms and explore the question, "Why are these storms getting so strong?"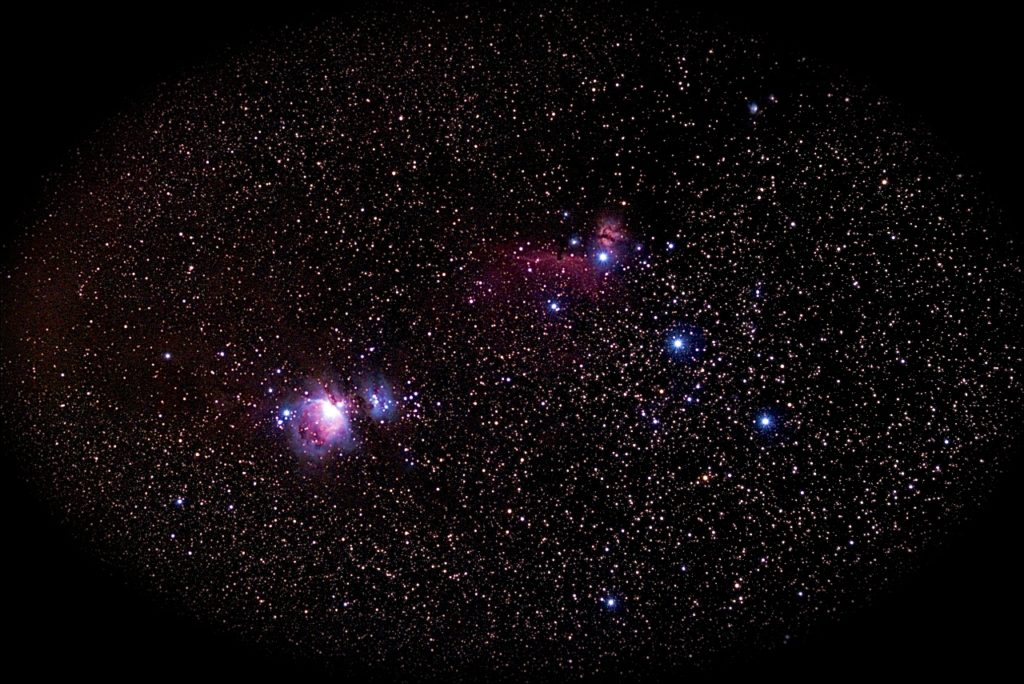 Serenity and Storm, something we not only experience when gazing upon and/or experiencing hurricanes, but is something we can see throughout our universe. There are few night sky objects I find more beautiful than time laps photos of the Orion Nebula. As Winter approaches, the Northern Hemisphere will be blessed with pristine views of this nebula, ornamenting the sheath of Orion's sword. Whether it be the stunning pinks of self-illuminating gas or the fact that this nebula is a place of star birth, serenity is a fitting word to describe this nebula.
When considering the sobering history of this nebula, created by an exploding star, Storm is one of the more docile terms we can use to describe the Orion Nebula. Yet, these violent star deaths are necessary to create the heavier elements needed for life to exist.Therefore, similar to hurricanes, our tendency to moralize natural phenomena needs to be kept in check since, sometimes, the commingling of beauty and tragedy are necessary for life to evolve. Serenity and Storm, two attributes of a hurricane here on Earth and a star nursery in space.
---
---
Recently, I've been rediscovering my love of art. A good friend of mine, Jeni Geisert, sent me some YouTube videos on an art technique called "Dirty Pour." It would take far to long to explain, but the goal of the style is to create bubble like cells on a canvas. As is the case in art, I took from the videos what I liked, discarded what I didn't, and had some fun this past weekend making contemporary art.
As I was working on this canvas, I was sharing the progress on social media. Though I admit that I have a bit of a "love/hate" relationship with social media, I find that parishioners and friends greatly appreciate it when I share things with them that are outside of my ministry such as art, sports, music, and astronomy. It helps humanize priests in a healthy way.
As I was giving daily updates on my painting, Michelle Thaller responded that the flow of paint on the canvas reminded her of Juno images of Jupiter. I wholeheartedly agree with Michelle that there is a deep artistry one can see when looking at Jupiter. The Juno mission has given us a new and deeper appreciation both for the science of the Jovial Giant, and its beauty of clouds, storms, and aurora.
Serenity and Storm are good words to apply to Jupiter. Whether it be the radiation it gives off, the violent storms that are responsible for the iconic "Red Spot," or the gravitational impact on its nearest moon Io, ripping it apart and dooming it to an existence of continually turning itself inside-out through sulfur volcanos, Storm is a fitting term. Still, when one looks at the cloud bands that line up with a natural artistry that is similar to the best of non-representational art and when we learn that the same gravitational forces that torture Io also help "sweep" things like comets away from the inner planets (sometimes), and helps stabilize our orbit, we can see that Serenity and possibly Guardian are good terms to use to describe Jupiter.
---
[one_half]
[/one_half][one_half_last]
[/one_half_last]
---
After Michelle's observation about my canvas, my thoughts switched from playing with a new art form to prayer. As I poured, pulled, tilted, and stretched the paint on the canvas, I was reminded of the Serenity and Storm of my life and my priesthood. I was reminded of the parents of a two-year-old child who died in his sleep, wanting me to be with them as this child that brought them such serenity and hope was now entangled in the deep storm of his parents' worst nightmares. I was reminded of the serenity that has come from my 15 years of priesthood through the celebration of the Sacraments, connecting with good people of faith, and experiencing unforeseen blessings like writing for The Catholic Astronomer. I also think of difficult times, like funerals for cancer victims, people who chose to take their own lives, and the personal struggles that can come from ministry, pointing to ministerial storms. Needless to say, this painting has become a very fruitful time of prayer and reflection on life, faith, the natural world, and that which binds it all together: Beauty.
Spiritual Exercise: What is the Serenity and Storm of your life? Do you cast them in dualistic, moralized terms or do you see in both serenity and storm something essential to our world and the human experience? Pray with this today so that we may embrace our lives regardless of the joys and difficulties we experience. May all of us see God's presence in both the Serenity and Storm of the day ahead!