As I get older and older, the list of people who depart gets longer and increases with a greater frequency. But now I find myself writing, for the third month in a row, about the loss of someone who meant a lot to me and without whom I do not know how I will continue my own journey through the night sky.
Constantine Papacosmas introduced himself to me the first night I entered the old observatory of the Montreal Centre of the Royal Astronomical Society of Canada. The young observer had just completed a truly fabulous 8-inch reflector which we used once or twice. At that time he was brilliant, creative and inspiring. Within a few years we had become great friends and we spent a lot of time together. One afternoon while walking down a hill to my junior high school classes, a car passed me, then slammed on its brakes about 300 meters away. Putting the car in reverse, the driver screeched backward until it reached me. "Hello David!" It was Constantine.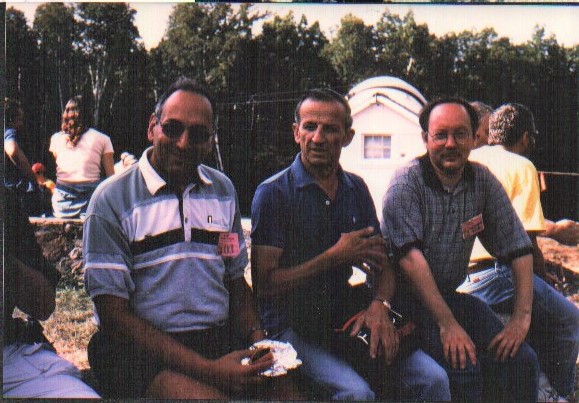 You might have read a few months ago the story of how I got my own 8-inch reflector, Pegasus. It was a loaner scope. By the time David returned from college, Constantine suggested that my parents buy me the telescope. We gathered in our living room and my parents listened carefully as Constantine explained why they should make such an expensive purchase for me, and not for any of my siblings. He correctly persuaded them that I was never about to lose my passion for the night sky. By the end of that day my parents agreed to buy the telescope for $400, (which would, in 2022, amount to $3761). More important than that, that afternoon gave Dad a chance to form a genuine bond with Constantine that he never forgot.
In 1978, while resting in our home, Dad walked in and inquired how Constantine was doing. I had had a mild falling out with him, but I simply replied we hadn't been in touch for a while. Dad had something to say about that. "You can count on the fingers of one hand the number of close friends you have had since your youth. You just cannot afford to lose those precious friends." The minute he left the room I telephoned Constantine and we picked up where we had left off.
By 1984, my Dad was dying from Alzheimer's disease. He could barely recognize Mom, let alone me. But he remembered Constantine. The two began talking.
"Constantine, do you know what is happening to me?"
"Yes, I am sorry but I am afraid I do know."
"Constantine, I can't live like this. I wish…. I wish I were dead." Constantine told me that story many years later.
Those of us who knew the older Constantine may not appreciate the skill, the intelligence, the humor, and the talent of the younger amateur astronomer. But they remembered him well enough to present him the Centre's highest medal for excellence, the Charles Good award. His clock that I received shortly before his death now tells Montreal time. It is the Constaclock.
Farewell, Constantine, and thank you for enriching my nights under the stars.