If you live in the Tucson area, did you notice something odd in the sky about 4:00am? This morning, as prep for my forthcoming post on International Dark Sky Week, I was walking the grounds of the Redemptorist Renewal Center, capturing Milky Way images. In fact, I've been doing photography every morning for two reasons. One, its getting hot for my Wisconsin blood and doing my daily walks before sunrise is more comfortable. Two, the skies have been absolutely gorgeous this week!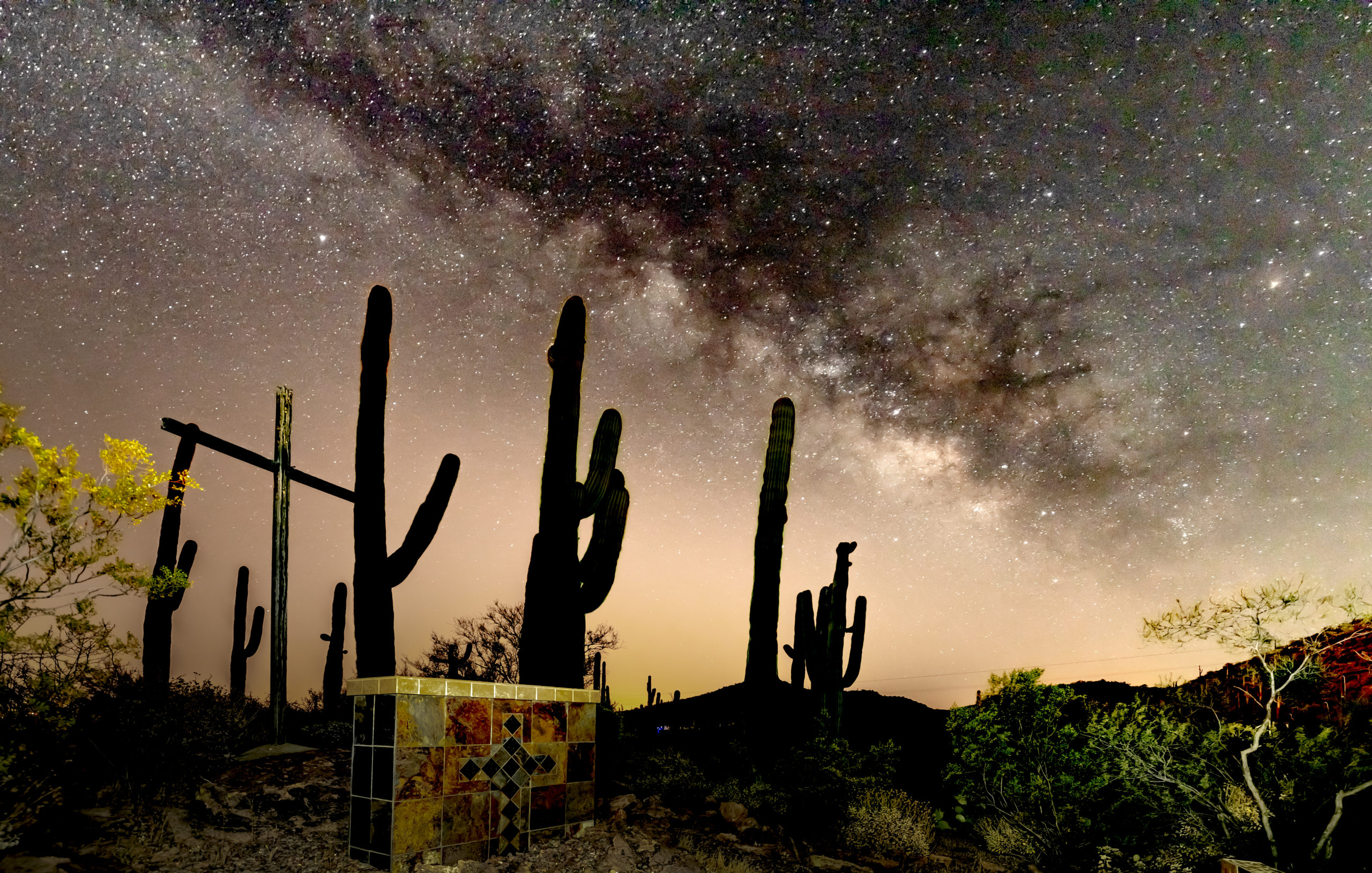 The image above is the Milky Way over the outdoor Chapel at the Redemptorist Renewal Center. This Chapel has a special place in my heart. It is here that I celebrated the closing Mass for the Faith and Astronomy Workshop. It is a place that is peaceful and prayerful, but also a place that has become a deep part of my spiritual journey.
This morning, I was back at the chapel playing with my fisheye lens. I wanted to see if I could get a full-sky image of the Milky Way. It's an 8mm lens, so I was taking 30 second exposures on my full frame camera. After one of the captures was done, I was walking toward the camera to see if I needed to reposition it for the next image. As I was looking down, it felt as though someone flashed a bright LED light from behind me. I was a little startled at first and looked behind me, thinking that someone might be joining me at the chapel. Well, nobody was there. Confused, I looked up and saw a glistening vapor trail in the sky. "Something blew up… but there wasn't a boom!" Frustrated at first that I missed the picture of a lifetime by seconds, I then took another 30 second exposure to capture the vapor trail, lest I be treated like the fisherman who brags about "the one that got away" while nobody in the bar believes a word he says.
Here's the image of the aftermath of "the big one."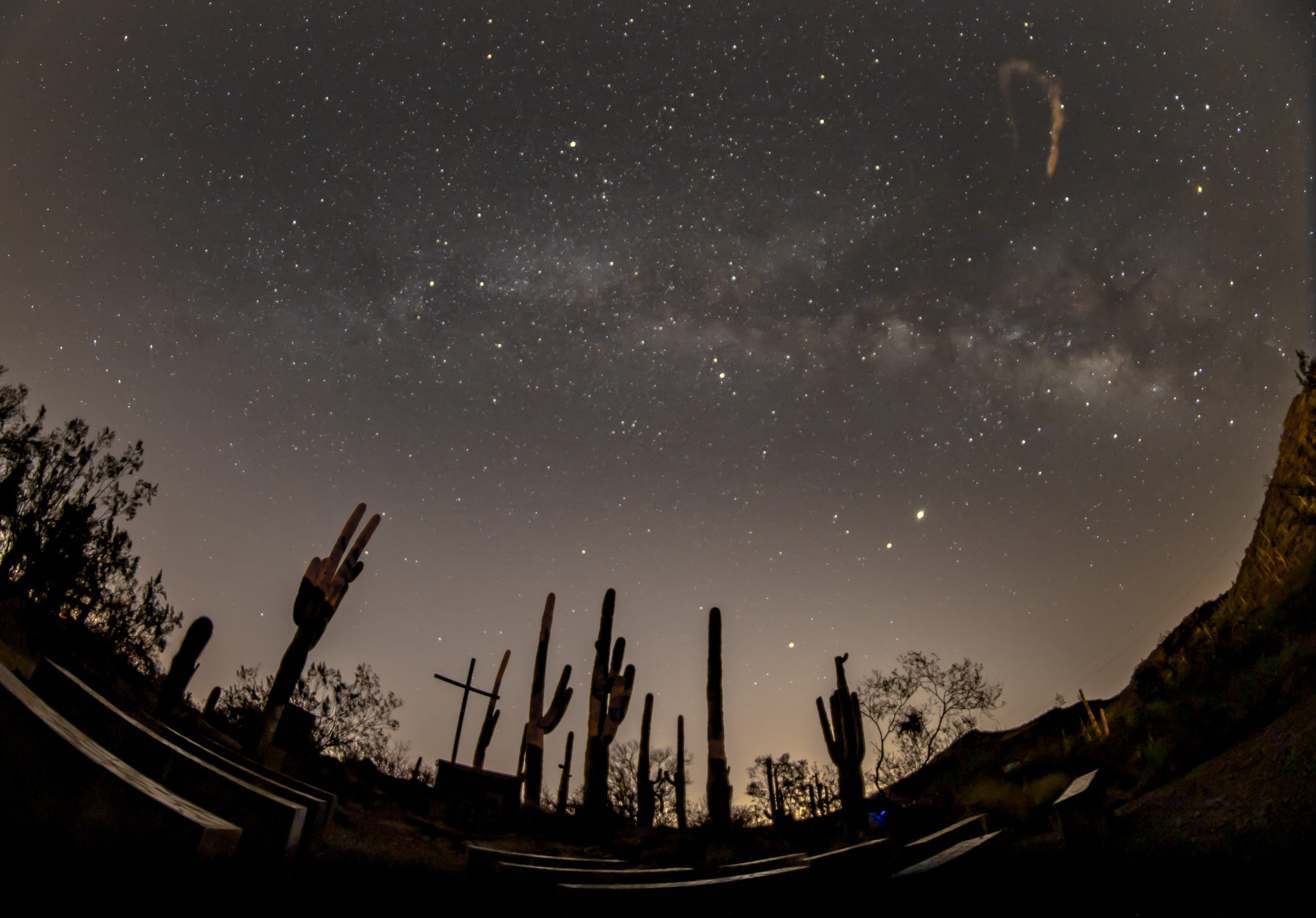 This fishhook shaped object is the vapor trail. I decided to e-mail this image to Br. Guy. Later this morning, I received an e-mail chain between him and Vatican Observatory scientist Fr. Jean-Baptiste Kikwaya. The correspondence confirmed what I indirectly saw. Remember, I didn't see the boom-less boom, I only saw the effects of it as I was looking down, trying not step on my camera in the dark.
The next question that was explored was, "What was that thing?" Since the Leonid meteor showers are occurring, the first thought was that it might be part of the shower. After Fr. Kikwaya pulled up the data, it turned out not be a Leonid meteor. It did not have comet origin, but an asteroid origin. Below is a brief video of the event along with the summary data. For more information on this and other fireball events, you can explore NASA's All-sky Fireball Network.
[one_half]
[/one_half][one_half_last]
[/one_half_last]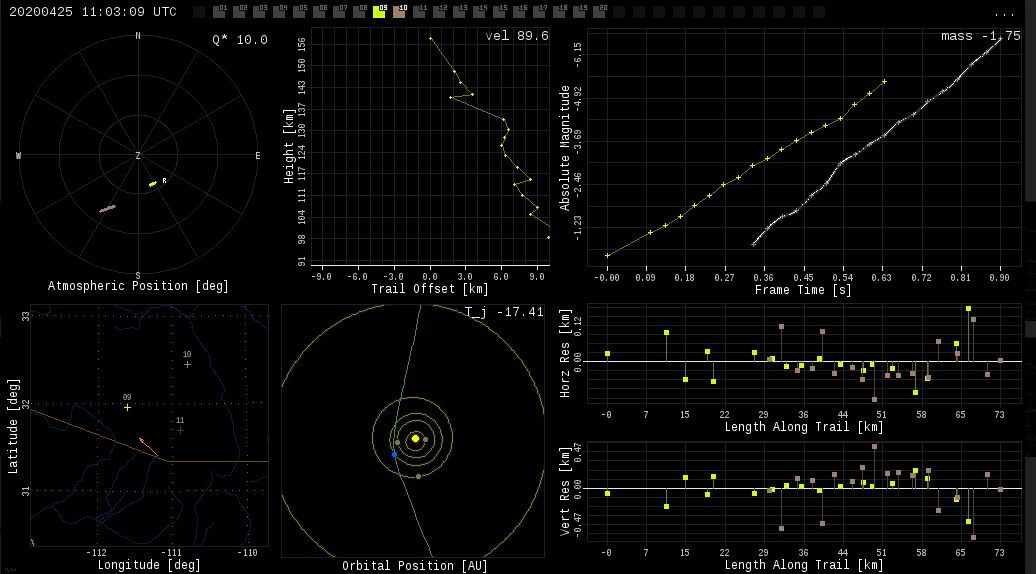 Needless to say, this has been an exciting morning on many fronts! One, to feel like I contributed something to the study of the heavens is always enriching. Thankfully, nothing "Earth shattering," either figuratively or literally, happened today. At the same time, to have the simple experience of, "Hey, something weird just happened," and then to share that with professional scientists to clarify what it was gave me a momentary glimpse into how observational science works. For that, I want the thank both Br. Guy and Fr. Jean-Baptiste Kikwaya for not only clarifying the bright light I experienced, but allowing it to become a very memorable part of my sabbatical.
This event also was healing on a personal level. Our sabbatical group was supposed to visit Kitt Peak. I have been there once, but the other times I have been in Arizona, the trip has been canceled for one reason or another. The night we were supposed to go was this week. Sadly, Covid-19 scuttled those plans. Now, I can't complain about anything really. Even in a stay at home order, I am "trapped" in one of the most beautiful places in the United States if not in the world. As many have suffered from the Coronavirus pandemic, I have been struggling with feeling guilt because I am safe and very well taken care of by the staff at the Renewal Center. Still, there was a little part of me that grieved when Kitt Peak got canceled, "This was one of the reasons I came," has been the quiet, internal mantra. Some may laugh and scoff at me seeing spiritual significance in the events of this morning, but it really was a moment of grace. I've always wanted to loss myself in the night sky. And for a brief moment, I did.
Now, where was this asteroid from, what was its chemical make-up, did we know about this or not, all of these questions are good to ask and I have no answers to any of them. One answer I do have is that something memorable happened today. Yes, an asteroid exploded over my head. However, something more significant happened today. Through this experience and support of the Vatican Observatory to explore this event, I feel more connected to God's creation. In that spirit, keep Kitt Peak for another trip. I'll take my fireball over the outdoor chapel at the Redemptorist Renewal Center… which I never, really saw to begin with. Funny how God works.
Happy Saturday everyone!