To a Catholic like me, from the urban north of the United States, South Carolina evokes images of those terrible Southern Baptist fundamentalists. It's really easy and tempting to merely dismiss such people as ignorant. Too easy. Too tempting.
For most of us, the failures of fundamentalism are so obvious that it's actually boring to even talk about them. I remember one time, during the 1990s, when I was traveling through Italy by train. As an American I'd gotten a rail pass that let me travel in first class. Of course, the only other people one would meet in first class were other Americans also traveling on rail passes. As it happened, in the car with me was a couple from Cambridge, Massachusetts, home of Harvard University and MIT, and all they wanted to talk about was American politics. I wanted to look out the window and see the Italian scenery. They wanted to gripe about the Religious Right.
Now, I'd lived in Cambridge for 15 years. I'd studied at MIT, and taught at Harvard. There wasn't a thing they were saying that I hadn't heard a million times. And I already agreed with most of it. How boring! So how could I shut them up? Since I knew their culture, I knew just what to say. I put on my most serious face, and intoned, "You realize that the Religious Right have been marginalized by the intelligentsia in America…" Oh! A marginalized minority!
It did shut them up. It also shut me up, because as soon as I had said it, I realized that actually, it's true. And those of us who are bleeding heart liberals – I am a proud member of that tribe – need to remember that, and treat the fundamentalists with the same care we'd treat any other marginalized population. With respect. With careful listening. With the recognition that, no matter how "primitive" their strange rites and rituals may seem to us, maybe we could learn from them some things we've lost in ourselves.
Notice an important element of that story. I knew the attitudes of the Cambridge couple because I was one of them. But I was also different from them. As a result, I was very hesitant to actually dare to express, in that small space on the train, anything that I knew would be a red flag to them – like my own religion. I did not want to be ostracized. I liked Cambridge. I liked living there, I admired the people whom I met there, I wanted to be identified as one of them. That's why I tried to divert their circularly endless discussion, with what I had thought was a joke.
It turns out that that sort of cultural identity is an important element in any conversation we have with people whose ideas about anything, much less of science and religion, are different from ours.
Yale University's law school hosts The Cultural Cognition Project. They've got an excellent web site exploring how cultural values shape public policy arguments and decisions. When they look at the great polarization between political groups and the way different groups deal with questions of science, they come up with some surprising results.
First of all, we've all seen how some people tend to bend scientific evidence to fit their own preconceptions. By "some people" we generally mean, those we disagree with. And it's absolutely true; it happens. But it's not the result of some sort of "conservative penchant for authoritarianism" – liberals do it, too. It's not a case of some people using too much "emotion" instead of "rationality" when they approach these issues; in fact, one really surprising result from the Yale study was that the more "rational" your thinking, the more likely you are to take a polarized position.
In fact, such bending of the facts comes about precisely the a result of reading the evidence rationally but entirely in the light of your previous assumptions. We see all evidence as a way of validating that which we already believe… or want to believe, because it is a marker of the social group with which we identify.
Actually, that's exactly what we do in science all the time. We couldn't do science without doing that. For example, we scientists know the laws of thermodynamics; they are now a part of the set of assumptions that make up our scientific cosmology. So when someone brings us a "perpetual motion machine" we know it's fake. Our first rational reaction is to figure out where the extra energy is coming from. When we devise an experiment of our own, it already has built into it many assumptions about what sort of result we're likely to see. If we didn't have that idea we wouldn't know what to look for, or how to recognize it when we saw it. All data is theory-laden.
But more than that, we all use these data as a way of reinforcing our identity with our colleagues who hold the same worldview that we have. As the researchers from the Yale group wrote, "Ideologically motivated cognition is a form of information processing that promotes an individual's interest in forming and maintaining beliefs that signify their loyalty to important affinity groups."
Now, I truly believe that fundamentalists are wrong. Wrong in their science, wrong in their religion. But my belief so firm that I have to recognize it derives in no small part from the community of scholars, both scientists and educated Catholics, who hold the same beliefs as me. I rarely bother questioning the wrongness of fundamentalism, any more than as a scientist I bother worrying about testing the laws of thermodynamics.
And I have to recognize that the fundamentalists believe they are right, for equally strong affinity-group loyalties. It's really important for that kid in Charleston to be able to go home to a mom who will be proud of him; just as it is really important for me to be able to go back to MIT without hearing people whisper behind my back about my religion.
So how do you get around this conundrum? How do you communicate across different affinity groups? The Yale group suggests that the way to do it is to find areas of common viewpoints between you and those you would argue with. Jesus relies on scripture when speaking to the scribes… but He doesn't when He speaks to a Roman centurion, elsewhere in the Gospel.
Of course, it's might seem tricky to use religion or science as our common points, since those are the very points under dispute! But in fact, those might be the very grounds that we can actually share.
Back in 2000, my colleague at College of Charleston who had invited me to speak there in the first place, sent out an SOS. It seems that the state school board was about to vote on a new set of science standards for all the schools, K through 12, in the state of South Carolina: curricula that good educators had work over for more than a year. They included all the things that every well educated adult needs to know something about, from evolution to the Big Bang. But my colleague was worried. The chair of the State Board came from Greenville, South Carolina, home of Bob Jones University, a school so right wing that students there were even forbidden from dating Catholics at one time. My friend was really worried about the vote. So she assembled a group of colleagues to attend the meeting and show our support. Could I come, with my clerical collar and my MIT ring?
We drove up from Charleston to Columbia, past the Confederate Flag flying at the Capitol Building, and it was like a bad joke… a Protestant, a Catholic, and a Jew in a VW minivan… and I felt all the time like I was in enemy territory, behind the Berlin Wall, surrounded by people who hated me just because of my collar (and maybe my MIT ring).
The time of the meeting came. We all introduced ourselves, who we were and where we came from, and that we were present in support of the proposal. We didn't say another word. We didn't have to. The standards passed unanimously.
And then the chair, the woman from Bob Jones land, came up to me and told me how gratified she was that I was there, and indeed to just know that the Vatican had its own astronomical observatory. I won't say it melted a lifetime of prejudices on my part, but it sure put a dent into them.
In fact, it's interesting to know that even though Bob Jones University espouses young earth creationism, it does dedicate some serious resources to the teaching of science. Likewise we've probably all heard about the "creation science" museums, we've probably all made fun of them, but think of what it means that they have such departments, that they build such museums. They want science.
Perhaps this love for science is a common ground where we can meet. A couple of years ago, the Vatican Observatory hosted a group of scholars from Iran at the Vatican Observatory. This followed a visit that our director at the time, Fr. José Funes, had made to Iran. Even though our approaches to science and religion questions are very different, the simple fact that these meetings took place points out a fundamental fact: among people of different religions, our common love for science is in fact a place where we can begin to engage each other… to learn to understand, trust, and eventually even like each other.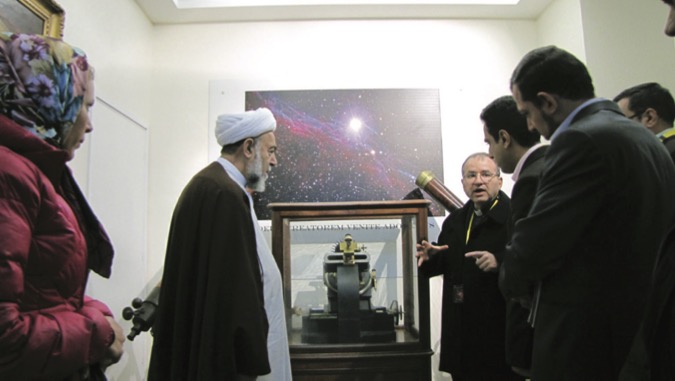 People of every religion actually love science. They recognize the same joys we do at the beauty of a nebula in a telescope, or the intricacy of a living cell. But they want to be able to learn science from people who do not threaten their core identity. And, let's face it, most of the public faces of science on TV or the other media today are also publicly atheists, who often express specific hostility against religion.
Now, Neil de Grasse Tyson is a friend of mine. Stephen Hawking was a friend of the late Father Bill Stoeger, as astronomer at the Vatican Observatory – they studied together at Cambridge – and he was a proud member of the Pontifical Academy of Sciences. These are not evil people. And if they have very naïve views of religion and philosophy? Well, so do most people. But all too often the way they present science is indeed an attack on religion. No wonder the fundamentalists don't trust them. On such matters, I don't trust them either. Opposed to such a point of view, I guess I am on the same side as the fundamentalists.
And I admire the faith of the fundamentalists, the commitment that they have in the face of strong societal pressure to hold fast to their faith. Those are admirable things. So why don't I join them? Why am I not a fundamentalist?
It's not that fundamentalism is "provably wrong". Science is not in the proof business (a point both fundamentalists and atheist scientists often forget). A thousand years from now, who knows what our science will look like? What if some new way of understanding the laws of physics suggests the world really is just 6000 years old! Not likely; but I can't rule it out. But even if that were to happen, it wouldn't mean that the fundamentalists were right.
The problem with fundamentalism isn't that it gets this fact or that fact of science right or wrong. (I get various facts of science wrong, all the time. That comes with being a scientist.) Rather, the real fault in fundamentalism is that insists that its set of "facts" is unassailable. Unlike real science it leaves no room for growth.
Science must always say, "I may know nature pretty well, but I can always know nature better." Religion must always say, "I may know God pretty well, but I can always know God better." Both require the ability to admit the need to grow. Both require the strength to admit when we are wrong — or, more commonly, when we were right but we only had part of the story.
The problem with fundamentalism is not that it is wrong. I am used to being wrong. The problem is that it is certain it's right.
Think about that. Now ask yourself: to what extent are each of us fundamentalists, in our own ways?
That's worth remembering when we encounter fundamentalism. We are all fundamentalists. And it's not entirely a bad thing. When I encounter someone who has a "perpetual motion machine" that doesn't throw into doubt my understanding of the law of conservation of energy; I assume without question that there's something fishy with their device. It takes something extraordinary to violate conservation of energy… until we find out, in nuclear reactions, that things are a little more complicated than our simple law suggested.
Fundamentalists have great confidence in their religion because, in their day to day lives, it works. It describes right and wrong, good and evil, how to live and how to die, far better (in their opinion — and mine, too) than our modern penchant for making it up as we go along, taking our cues for life from pop music and Hollywood movies. They have no reason to doubt it any more than we have reason to doubt conservation of energy.
When they hear things from us that attempts to challenge those beliefs, we're the ones who have the burden of proof… both that what we say about creation is true, and that it in no way violates what Scripture says about creation. Scripture says, in many different ways, in different books written at different times, that God created the Universe. Our science merely tells us (in many different ways, in different theories devised at different times!) how He did it.
If we remember that, at a certain level, we aren't so different from them, we might be able to talk to each other and, heaven forfend, even learn from each other. That wouldn't be such a bad thing.