It's time for more commentary on the Cosmos: Possible Worlds show now that a few more episodes have aired: "The Search for Intelligent Life on Earth" (Episode #7), "The Sacrifice of Cassini" (Episode #8), and "Magic Without Lies" (Episode #9).
Episode #9 was on the wave/particle nature of light and on quantum mechanics. It included an animation of Newton sticking a bodkin (something much like a knitting needle) into his eye socket as part of his investigations into light. That was cringe-inducing, of course. I love pointing* out that stunt of his to students—especially showing them Newton's notes where he describes doing this. And his notes show that he pushed that needle deep into his eye socket, too. Had Newton been alive today, would he have made the discoveries that he made? After all, had Newton been alive today, he surely would have been on a strict regimen of therapy and medicine. He might then have been less prone to inflicting pain on himself with bodkins in the name of science. But would he have done so much great science?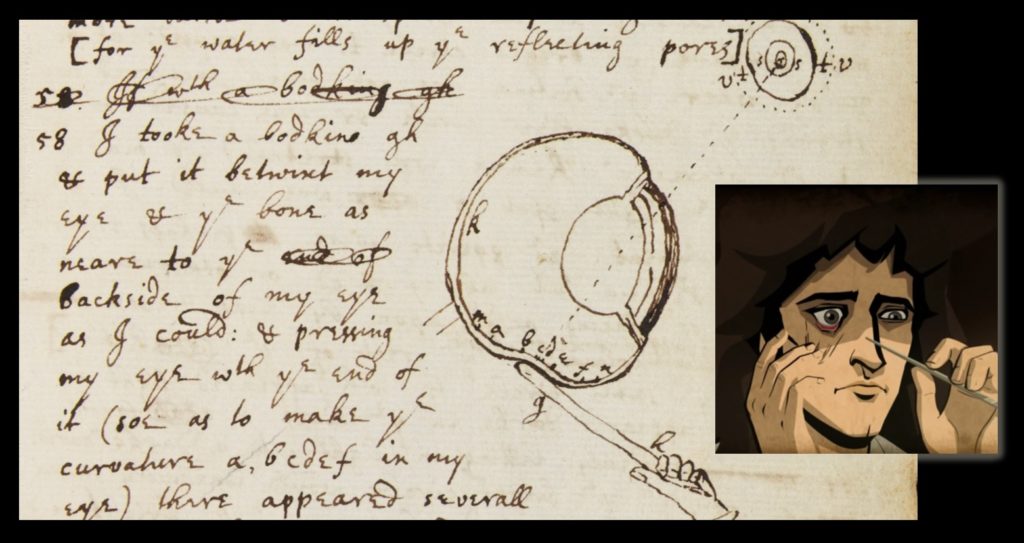 And I loved that in Episode #9 Cosmos's host, Neil deGrasse Tyson, was very explicit in talking about how we don't understand many things about quantum mechanics. I liked the analogy he drew between quantum mechanics and fire, in which he imagined how the human beings who first tamed fire certainly knew some things about it, and could put it to use, but they didn't understand most of what we now know about fire. They did not understand the chemistry, the thermodynamics, etc. of fire—and that is probably something like how it is now for us and quantum mechanics.
But Episode #9 was absolutely drenched in gratuitous computer-animated junk. That overwhelmed the show's good points. But, it was a show about quantum mechanics, a tough topic, so I will say no more.
Episode #8, "The Sacrifice of Cassini", was my favorite Cosmos episode so far. I really liked how the show introduced scientists who many people likely have never heard of: Christiaan Huygens, Giovanni Domenico Cassini, Ole Rømer, Édouard Roche, and Aleksandr Ignatyevich Shargei. This episode gathered many different ideas together, all under the umbrella of Saturn and NASA's Cassini/Huygens mission. I particularly found it cool that we've discovered, in orbit around another star, a planet with a ring system—and that ring system is so large that it compares in size to Earth's orbit. I did not know that.
My complaints about Episode #8 are all minor quibbles:
First, "Galileo's" view of Saturn looked like a shapeless blob. Why? This is true nit-picking, but the fact is that Galileo drew Saturn as he saw it through his telescope, so it would have been simple for Cosmos to represent his view accurately. That the makers of the show did not do that speaks to their casual attitude toward accuracy in the history of science.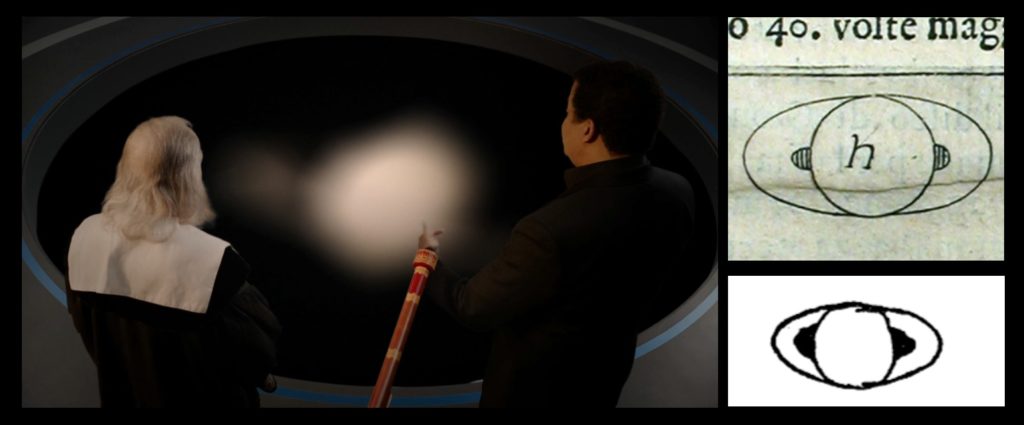 Second, there should have been mention of why Cassini and Rømer were so interested in the Jovian moons (which led Rømer to discover that light has a speed). They were interested in the moons because the moons had value as a time-keeping device. Cosmos missed a chance to show how astronomers often worked in the service of a practical need (click here for more on that).
Third, Tyson says that the Cassini probe showed that Saturn's ring system is relatively young, but does not explain why. Again, I nit-pick, but this illustrates the show's tendency to see science as a matter of "authority".
And finally, parts of this episode were so syrupy! Tyson tells the story of the final minutes of the Cassini probe in full "tear-jerker" fashion: the faithful robot, obediently following its master's command to swing into Saturn's upper atmosphere and thus bringing about its own doom, valiantly struggles to the very end to keep its antenna pointed toward Earth and send back data, even as the atmospheric drag starts to tear it apart, until its last drop of thruster fuel is expended, and it perishes in a blaze of glory—a bolide above the clouds of the ringed planet it had studied for years. It was like one of those sad, B-grade movies where the family dog saves the child but perishes in the process.
But overall, Episode #8 was good.
On the other hand, Episode #7, "The Search for Intelligent Life on Earth", was the worst so far. If my attitude toward Cosmos is that of a die-hard fan who is up in the bleachers, screaming at the coach and the players of his favorite team for turning the ball over three times in a row, but who comes back again and again, win or lose, to root for the team to actually play up to their potential… well… this was where that fan was tearing off his team jersey, throwing it to the ground, and stomping on it.
If you saw the second half of the show's double-header broadcast premier, you may recall Tyson musing on whether insects have self-consciousness, hope for the future, satisfaction at a job well done, a soul. Well, in Episode #7 Tyson takes this up a notch or five, talking about even plants in human terms. He speaks of trees and forests in terms straight out of a J. R. R. Tolkien book. The forest is "abuzz with conversation" in "an electrochemical language" of a sort "creatures like us" do not notice. Through "an ancient, subterranean worldwide web," known as the mycelium, creatures of the forest exchange, among other things "messages and empathy [!] with one another, across species, and even across the kingdoms of life." Tyson suggests that trees can "know" things and "want" things and can "think" things and have "excellent parenting skills" and even a consciousness. Who are we to search for intelligent life beyond Earth he asks, "when we can't even recognize, or respect, the consciousness all around us, and even beneath our feet?" Any viewer familiar with Tolkien's The Two Towers is probably thinking now of the trees of Fangorn and of Huorns on the move.
But the trees are not the only consciousness in Episode #7 of Cosmos. Much of the episode is devoted to bees and how they apparently communicate through a "waggle dance." Tyson describes a swarm of bees as being "a kind of mind, a collective consciousness to which every individual bee makes a contribution." Bees, in Tyson's view, have "a knowledge of astronomy and mathematics [that] would astonish most of us." They also have "a commitment to resolving their differences democratically, and reaching the broadest possible consensus through debate" that Tyson says is unparalleled in any human society. Here, he says, "every individual has a voice…. corruption is unknown…. [and] the community acts only when it has arrived at consensus through reason [!] and debate."
What allowed us to recognize in bees "another intelligence that had always been there?" The ideas of Charles Darwin, that's what. Darwin is "the greatest spiritual teacher of the last thousand years" in Tyson's view. And, he says, "Darwin worshipped nature". Darwin's idea that "a tiny, one-celled organism evolves into you and everything else that is Earthlife" is the basis for an understanding of the world that is pretty rosy. "Life itself can be seen as an emergent property of chemistry," says Tyson, "science as an emergent property of life, a way that life has found to begin to know itself." And then:
[Darwin] debunked the story of Adam and Eve. Humans are not the kings of life, created separately, and charged with its management but instead, an upstart offspring of its stately, ancient family…. [Darwin] was also one of the first to recognize that if all life is related, there were certain philosophical implications. If we were not created separately from the other animals, must we not share more of who we are with them? Our awareness, our relationships with others, even our feelings?
I could not help but think here that Tyson is undermining science by needlessly pitting it against religion. As I have discussed on this blog many times before, science does not need to pick fights. It has enough enemies today, when some people find the very idea that things can be true, and that we can even know what truth is and converse about that truth with others, to be inconvenient, and easily ignored or scoffed at. And I also could not help but wonder: when was the last time he read Genesis? A separate creation is not to be found in Genesis 1, where people are created on the sixth day, along with the cows and the creeping things; nor is it to be found in Genesis 2, where God forms Adam out of the ground and forms animals and birds out of it, too. But Tyson continues:
Instead of a single island of human perception in the universe, Darwin realized that we are surrounded by other ways of being alive and conscious. For Darwin, science was a pathway to a deeper level of empathy and humility. When word reached him that a local farmer was mistreating his sheep, Darwin dropped his research to make an arrest of the man…. And this compassion extended even to our own species. He recognized the blindness of his 19th century contemporaries. In his autobiography, he recounted the story of an African woman who jumped off a cliff to her certain death, rather than submit to being enslaved by the Portuguese. Darwin observed that if she had been a Roman matron from classical antiquity…. we would be naming our daughters after her…. [Darwin's] knowledge of science informed and drove his compassion to new heights.
And so Tyson presents us with the great spiritual teacher Darwin, worshipper of nature, who leads us to share empathy like the trees, and to reason like the bees, and to be compassionate to sheep and even people. But consider this, from Darwin's The Descent of Man:
The astonishment which I felt on first seeing a party of Fuegians on a wild and broken shore will never be forgotten by me, for the reflection at once rushed into my mind—such were our ancestors. These men were absolutely naked and bedaubed with paint, their long hair was tangled, their mouths frothed with excitement, and their expression was wild, startled, and distrustful. They possessed hardly any arts, and like wild animals lived on what they could catch; they had no government, and were merciless to every one not of their own small tribe. He who has seen a savage in his native land will not feel much shame, if forced to acknowledge that the blood of some more humble creature flows in his veins. For my own part I would as soon be descended from that heroic little monkey, who braved his dreaded enemy in order to save the life of his keeper, or from that old baboon, who descending from the mountains, carried away in triumph his young comrade from a crowd of astonished dogs—as from a savage who delights to torture his enemies, offers up bloody sacrifices, practises infanticide without remorse, treats his wives like slaves, knows no decency, and is haunted by the grossest superstitions.
Where is the compassion in this description of this group of indigenous South Americans? But, if people have no souls and are ultimately no better or worse than flies or bees, then logic suggests that people are worth no more than flies or bees. And thus, if we've got the guns (metaphorically or literally) to back up our wills, can we not dismiss people based on their behavior and what we see as worthy, or even swat them like we would a stinging bee or biting fly? We need not consider that those savages were created ad imaginem Dei in a way that flies or bees were not, because that imaginem does not exist.
And if we are basically soulless insects, why can't a person conclude that it is in his best interest to torture enemies and treat wives as slaves? Or maybe to practice infanticide without remorse, so that resources are not squandered on the weak, the disabled, and the unwanted? If such behavior works for that person, yielding lots of healthy offspring and thus evolutionary advantage, how is such behavior not more desirable than compassion towards sheep, or towards anyone else? Episode #7 seems to have been put together without even a thought for such questions. I am sure someone could have told Tyson that if he is going to talk up a great spiritual teacher who worshipped nature, such questions are bound to arise.
So I'm hoping for more episodes like #8, and no more like #7. We shall see. I'll be in the bleachers.
Click here for all posts on "Cosmos: Possible Worlds".
---
*Pun intended.