This Saturday we have a guest writer at Sacred Space Astronomy: Fr. Timothy Sauppé of St. Mary's Church in Westville, Illinois. I met Fr. Timothy this summer through work he is doing on a program for the 2024 solar eclipse, whose path of totality will pass midway between Westville and my hometown of Louisville, Kentucky. He told me then about a bench at his church marking the detection of gravity waves. I thought it was one of the best "Faith and Science" ideas I had ever heard of/seen (he had photos).
I edit the VaticanObservatory.org Faith and Science Resource. Certainly, much has been said on the subject of Faith and Science. Much good has been written. Many talks have been given. Many dialogues have been launched.
But I confess that I have found myself thinking, "to what end?" Regardless of all the effort poured into the subject over decades (even centuries), people today persist in seeing some sort of conflict, disconnect, or other difficulty between Faith and Science. Many people today no longer profess any Faith, and many of these people cite Science as a reason why.
My work for the V.O. as Faith and Science editor has led me to believe that the Faith and Science discussion really needs something very different. Something not like discussion. Something like what Fr. Sauppé has done here.
Imagine people walking into their churches, and regularly seeing celebrations of science, set in stone, like they do at St. Mary's in Westville. What would that do for the Faith and Science discussion? More, I think, than all the scholarly papers, the popular articles, the talks, the symposiums, and the Faith and Science Resources of the past decades.
And so, Fr. Timothy Sauppé of St. Mary's Church in Westville, Illinois, thank you for sharing the following with us:
---
By Fr. Timothy Sauppé (September 29, 2021):
I'm sure you've heard the expression, "What would Jesus do?"
Well, how about "What would Galileo's parish priest do?" Or rather, what should he have done?
I thought about that question when I received a set of emails from my parishioner's son who is an astrophysicist and researcher in Australia/Hawaii. I was on retreat when the first cryptic email came: "I'm working on something big; but I can't say anything just yet."
"Soon," he wrote.
Well that "soon" turned out to be three days later when he announced to his family and me that he was involved in the biggest scientific discovery since… well, I'd better not choose one—I don't want hate mail. But anyway, big. Think cosmic big. Think Einstein's prediction of 1915 big. That's right—Gravity Wave big.
On August 17, 2017, NASA alerted the international community of a gamma ray hit on a satellite, and further, an earthbound hit on the LIGO system. (LIGO is the acronym for Laser Interferometer Gravitational-Wave Observatory.) Using triangulation, NASA gave them a sector of the sky to look for the source of this, now called GW170817. It took the world's astronomers a little digging to find it, but sure enough, they found it.
"It" turned out to have been two neutron stars spinning toward each other and then creating a Super Nova-like event. GW170817 created a wave pulse through space that finally reached the earth and was heard on earth by way of a LIGO "chirp." Click here for a link to the first LIGO "chirp", the first Gravity Wave detected on September 15, 2014.
The difference between the August 2017 Gravity Wave hit and the first several LIGO hits is that GW170817 is the first to be associated with a visible light phenomenon; thus ushering in the era of multi-messenger astronomy (light waves and gravity waves). All this was predicted by Albert Einstein back in 1915. All pretty cool. And my parishioner's son, Dr. Jeffrey Cooke, was involved.
He and his team controlled 15 of the 70 telescopes actively looking that day. They, along with thousands of other astronomers, were a part of the monumental discovery that our universe is warpable (I'm not sure if that is a word, but it should be).
Grasping the import of this discovery, I told my parishioners that it is similar to Galileo's discovery of the four moons of Jupiter. GW170817 not only confirms Einstein, but it gives us an understanding of the universe we didn't have before, and this must be commemorated or memorialized here at the parish where Dr. Jeffrey Cooke is from: St. Mary's in Westville, Illinois.
So, what should Galileo's parish priest have done? He should have had a granite bench made for him—a commorative bench for Galileo. A bench that records his scientific discovery.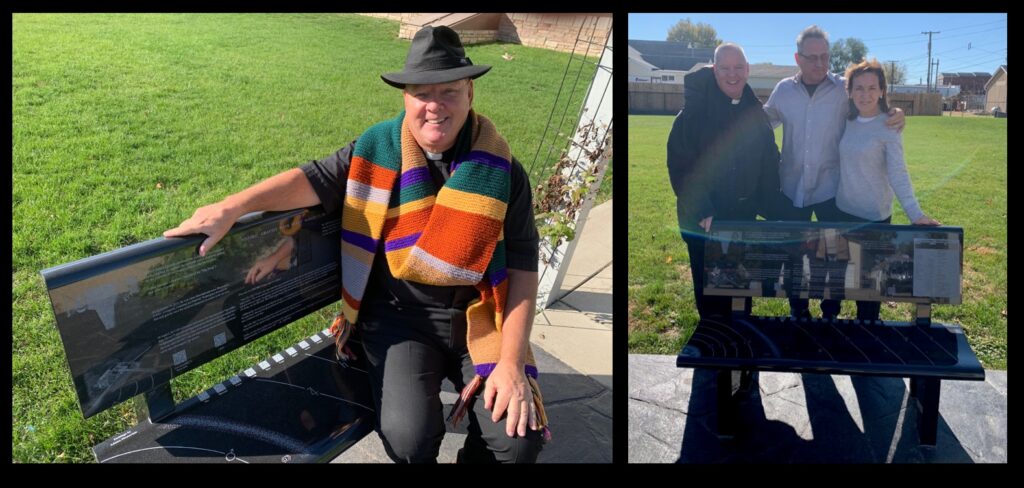 So that is what I did for Dr. Cooke's participation. I designed a layout on the bench's back panel that tells of Einstein's prediction; the story of LIGO; and a picture of Dr. Cooke's team and a few words from him. Hopefully, in the future other Catholic priests will have similar opportunities in their parishes.
I just suggest that they double or triple check the final draft of any memorial. The word "commorative" is a neologism that was the result of a five-minute discussion between me and the monument company representative. We went back and forth on naming the bench either a memorial bench or a commemorative bench and somehow commorative was put on the final draft by mistake before going to the engraver, and I signed off on it. The mistake was also the first thing I saw when the bench arrived. Oh well, commorative it is. Still, it is all so cool—God's design.

On a separate but sky-related issue, back in 2015, I was part of the first Vatican Observatory Workshop for Priests, Deacons, and Catholic Educators. At the end of that week, Br. Guy challenged us to take what we had learned back to our parishes. I decided on light pollution.
Using resources from the International Dark-Sky Association (they were part of the workshop), I came back and gave talks at our local county park. Working with the park's naturalist, we talked about the effects of light pollution on insects, birds, vegetation, and on people; and of course, on the stars. More and more National Parks and state and local parks are starting to recognize that darkness is an integral part of the park's ecosystem. They have taken steps to both shield their lights and/or put in low-level lights—if not take out lights altogether. I have given ten or so of these talks since 2015.
Anyhow, on a visit to my priest friend's parish in Kenosha, Wisconsin I noticed a huge painting of Vincent Van Gogh's "Starry Night" on the side of a building. I thought that was really neat. When I returned to my parish, I asked my parishioner who owns the local hardware store, if I could have that done on the side of his building.
He said yes. I hired a local muralist to do "Starry Night". He said it is his favorite painting and that it was a joy to do. Someday soon, I want to make the Starry Night mural a multi-messenger experience too, by adding a motion detector to play Don McLean's "Vincent".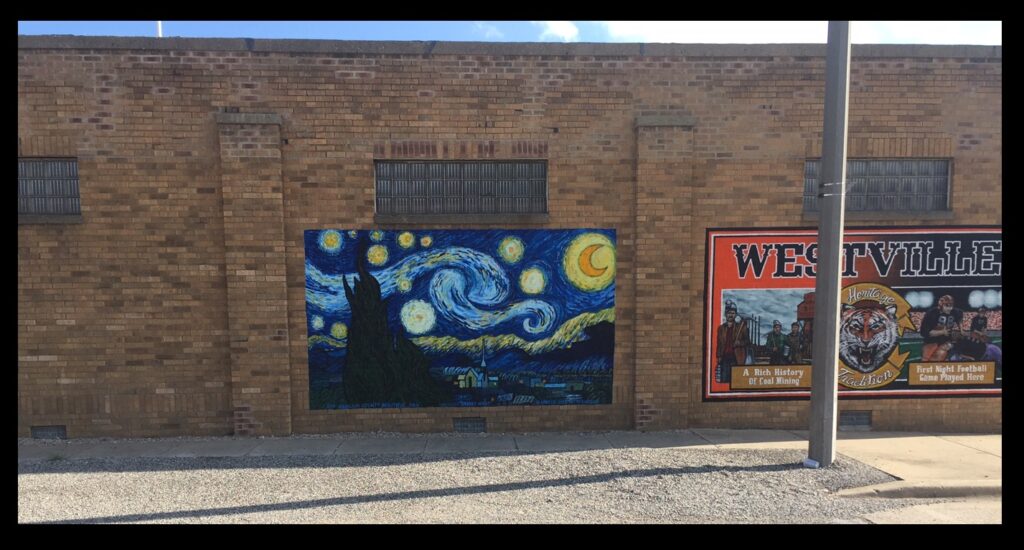 One final item. We had the mayor proclaim a Dr. Jeffrey Cooke day. Here is the proclamation:
Village of Westville, Illinois
PROCLAMATION
WHEREAS, at the beginning of creation, God created the Heavens and the Earth; and
WHEREAS, 130 million years ago, in the galaxy designated NGC 4993, two neutron stars would be caught in a mutual gravitational spiral, and would finally coalesce; and
WHEREAS, in 1915 Albert Einstein hypothesized that in such a merger, a gravitational wave would ripple forth; and
WHEREAS, in 1979, Jeffrey Cooke would graduate from Westville High School, and would go on to become an astrophysicist; and
WHEREAS, the same Jeffrey Cooke, and thousands of other scientists, would, through the years, work to analyze and understand God's creation; and
Whereas, these same scientists, with Jeffrey Cooke and his team controlling 15 of the 70 earth and space based telescopes, would on August 17th in the year of Our LORD 2017, participate in a historic scientific achievement of detecting that 130 million year old cosmic event (viz. a gravitational wave and connecting it to an electromagnetic light source in galaxy NGC 4993), and thereby verifying Einstein's hypothesis and ushering in a new era of 'multi-messenger' astronomy;
I, therefore, Village President, Mike Weese, do proclaim, that June 16th [2018] be Jeffrey Cooke Day,
And further proclaim that all citizens of the Village of Westville are to congratulate him and his team, and appreciate the historic significance that was achieved on August 17, 2017.