Today is the day before the day before Christmas, or Christmas Eve Eve.  Did you know that a Manger can be found among the stars? Here it is, right in the constellation of Cancer (which is visible tonight, if you have dark skies):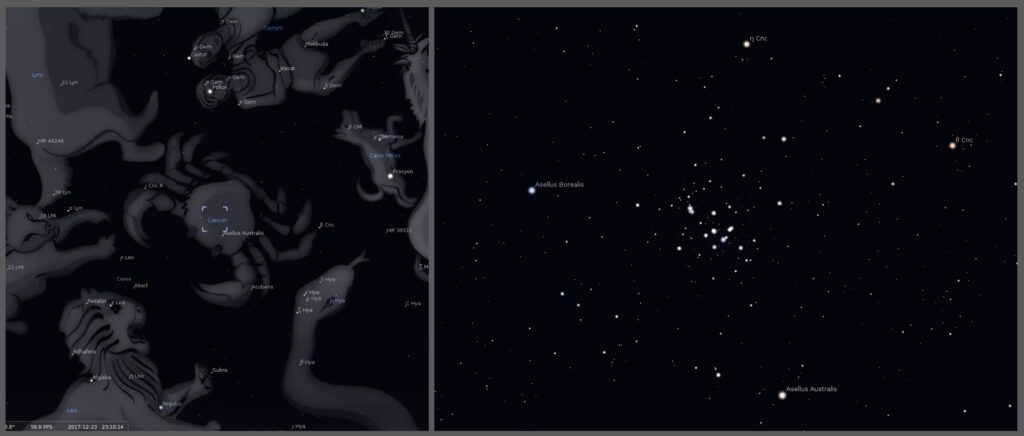 Astronomers call it the star cluster M-44.  Here is a discussion of The Manger, or Praesepe, from Star Lore of All Ages: A Collection of Myths, Legends, and Facts Concerning the Constellations of the Northern Hemisphere, by William Tyler Olcott, founder of the American Association of Variable Star Observers (AAVSO):
Cancer is celebrated chiefly because it contains the great naked eye star cluster "Praesepe," the so-called "Manger," from which two asses, represented by stars near by, are supposed to feed. This cluster is known in English astronomical folk-lore as "the Beehive," a name we do not know the origin of. This marvellous aggregation of suns presents on a clear night a dim misty appearance. It has often been mistaken for a comet.
The "Beehive" is especially interesting historically as it afforded Galileo one of the earliest telescopic proofs of the existence of multitudes of stars invisible to the naked eye. He wrote: "The nebula called Praesepe, which is not one star, only, but a mass of more than forty small stars. I have noticed thirty stars besides the Aselli." The great telescopes of the present day reveal in this cluster three hundred and sixty-three stars.
Praesepe has been regarded as representing the Manger in which Christ was born, and Cassius likened it to the Breastplate of Righteousness. Schiller claimed that Praesepe and the Aselli represented St. John the Evangelist.
The most ancient scientific observation of Jupiter that is known to us was noted by Ptolemy as having occurred eighty-three years after the death of Alexander the Great, when Jupiter happened to pass over the Manger. This was in 240 B.C.
The Manger was recognized prior to Christianity, however. Olcott notes that it appears in the work of Aratus, who wrote several centuries prior to the first Christmas:
The Manger was a celebrated weather portent, as early as the days of Aratos and Homer. Aratos thus speaks of it in this connection:
And watch the Manger like a little mist.
Far north, in Cancer's territory, it floats,
Its confines are two faintly glimmering stars,
One on the north, the other on the south,
These are two asses that the Manger parts,
Which suddenly, when all the sky is clear,
Sometimes quite vanishes, and the two stars
Seem closer to have moved their sundered orbs.
No feeble tempest then will soak the leas.
A murky Manger with both stars
Unaltered, is a sign of rain.
If while the Northern Ass is dimmed
By vaporous shroud, he of the south gleams radiant,
Expect a south wind. Vapour and radiance
Exchanging stars, harbinger Boreas.
Merry Christmas, Readers of The Catholic Astronomer!