This painting had to happen. Its source is an image taken by the Odyssey spacecraft in orbit around Mars. The image was released to mark the 20th anniversary of Odyssey's adventures as the longest Mars orbiter. My painting inspired by Odyssey took a long while to create. The effort to seek the materials needed and put them into action spread over several months.
Metal search
The textures in the image are astonishing, especially when you realise they are dunes and ice. To me, it looked like ice bursting out of expanded metal. How was I going to find small sheets of expanded metal in a pandemic? Believe it or not, a very popular global shopping site sells metals of all kinds. However, lots of it have square holes, so it took a bit of a dig around to find a sheet with diamond-shaped holes. Check out that image in the link above, scroll down.
Rejects
I settled for a small sheet of aluminium with diamond holes. Then when it arrived, I used metallic copper paint to simulate the colour of the dunes. Before that, I had used heavy body acrylic paint to mimic the icy bulges and high texture in those areas. At this point, I should have a representation of the image in high texture on canvas. However, when the work was assembled and merged, it did nothing for me at all.
My quest continued in another direction. I ordered copper mesh from the same site. Lovely stuff, easy to cut and move about, but no, this wasn't it, another no. The painting was abandoned for several months.
New direction
A few weeks ago, my grandson Cal, age four and a half, came to visit us. Let's work together on that metal painting I was telling you about : "yes, he said definitely ". Cal has a lot to say and loves being creative.
Many years ago, I bought some copper shavings from a shop that was closing down. Gorgeous squiggles of copper, forgotten while waiting in a press to become something.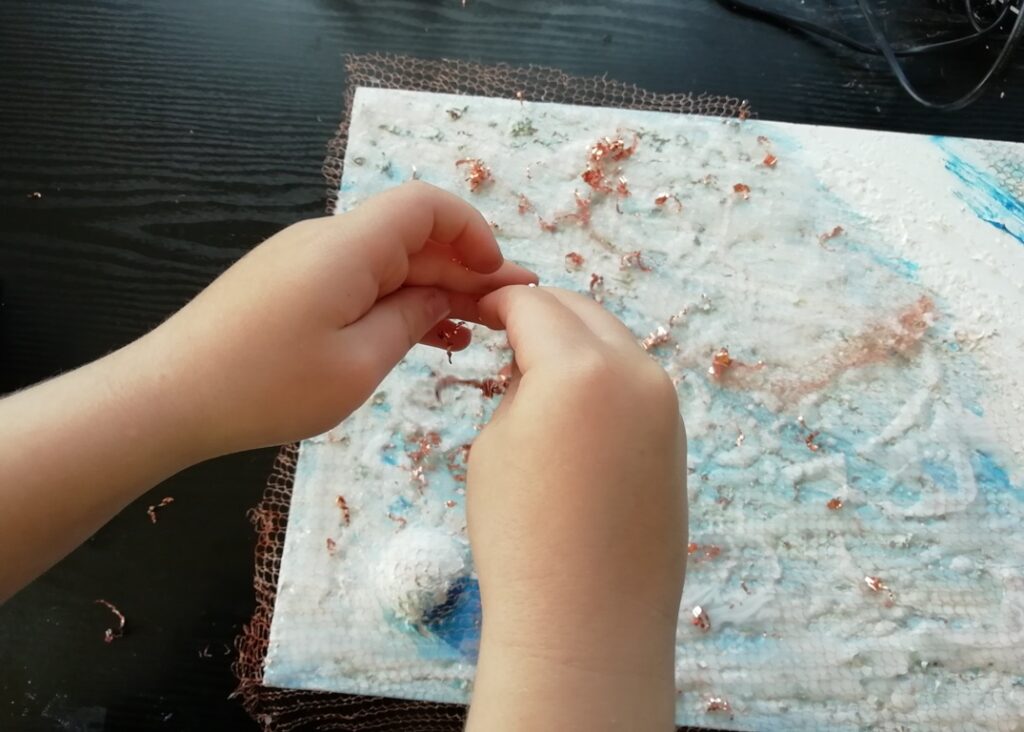 PVA glue was used to adhere the copper mesh to the canvas. Cal helped by holding some pieces down for me as we stretched them to fit. We poured more PVA glue with abandon over the canvas and the mesh. Then together we proceeded to sprinkle the copper shavings all over the dune sections. All our work was done to the music of the original Star Trek TV show. We both laughed as we worked playing Star Trek loud countless times. The canvass became a sparkling metal impression of Mars. It became more than I imagined it ever could be because we had so much fun.
A week or so later, Cal visited to sign the work with me – Dee Cal. It hangs on our living room wall. Cal learned a bit about Mars and enjoyed our first collaboration.