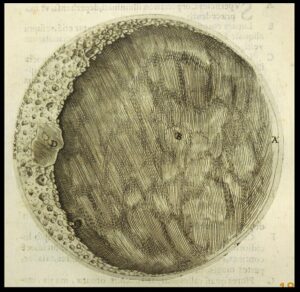 Check out this sketch of the moon (at right).  This is from a 350-year-old very cool book in the Vatican Observatory's library, which is located off the piazza of the town of Albano, right by Castel Gandolfo in Italy.  I came across this book last March, when my wife and I had the opportunity to spend some time perusing the older books in the library's collection.  The book is by Francesco Fontana, who was an astronomer who studied law in Naples, Italy.  If you read last week's post you have probably guessed why it caught my eye—Fontana illustrates a certain curious lunar edge glow that Johann Georg Locher cited as evidence that the moon was a somewhat translucent body.
The title of the book is Novae Coelestium Terrestriumque Rerum Observationes, et fortasse hactenus non vulgatae a Francisco Fontana, specillis a se inventis, et ad summam perfectionem perductis, editae (people liked long titles in those days).  That translates as New Observations of Things Celestial and Terrestial, and perhaps not well-known until now, produced by Francisco Fontana, by instruments made and honed to the summit of perfection by him.  The book was published in 1646 in Naples.
Here are some pages from it (photos by yours truly):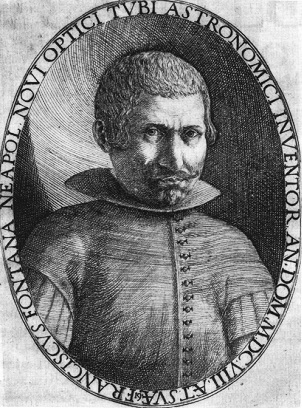 So Francesco Fontana produced one cool-looking book, and (along with Locher, Maria Clara Eimmart, and others) he documented that weird edge glow effect in the Moon.  That's Fontana, at right.