This is a re-run of a post that originally ran in November 2016.
---
Have you ever seen "West Side Story"? And if you have, then have you ever noticed the astronomical imagery in the song "Tonight," sung by the characters Tony and Maria? Notice these lyrics:
MARIA
Tonight, tonight
It all began tonight
I saw you and the world went away
Tonight, tonight
There's only you tonight
What you are, what you do, what you say
TONY
Today, all day I had the feeling
A miracle would happen
I know now I was right
TONY
For here you are
And what was just a world is a star
Tonight
TONY & MARIA
Tonight, tonight
The world is full of light
With suns and moons all over the place
Tonight, tonight
The world is wild and bright
Going mad
Shooting sparks into space
Today, the world was just an address
A place for me to live in
No better than all right
But here you are
And what was just a world is a star
Tonight
There is something really interesting about these lyrics: they sound like they were written by an ancient astronomer-philosopher.  Prior to Copernicus, the heavens were thought to be made from a different sort of material than the earth.  The Earth was supposed to made of the four elements earth, water, air, and fire; the heavens to be made of a different material—the "Fifth Element". 
This Fifth Element was enduring, unchanging, brilliant.  Celestial bodies such as the moon, Arcturus, or Jupiter, were not worlds like Earth—they were all "stars"—a completely different sort of place than Earth, made of a different sort of stuff.  Thus Girolamo Cardano wrote in his De Subtilitate of 1550 that in the heavens,
adeo omnia splendent ac coruscant, vt si etiam tempore deliquij Lunam ibi existentes inspiceremus, non secus ac innumeris cereis splendidissimis accensis, atque in eos oculis defixis, ob splendorem caecutiremus.
That is,
all things shine and glitter to such a degree, that if indeed we might inspect the Moon, being there during the time of an eclipse, we might be blind on account of a splendor not unlike innumerable brilliantly lit candles focused into the eyes.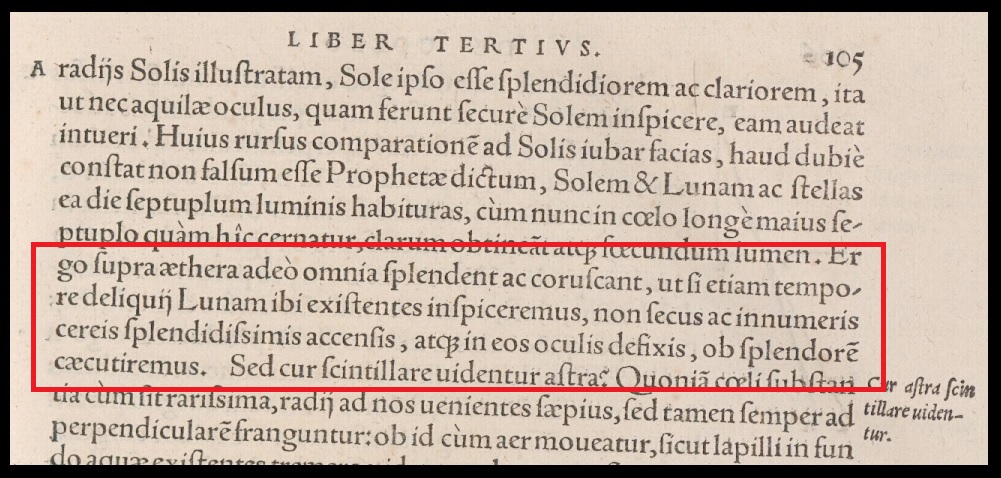 There is a certain similarity between Cardano's language and the language of "Tonight," which describes a world "full of light, with suns and moons all over the place," a world "wild and bright, going mad, shooting sparks into space."  Tony and Maria imagine the ordinary "world" now being a spectacularly brilliant "star" in a way that probably would have made a lot of sense to someone who viewed the heavens as being constructed of the Fifth Element. 
Maybe that similarity is coincidental.  On the other hand, maybe Stephen Sondheim (who wrote the lyrics to "Tonight") ran across this sort of language in studying Greek theater.  At any rate, the imagery in "Tonight" has an extra special punch when "what was just a world is a star" is more than just a poetic turn of phrase.